Another week and we are back with the hottest releases from the Desi Hip Hop scene. Stay home and spruce up your quarantine with Desi Hip Hop's hot 5 of the week. A handpicked list of the latest music video or audio releases from the scene. This week saw releases from some of the frontrunners of the Desi rap plethora. Even in a state of lockdown, we're bringing hip hop to a quarantined screen near you!
Music is an inescapable escape from all that's happening around you. Our Hot 5 list aims to bring you the best from the Desi rap plethora. So sit back and relax with our weekly updated Global Hip Hop Playlist, in which our Hot 5 picks are regularly plugged in. Check the playlist out below!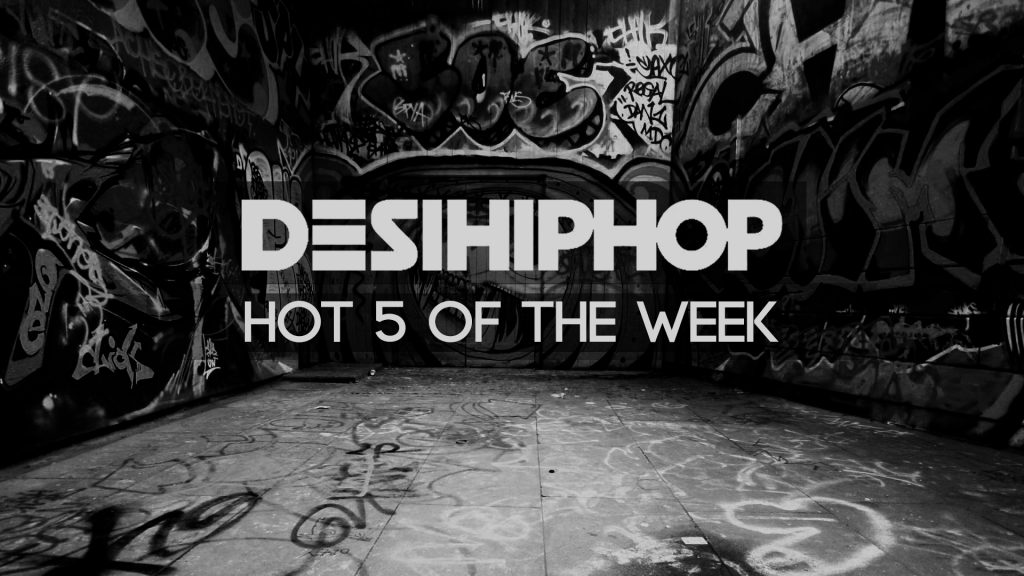 Meter Down – 7bantaiz ft. Kaam bhaari
Mumbai Hip Hop has the most variety of sounds coming from the South Asian rap scene. One such distinctive music is of 7BantaiZ from Dharavi. 7BantaiZ was formed around the year 2014 and since the release of Gully Boy these emcees have been unstoppable. Furthermore, what makes their music unique is the effort they put into their music videos. 'Meter Down' is their latest video featuring rapper Kaam Bhaari. While the song is a mass hit, the music video featuring rapper D'Evil has left everyone wanting for more! It could very easily be one of the best videos to come out of the scene. Watch it below.
Pardafash – Thugs Unit
Mo Boucher and Irish Boi aka Thugs Unit are back with a brand new release titled 'Pardafash'. The track is from their comeback album titled 'Resurrection 040'. As a matter of fact, Mo Boucher joined Dee MC on The Fifth Element to discuss the ins and outs of this album. Regarded as the first emcees from Hyderabad city, Thugs Unit are bringing back Sufi vibes through Hip Hop music. Check out the lyric video of 'Pardafash' below!
Naadan Vibe – Thirumali
Kerala Hip Hop's rising star Thirumali has been on our Hot 5 radar since the beginning of this year. Very often do we come across emcees who are the total package. From his pen game to his flow, the music production to the video production, every project Thirumali has put out this year has been a classic. 'Nadan Vibe' is the latest one in a list of amazing videos from this rapper's end. Music and mix master has been done by Ribin Richard. Watch the music video below!
Mridangam Raps EP 08 – Shan Vincent De Paul
Canada based Tamil rapper Shan Vincent De Paul is an all round artist. His unique ability to catch the rhythm has been instilled from his South Indian roots. Shan made noise with his Mridangam Rap series, few of the episodes of which have gone viral as well. The latest addition in that list is the eighth video in the Mridangam rap series. Shan raps on the tabla played by Yanchan, effortlessly blending South Indian sounds with rap. Watch the scenic music video below and share your views with us!
Kala Masala – Sahir
One of Mumbai's waviest sounds is definitely by Sahir – a multidisciplinary artist. He has collaborated with artists like Dee MC, and producers like AAKASH, Mr. Doss to name a few. Sahir's latest release is a bop named 'Kala Masala'. Mumbai's Finest had previously released a song named 'Tola' and Sahir's latest tune seems almost like a sequel to that track. Apart from his stride in music, Sahir has also been directing music videos for artists like Dee MC, Loka and Mo Boucher to name a few. Stream 'Kala Masala' below!
BONUS: Made in Bangladesh – Bhanga Bangla
With so many new releases, we just had to include a bonus this week – Bhanga Bangla's "Made In Bangladesh". The song is part of their debut EP 'Made in Bangladesh' which released last week; The EP follows the journey of the artists from their beginning to current times. With 5 new singles, the EP sets the tone for the versatility of the artists. With smooth pop vibes, catchy hooks & productions, tracks like "Wild" & "Broken" harnesses their pop-trap skills; while songs like "Winter" & "Unimpressed" showcases their true Hip Hop & Trap styles as artists who introduced this sound to the South Asian audience.
The EP's title track, "Made in Bangladesh", uses specific values from Bengali culture and infuses them into a pop-dance song that highlights their melodious skills that are unique to Bhanga Bangla's own style.