Another week and we are back with the hottest releases from the Desi Hip Hop scene. Stay home and spruce up your quarantine with Desi Hip Hop's hot 5 of the week. A handpicked list of the latest music video or audio releases from the scene. This week saw releases from some of the frontrunners of the Desi rap plethora. Even in a state of lockdown, we're bringing hip hop to a quarantined screen near you!
Music is an inescapable escape from all that's happening around you. Our Hot 5 list aims to bring you the best from the Desi rap plethora. So sit back and relax with our weekly updated Global Hip Hop Playlist, in which our Hot 5 picks are regularly plugged in. Check the playlist out below!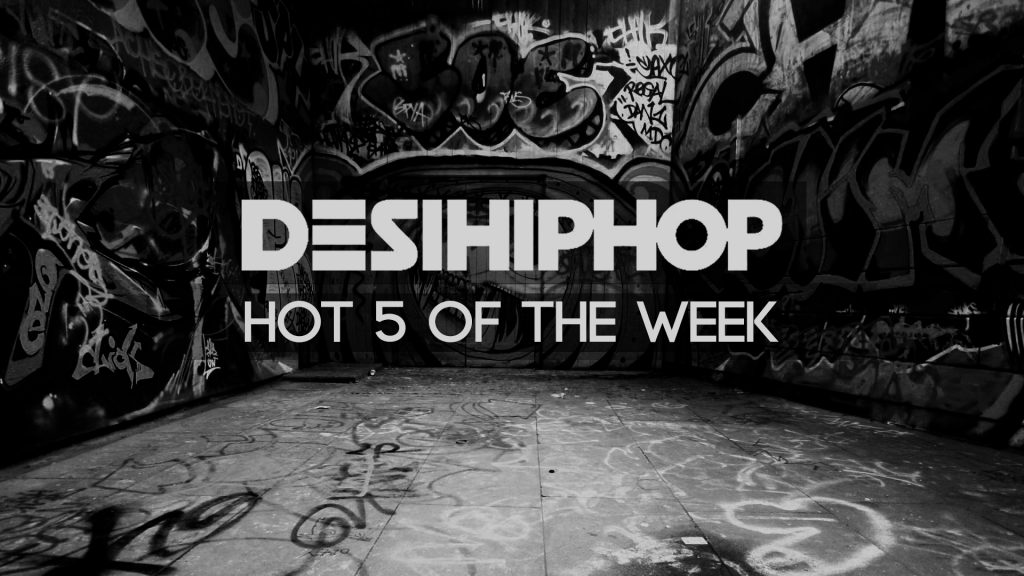 Mera Bhai – DIVINE
Gully Gang Entertainment's latest release is a spectacular animated music video that puts Indian Hip Hop on the world map. DIVINE's second studio album 'Punya Paap' is in the works and the rapper has already released few tracks from the album. 'Mera Bhai' is a great example of the power of storytelling in hip hop music. Weaving a story of trials, tribulations, brotherhood, hustle, deceit and personal betrayal, the listener is taken on a journey of a lifetime. The music video by Debjyoti Saha and team will leave you with chills!
Check out 'Mera Bhai' by DIVINE here and share your views with us –
Wish You Were Here – Frappe Ash ft. Encore ABJ, Rae
One half of the duo Full Power, Frappe Ash released his debut album 'BET YOU KNOW' last year. While the album was well received by his fans, it also set a benchmark for what to expect from Frappe Ash moving forward. One of the most sought after songs from the album has been 'Wish You Were Here' featuring rapper Encore ABJ and singer Rae. The music video sets a post-apocalyptic theme, metaphorically creating a storyline that is open to audience's interpretation. We're definitely stoked to see more music videos from Frappe Ash!
Watch 'Wish You Were Here' by Frappe Ash ft. Encore ABJ, Rae here –
Street Rules – Kaky Thou$and ft. Asif Balli
Pakistan's youngest hip hop artist has been on our Hot 5 radar since his collaboration with Hi-Rez dropped earlier this year. At only 9 years of age, Kaky Thou$and has made a name for himself through sheer dedication. Following the footsteps of his elder brother Asif Balli, Kaky has been chopping it up with his old school rhymes in every song. Their latest collaboration 'Street Rules' is another anthem for their followers, putting Karachi on world hip hop map.
Watch 'Street Rules' by Kaky Thou$and ft. Asif Balli here –
Gumm – MC Heam
MC Heam has been forging his own path with a totally different approach to his music. The emcee who was once known for his distinctive old school Hindi flow is now the torchbearer for lofi hip hop music. All of Heam's tracks in 2020 have leaned towards melodic sounds, that are warm and touch one's soul. We're loving this soulful approach Heam has taken sonically and the latest release 'Gumm' is a wonderful addition to the list. The animated music video takes you into a trance of its own.
Watch the music video of 'Gumm' by MC Heam here –
Chogyal – UNB
Rapper UNB from Gangtok was on our Hot 5 list for his EP Maed In India that released earlier this year. His latest music video 'Chogyal' is a proper old school track that is groovy and keeps you hooked till the end. UNB has produced and mixed the track himself and can be heard spitting fire Hindi bars. This emcee is definitely bringing the North Eastern Hip Hop scene forward with every release.
Check out 'Chogyal' music video by UNB from Gangtok here –