Stay home and spruce up your quarantine with Desi Hip Hop's hot 5 of the week. A handpicked list of the latest music video or audio releases from the scene. This week saw releases from some of the frontrunners of the Desi rap plethora. Even in a state of lockdown we're bringing hip hop to a quarantined screen near you!
We've handpicked five of the hottest music videos released recently. Mind you, this isn't a ranking list, our aim is to make the best content reach our DHH readers. Some of these hot picks make it to our weekly updated Global Hip Hop Playlist. Without any further ado take a look at the hottest picks of the week!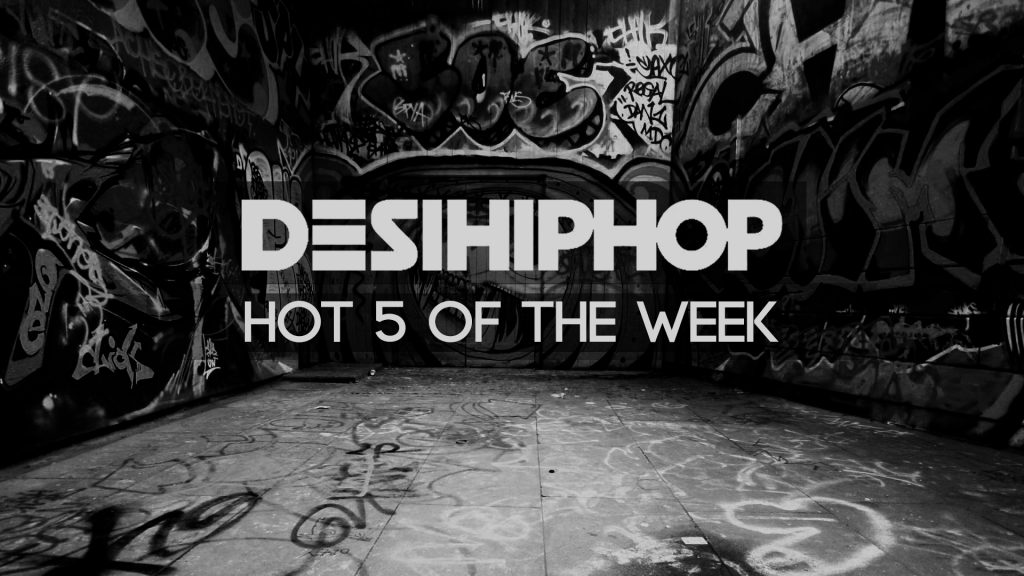 Wish Hope Fly – Neeraj Madhav
Malayalam actor Neeraj Madhav unleashed his rap avatar earlier this year. 2020 had its fair share of surprises and NJ's rap have caused a frenzy among Malayalam hip hop enthusiasts. Not only is he one of the frontrunners in the film industry, but his raps have set a benchmark for other artists. His EP 'Wish. Hope. Fly.' is out now for streaming. In his own words, "This EP is solely dedicated to everyone who's fighting their inner demons. To anybody who've ever felt anxious, depressed, lost or out of place, this is just a reminder that it's never the end. There's always a way out. WISH. HOPE. FLY!" 
Stream Wish. Hope. Fly. by Neeraj Madhav here and share your views with us –
Vichaar – Kaam Bhaari
We all have been locked in with our thoughts, more so now. What can come of this? Devising different ways to deal with our inner dialogue creates an ebb and flow of negative and positive thoughts. Artists practicing by profession are fortunate to have the outlet of art. The management of these thoughts, extreme and subtle is the truth of our existence. Kaam Bhaari explores this very conscious thought in 'Vichaar'. The music video also depicts the uncertainty and the ever changing mood swings we face when dealing with our emotions.
Watch 'Vichaar' by Kaam Bhaari here and don't forget to comment your thoughts –
Wild – Bhanga Bangla
Bhanga Bangla is a trio based in LA having their roots in Bangladesh. Their fan base also mainly consists of Bangladeshi rap enthusiasts along with the audience back in the States. One thing that sets this trio apart from the pool of artists is the visual essence they bring forth in every music video. Furthermore, in their latest release 'Wild' all three artists Ivory Shakur, 41X and Young Prince have taken a totally fresh approach to their songwriting. Unlike any of their previous tracks, 'Wild' is very melodic and breezy.
Watch 'Wild' by Bhanga Bangla here and share your views with us –
Designer the Drip – ILLAH
Mayurath Sinh Gupta aka ILLAH, born in Delhi was sent to Los Angeles alone at the age of 13. One of his best known songs about suicide prevention has almost a million streams. Another one of his leaked songs "No More" has over 100,000 plays on YouTube. The common thread remains not just in ILLAH's honeyed use of auto-tune, but also the lo-fi aesthetic, deep lyrical references. All that adds up to a unique sound which leans on ambient melodies and 808s when it feels purposeful, which comes through in the latest release 'Designer the Drip'.
Stream 'designer the drip' by illah here and watch this space for more from him –
Tanaza – Ahmer
It won't be wrong to say that Ahmer has become the face of Hip Hop in Kashmir. On 'Tanaza', Ahmer teams up with Tufail, a young Kashmiri artist who has emerged as one of the most exciting new voices in the region. The duo exchange rapid-fire bars about the corruption of the local police and Indian army who routinely harass the local population at so-called checkpoints in Hindi, Urdu and Koshur reminiscent of genre-defining duos such as Run The Jewels, Mobb Deep and Clipse.
Watch 'Tanaza' by Ahmer x Tufail produced by Zero Chill here –