Stay home and spruce up your quarantine with Desi Hip Hop's hot 5 of the week. A handpicked list of the latest music video or audio releases from the scene. This week saw releases from some of the frontrunners of the Desi rap plethora. Even in a state of lockdown we're bringing hip hop to a quarantined screen near you!
We've handpicked five of the hottest music videos released recently. Mind you, this isn't a ranking list, our aim is to make the best content reach our DHH readers. Some of these hot picks make it to our weekly updated Global Hip Hop Playlist. Without any further ado take a look at the hottest picks of the week!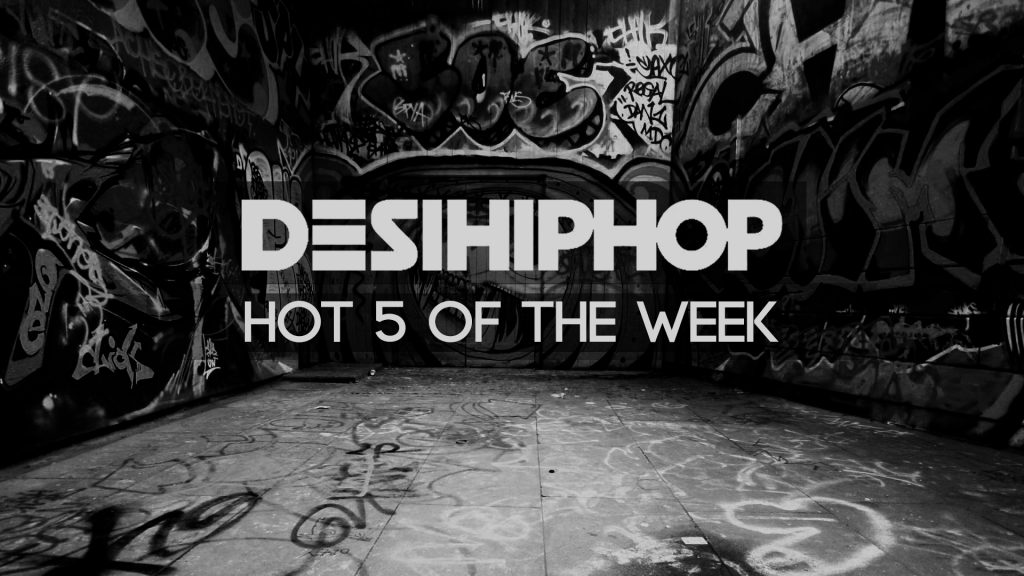 Mirchi – Divine ft. MC Altaf, Phenom, Stylo G
Gully Gang Entertainment's latest release is the viral hit 'Mirchi' by Divine featuring MC Altaf and Phenom from Mumbai city. The track also features Jamaican artist Stylo G and is easily a tune you would put on repeat. Furthermore, the music video also features some fiercely talented dancers who are gorgeous to say the least. It's a peppy tune meant to be an entertaining number for the young and hip generation.
Watch the stellar music video of 'Mirchi' by Divine ft. MC Altaf, Phenom and Stylo G here –
Atishbazi – Thugs Unit
Formed in 2006 by Mo Boucher (Atishbaz) and Irish Boi, Thugs Unit were the first hip-hop group established in Hyderabad. They are regarded as India's finest, most seasoned conscious duo, unveiling the truth from underground's belly. Their raw sound comes through in their comeback album's first release titled 'Atishbazi'. Aimed at taking a shot at the rotting political state of their country, the emcees left no stones unturned. The song went viral among Raftaar fans after the rapper shared it on IG.  We're definitely hyped for the album release in November 2020, stay tuned with Desi Hip Hop for exclusive interview with the duo on The Fifth Element with Dee MC.
Stream Atishbazi by Mo Boucher and Irish Boi aka Thugs Unit here –
Mask On – Raftaar ft. Karma, Rashmeet & Yunan
Kalamkaar Music has released a beautiful music video by their top dog emcee Raftaar. The music video talks about the current pandemic we face – both with the covid 19 as well as the virus of false information being propagated and spread by the media. Additionally, the track features rapper Karma who has been a consistent artist from the Kalamkaar roster. The video is a work of art featuring singers Rashmeet and Yunan.
Watch 'Mask On' by raftaar ft. karma, rashmeet and yunan here –
Tracy De Sa – Minifalda
Goan born France based rapper Tracy De Sa became the talk of the town after the release of her debut album 'Commotion' last year. Since then Tracy has performed across India, garnering a fan base from her birthplace. As a matter of fact, her music is totally international as she raps in English, French as well as Spanish. The latest music video 'Minifalda' meaning mini skirt, is a metaphorical representation of female empowerment. The concept speaks volumes, executed well through the music video.
Check out 'Minifalda' by Tracy De Sa here and share your views with us –
Mantra Trap – Thirumali
Almost every Thirumali release has been on our hot 5 radar in 2020. It's not very often that we come across a multilingual emcee who is consistent like no one else. Teamed along with producer and engineer Thudwiser, this duo has been releasing a new music video along with couple of singles thrown in, religiously every single month. Their latest release Mantra Trap is a stellar mix of Thirumali's seamless Malayalam bars and Thudwiser's bass heavy drops. The music video is also one of his team's finest works till date.
Check out 'Mantra Trap' by Malayali rapper Thirumali and Thudwiser here –