It's a new week and we're back with our Desi Hip Hop Hot 5 list for you all! Quarantined in our houses we don't have much else to do except for keep busy with work and play. Music is an inescapable escape from all that's happening around you. Our Hot 5 list aims to bring you the best from the Desi rap plethora.
So sit back and relax with our weekly updated Global Hip Hop Playlist, in which our Hot 5 picks are regularly plugged in. This week's Hot 5 has tunes ranging from Mumbai to U.S. as well as Pakistani hits. So without further ado lets take a look at this week's hottest picks!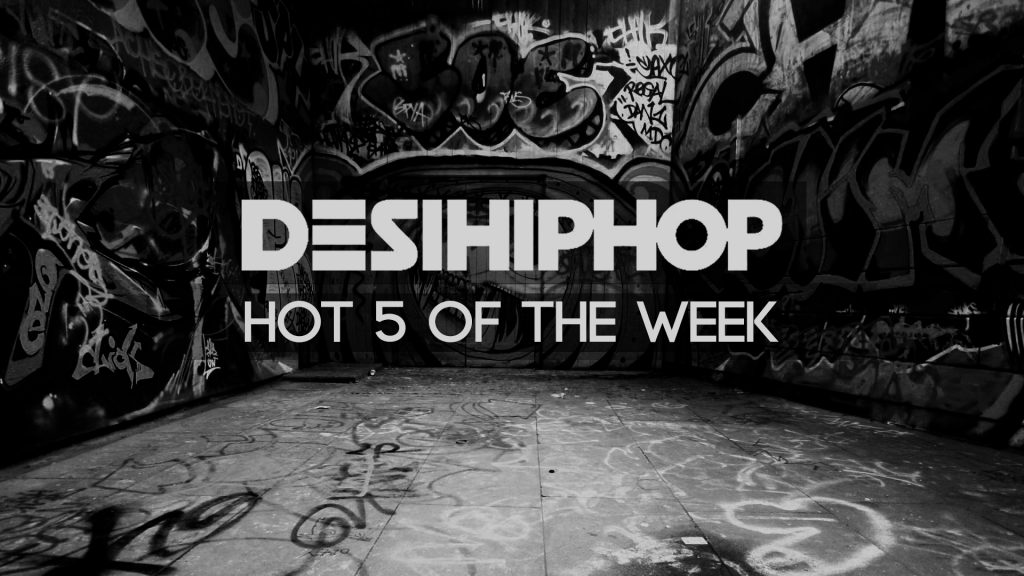 Medical Marijuana – Lazarus x Redman
Originally from Pakistan, this U.S. based emcee is probably the only South Asian artist to have worked with so many hip hop legends. Lazarus has made a name for himself with his unapologetic conscious lyrical rhymes. Even in this latest collaboration 'Medical Marijuana' with hip hop legend Redman, the emcees have managed to make the joint lyrical to the core. Lazarus who is a doctor by profession has been giving it all to help during this pandemic. It's inspiring to see his passion for hip hop music and the undying thirst to do more.
Stream 'Medical Marijuana' by Lazarus ft. Redman here –
Saath ya Khilaaf – Raftaar x Krsna
Kalamkaar music co-founded by Raftaar has been unstoppable since 2019. The label has some power packed lyricists in the gang who always come through with bars. Their latest release is a collaboration between Raftaar and Krsna. Titled 'Saath ya Khilaaf' the track is self explanatory, its a declaration of either you're with me or against me. There's no middle ground when it comes to hip hop. Krsna does his thing with his penmanship, while Raftaar takes it a notch up with his aggressive delivery and flow.
Watch 'Saath ya Khilaaf' by raftaar and krsna here –
Shambhar Bars – MC Mawali
It is always refreshing to hear vernacular rhymes from different parts of South Asia. MC Mawali from Swadesi Movement has made a name in the Marathi rap scene with his efforts to raise awareness through conscious music. Swadesi has spoken up against many social issues like the deforestation of Aarey, the cons of demonetisation, gender inequality, caste based prejudices etc. 'Shambhar Bars' which translates to '100 Bars' is a heartfelt message from Mawali, where he urges people to be the change they wish to see.
Watch the Marathi rap video 'Shambhar Bars' by MC Mawali here –
Worth Livin – HiRez & Kaky Thousand
This international collaboration is one for the books. Popular YouTuber HiRez roped in one of the youngest talents from the hip hop scene in Pakistan. Furthermore, the beginning of the track has an epic surprise that will excite every hip hop head. None other than Redman himself gives a shoutout to HiRez and Kaky Thousand – bringing their own flavour to 'Worth Livin' remix. Kaky Thousand is a micro power house, killing the beat with his stellar Hindi rhymes. We're super psyched to hear more from this young emcee!
Watch 'Worth Livin' by HiRez ft. Kaky Thousand here –
LABELS – Pratika x Krantinaari
A track like this is totally unexpected coming out of the streets of Mumbai city. This rap collaboration between emcees Pratika and Krantinaari is a hardcore rock-rap combo that amps the listener up. Taking the pseudonym of PrabhuNeigh, Pratika has produced the track herself. While the track released earlier they have now come up with an inspiring music video for the same. In fact, Pratika and Krantinaari have teamed up to create India's first female rap crew 'WON TRIBE'. We're definitely upping more music from these two ladies!
Watch 'labels' by Pratika and Krantinaari here and share your views with us –