It's a new week and we're back with our Desi Hip Hop Hot 5 list for you all! Quarantined in our houses we don't have much else to do except for keep busy with work and play. Music is an inescapable escape from all that's happening around you. Our Hot 5 list aims to bring you the best from the Desi rap plethora.
This week's list has some newfound gems as well as industry veterans from South Asia. So sit back and relax with our weekly updated Global Hip Hop Playlist, in which our Hot 5 picks are regularly plugged in. Check the playlist out below!
Let's jump right into our Hot 5 of the week!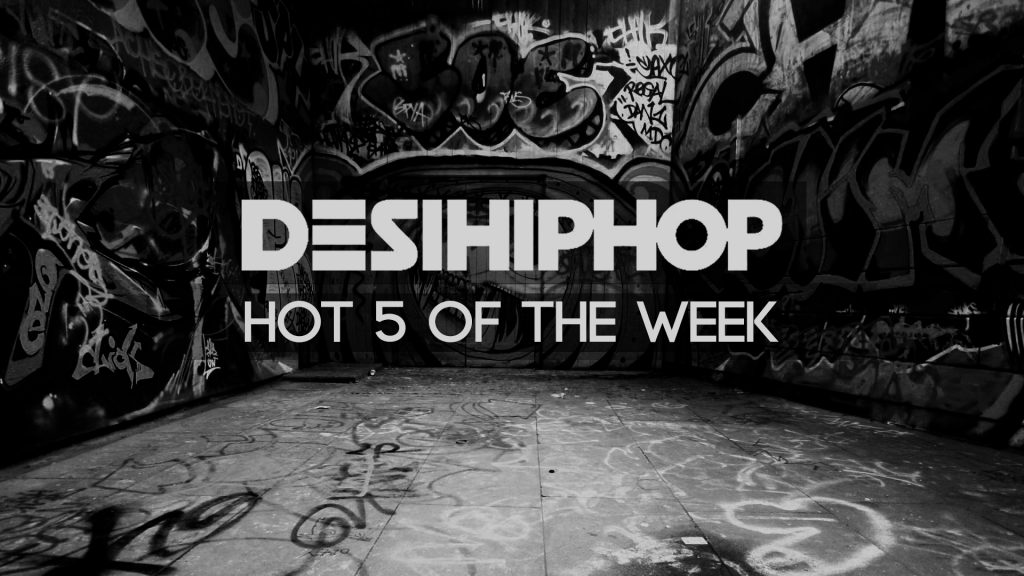 Punya Paap – Divine
Indian hip hop's brightest star has announced his second studio album. DIVINE has become a household name in South Asia, and internationally he's making his mark slowly and steadily. The latest music video 'Punya Paap' sets a benchmark on what to expect from his second album. Like the rapper says in the song itself, this is not just an album it's a second edition book. A book that reveals all the trials and tribulations the rapper faced in his inspiring journey to stardom.
Watch 'Punya Paap' by DIVINE produced by iLL Wayno here –
Kar Diya – Fotty seven
Delhi based Fotty Seven carved a lane of his own through tremendous persistence. Very soon his debut project 'Asli Independent' will be released and the first music video from it titled 'Kar Diya' is out now. Much like the title of the song, Fotty Seven talks about all the things that he's already done. Things that seemed like only a dream few years ago have become his reality now. The first release from his upcoming album has already crossed a million views. We're excited to hear the full album for sure!
Till then check out the music video of 'Kar Diya' by Fotty Seven here –
Stay Up All Night – GWS x Cartel Madras
This sister duo from Canada has been on our Hot 5 of the Week radar since earlier this year and with every tune they do not disappoint! The undulating tempo of 'Stay Up All Night' makes for an easy listen and the music video oozes of self-empowerment. The confluence of musical stylings of the Kerala-born-now-Los-Angeles-based GWS aka Glen Koshy George and the Goonda rap style of the Tamilian duo from Calgary, Cartel Madras keeps you hooked till the end. On 'Stay Up All Night', GWS effortlessly drops Malayalam alongside singing in English and Cartel Madras spit bars in English and Tamil with equal ease. The track has been produced by young Bangalore-based producer Dan Pearson, who frequently collaborates with GWS.
Watch 'Stay up all night' by gws x cartel madras here –
Madai Thiranthu – Yogi B x Natchatra x Mista G
Now this track, is a super major throwback that goes all the way back to 2006! Tamil Nadu's pride rapstar Yogi B released an album 'Vallavan' in 2006 and this track featuring Natchatra and Mista G now has a music video being cherished by the audience. Mr. Scam from 7BantaiZ suggested Yogi B's music to us and we are hyped to hear this emcee who has a vocal tone resembling that of Tupac. For a lot of Tamil people, Yogi B is a star whose music they have grown up on. One time for the OGs!
Watch Madai Thiranthu by Yogi B x Natchatra x Mista G here –
Yaaru – SIRI
SIRI from Bangalore has been singlehandedly representing the South Indian hip hop scene as a female. Needless to say that comes with its own pros and cons. Releasing music videos consistently in the past few years, SIRI has garnered a dedicated audience that loves to hear her multilingual raps. Not only that, but in the recent few projects released by her, all the video related work like production, direction and editing is all done by SIRI herself. This one woman army talks about 'who are you really when no one is watching or no one is around you' in 'Yaaru'. AAKASH from Mumbai has produced and mixed this joint.
Check out 'Yaaru' by SIRI produced by AAKASH here –