Another week and we are back with the hottest releases from the Desi Hip Hop scene. Stay home and spruce up your quarantine with Desi Hip Hop's hot 5 of the week. A handpicked list of the latest music video or audio releases from the scene. This week saw releases from some of the frontrunners of the Desi rap plethora. Even in a state of lockdown, we're bringing hip hop to a quarantined screen near you!
Music is an inescapable escape from all that's happening around you. Our Hot 5 list aims to bring you the best from the Desi rap plethora. So sit back and relax with our weekly updated Global Hip Hop Playlist, in which our Hot 5 picks are regularly plugged in. Check the playlist out below!
Let's jump right into our Hot 5 of the week!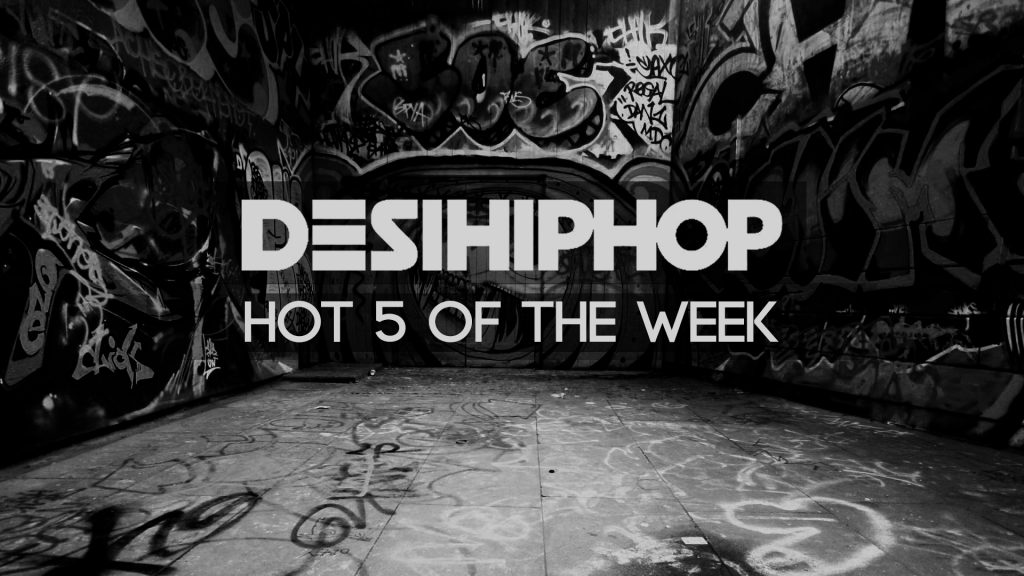 Bando Diaries (remix) – Dutchavelli ft. DIVINE, OneFour, Kekra, Noizy
This international collaboration is one of the versatile lineup a Desi Hip Hop artist has ever been a part of. Divine's latest feature in the track Bando Diaries boasts of heavy hitting bars from all the emcees. Originally a song by Dutchavelli from Australia, the remix version of Bando Diaries roped in rappers from France, Albania and India. While every emcee did their thing on it, Divine's fiery bars represented the Hindi rap game exceptionally well.
Watch Dutchavelli – Bando Diaries (Remix) featuring OneFour, Kekra, Noizy & DIVINE here –
Recipe Freestyle – Kidshot
Kidshot left no stones unturned in this latest freestyle on Kendrick Lamar's Recipe beat. If you have been following this rapper's journey from inception, then you already know about his unstoppable flows. The undying fire in his belly to achieve everything he set out for, is something you can see from the music he puts out. Through his music, Kidshot has carved a lane of his own and has been putting out music videos back to back in 2020. His track 'Boht Kuch' was featured in our earlier Hot 5 picks of the week.
Watch Kidshot's latest music video 'Recipe Freestyle' here –
Khaas Hai – Jtrix
Rapper Jtrix from Delhi is known for his butter smooth Hindi rap flows. His latest music video 'Khaas Hai' is no different as Jtrix delivers his signature style on this beat produced by SubSpace. The track is a part of his upcoming EP titled 'Bohot Sahi. Jtrix talks about the trials and tribulations of being a rising star in this rap game and the importance of the bond he shares with his brothers from Kalamkaar. Kalamkaar music artists have been on a roll with back to back releases and we're upping the EP by Jtrix as well!
Check out 'Khaas Hai' music video by Jtrix produced by subspace here –
Vayyaveli – Thirumali
Kerala based emcee Thirumali has been on our Hot 5 radar ever since lockdowns commenced. This rapper has been consistent like very few in the Desi rap community. Releasing multiple singles and at least one music video per month, Thirumali has built up a very loyal fanbase consisting of Malayalam rap enthusiasts. 'Vayyaveli' is another power packed addition to his list of music videos full of clever bars and a flow that is effortlessly impactful. The video also features a popular vlogger named Sanju Techy from Kerala.
Watch malayalam rap 'Vayyaveli' by Thirumali produced by Thudwiser here –
Opportunity – Iarilang Shanpru ft. Wanpli Shanpru
Whenever we come across young budding artists from the Indian hip hop scene, we can't help but wonder about the depths of their artistry. What the future could hold for the sounds of South Asian Hip Hop music. And with artists like Iarilang Shanpru, the future looks quite bright! Starting off as a part of a group called as The Symphonic Movement, Iarilang made a mark with his knack for hip hop music. His story is quite unusual as his journey started off with someone else's lyrics. Praiselyson from Shillong who formed The Symphonic Movement guided and moulded Iarilang into the artist he is today. Iarilang's latest song 'Opportunity' featuring rapper Wanpli is a sweet motivational song that beams with potential.
Stream 'Opportunity' by Iarilang Shanpru ft. Wanpli Shanpru here and share your views with us –