Stay home and spruce up your quarantine with Desi Hip Hop's hot 5 of the week. A handpicked list of the latest music video or audio releases from the scene. This week saw releases from some of the frontrunners of the Desi rap plethora. Even in a state of lockdown we're bringing hip hop to a quarantined screen near you!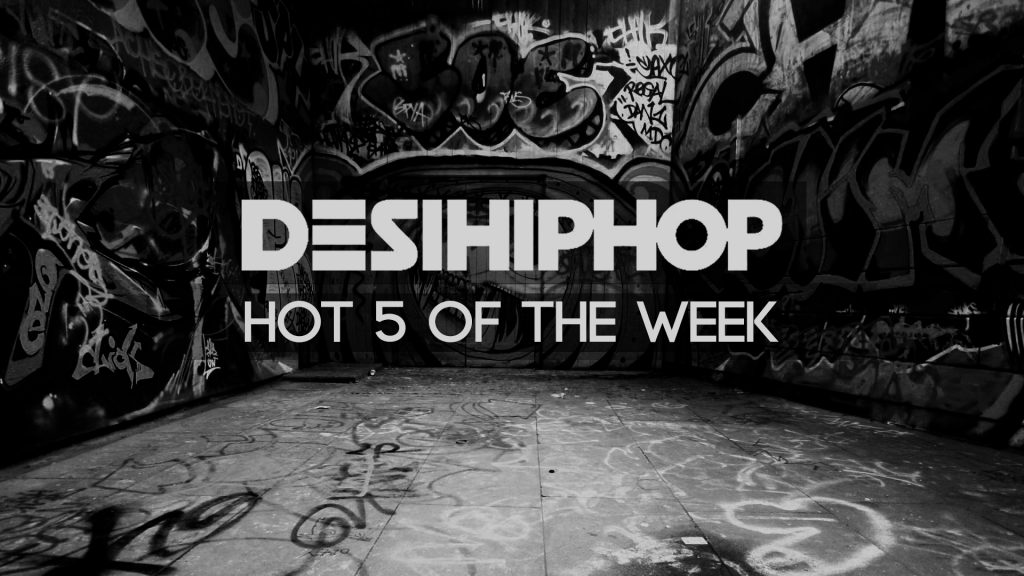 We've handpicked five of the hottest music videos released recently. Mind you, this isn't a ranking list, our aim is to make the best content reach our DHH readers. Some of these tracks make it to our weekly updated Global Hip Hop Playlist. Check it out below!
Ladka Alag Sa – Emiway
Emiway Bantai is back with a brand new music video 'Ladka Alag Sa'. His audience base is undeniable and with every release he's tried to leave a mark as one of the best emcees representing Desi hip hop. Rapping in his signature aggressive delivery, the emcee has mixed mastered this track himself. The beat by Flamboy is equally powerful. Earlier this year Emiway added two international collaborations to his list of accomplishments. Having released remix tracks with Macklemore and the legendary Snoop Dogg himself.
Watch 'Ladka Alag Sa' by Emiway here and share your views with us –
Dum Pishaach – Seedhe Maut x Karan Kanchan
Seedhe Maut's rise in the Desi hip hop scene has been one to reckon with. This duo took the whole country by storm starting with the Delhi rap scene. Their album with Sez and the subsequent tour set a benchmark for a fresh sound of Hindi rap. After a streak of collaborations with different producers, Calm and Encore ABJ have created a unique track – 'Dum Pishaach' – quite different from their usual releases. When you combine hard spitters like Seedhe Maut with a producer like Karan Kanchan you can expect nothing less than a heavy-weight banger.
Check out 'Dum Pishaach' by Seedhe Maut produced by Karan Kanchan here –
AKKARAPPACHA – NJ
Malayalam hip hop scene has been capturing eyeballs like never before. So much so, that in the midst of lockdown, a new rap star has emerged from Kerala. Although it is important we let you know that this person was already a star long before he donned his rapper hat. We're talking about actor Neeraj Madhav aka NJ. His previous song 'Panipaali' grabbed our attention instantaneously and the latest release doesn't disappoint either. 'Akkarappacha' is visually intriguing as the actor himself says – every virtual frame, environment & camera movement have been created with imagination & effort using visual effects.
Stream the Malayalam rap 'Akkarappacha' by NJ here –
Labels – Pratika x Krantinaari
A track like this is totally unexpected coming out of the streets of Mumbai city. This rap collaboration between emcees Pratika and Krantinaari is a hardcore rock-rap combo that amps the listener up. Taking the pseudonym of PrabhuNeigh, Pratika has produced the track herself. She has previously performed live on The Fifth Element show hosted by Dee MC every Tuesday on Desi Hip Hop live. We're definitely upping more music from these two ladies!
Stream 'Labels' by Pratika and Krantinaari here and share your views with us –
In the Club – Roma Sagar ft. Raxstar
UK Desi rap pioneer Raxstar has released an upbeat collaboration with singer Roma Sagar. 'In the Club' as you can guess from the name is a quirky club song. Singer Roma croons the self penned tune of the track while Raxstar does his thing with his short but smooth and impactful verse. He recently released another music video titled 'Airplane Mode'.
Check out 'In the Club' by Roma Sagar ft. Raxstar here –