It's a new week and we're back with our Desi Hip Hop Hot 5 list for you all! Quarantined in our houses we don't have much else to do except for keep busy with work and play. Music is an inescapable escape from all that's happening around you. Our Hot 5 list aims to bring you the best from the Desi rap plethora.
This week's list has some newfound gems as well as industry veterans from South Asia. So sit back and relax with our weekly updated Global Hip Hop Playlist, in which our Hot 5 picks are regularly plugged in. Check the playlist out below!
Let's jump right into our Hot 5 of the week!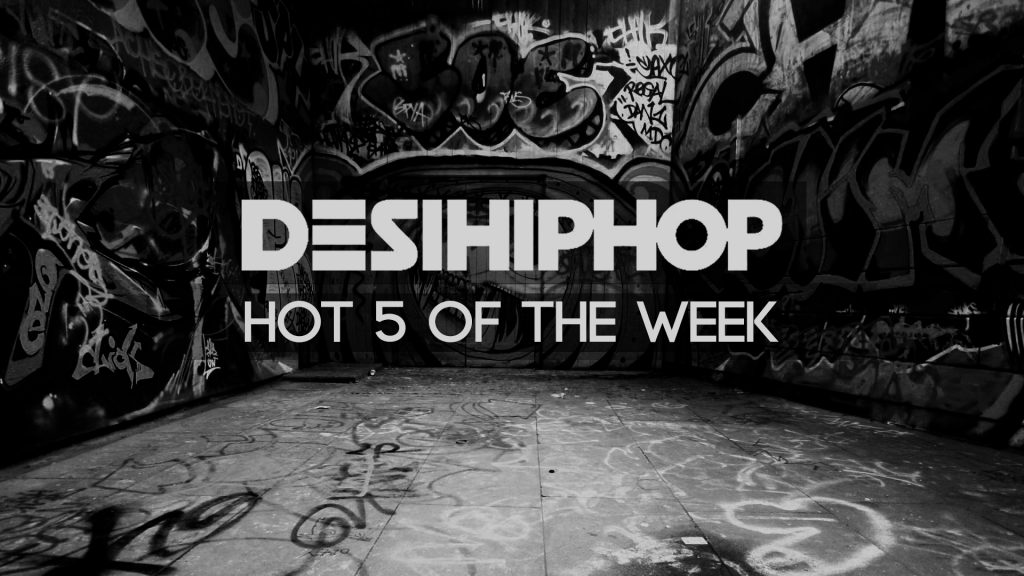 Working – Cartel Madras
Our first pick of the week is a work of art by a duo you should definitely know about. One of the names in the rising wave of South Asians making hip hop music is Cartel Madras from Canada. This powerful sister duo consists of Priya "Contra" Ramesh and Bhagya "Eboshi" Ramesh. Together they have been releasing music non stop since the release of their debut mixtape Project Goonda Part 1: Trapistan, in 2018. Their latest release is futuristic tune produced and directed by the duo themselves. The video takes you into its own world of trance with the music by Jide keeping you in tune the whole time.
Watch the stellar visuals of 'Working' by Cartel Madras here and share your views with us –
2020 FE DEAD – Pav4n x Sukh Knight
Setting the tone for what to expect from PAV4N, the track boasts of hard-hitting bars which are both conscious and subversive. Some knocking 808s, coupled with intriguing Indian vocal samples form the banging beat produced by Sukh Knight. This is the second track released by this rapper producer team. PAV4N who is one half of the Foreign Beggars has donned a new avatar. Envisioned as a living art piece, PAV4N is rooted in Indian mythology. Inspired by the aesthetics of blue-skinned Hindu deities like Krishna, Kali, and Shiva – PAV4N also seeks to employ the wider themes and concepts that surround these legends in the stories he tells through his music and visuals.
Stream 2020 FE DEAD by Pav4n produced by Sukh Knight here –
Tees Maar Khan – Agsy x Rap Demon
Agsy has been unstoppable since the start of this year. Not only has she released a string of solo music videos, her streak of collaborations have been back to back. The latest one being with Islamabad based emcee Rap Demon. Agsy celebrated this milestone of being the first female rapper from India to collaborate with a Pakistani artist. Check out their fiery bars in the video below!
Stream Tees Maar Khan by Agsy and Rap Demon here –
Hum Jeetenge – Dharavi United
Dharavi United rappers have been vocal about the Covid-19 situation since lockdowns in India first started. After the track titled 'Stay Home Stay Safe', this group of rappers is back with another track for the cause. 'Hum Jeetenge' is an awareness anthem in association with Action Aid specifically for Maharashtra. The track boasts emcees like Stony Psyko, Crackpot, Dope Daddy, Yoku BIG, Sid J and Shirish Shejwal.
Check out the music video 'Hum Jeetenge' by Dharavi United here –
Toofan Main – Prabh Deep
One of 2020's most coveted shows was Paatal Lok, creating a whole new league of fanbase of its own. Now who better to voice a power packed track for this show than Delhi's most sought emcee Prabh Deep. 'Toofan Main' does total justice to the hardcore and dark theme of the show. Prabh Deep does a stupendous job capturing the nuance of a show like Paatal Lok. His fiery bars and songwriting coupled with the banger beat by Sez works like a charm.
Check out the full version of 'Toofan Main' by Prabh Deep produced by Sez on the Beat –