Stay home and spruce up your quarantine with Desi Hip Hop's hot 5 of the week. A handpicked list of the latest music video or audio releases from the scene. This week saw releases from some of the frontrunners of the Desi rap plethora. Even in a state of lockdown we're bringing hip hop to a quarantined screen near you!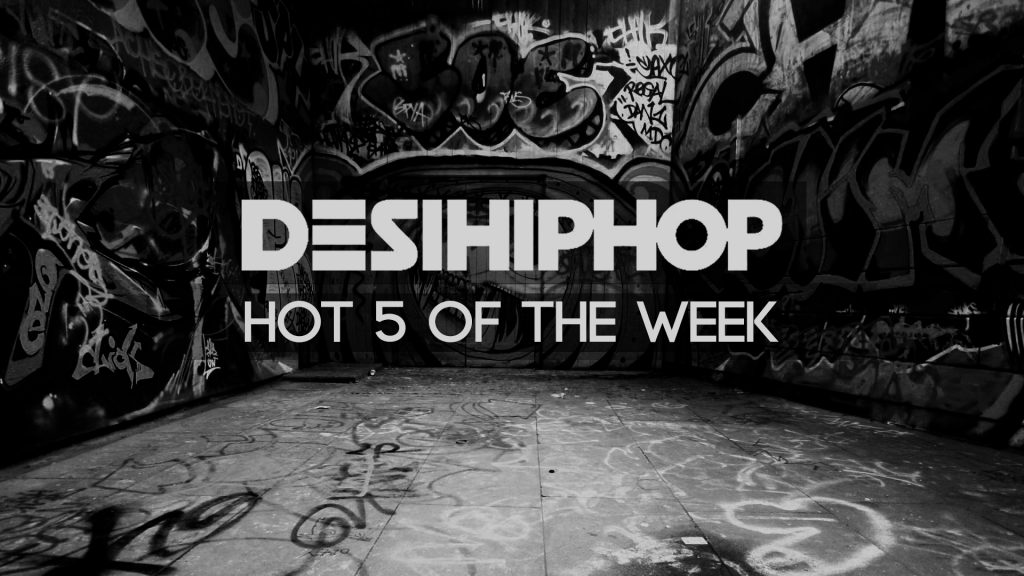 We've handpicked five of the hottest music videos released recently. Mind you, this isn't a ranking list, our aim is to make the best content reach our DHH readers. Some of these tracks make it to our weekly updated Global Hip Hop Playlist. Check it out below!
One hit wonder mixtape – M-Zee Bella
MTV Hustle winner Bella has released his first official mixtape titled 'One Hit Wonder'. The four track mixtape has tracks like 'Baarishein' is a soulful joint featuring Nepali rapper Sarkaar, perfect to vibe to on a rainy day. 'Chokas' is another track that features Sarkaar again, which is a fiery banger. 'Laapata' is another soulful joint on the track where Bella has inked his heart out in the verses. Narco featuring Byg Smyle is a bossy joint where both the emcees went shoulder to shoulder. All in all, 'One Hit Wonder' is full of repeat value, mixing melodies and bars effortlessly. We're definitely waiting to hear more from this young star on the rise from Ludhiana.
Stream 'One Hit Wonder' a mixtape by Bella here –
Stage – Aavrutti
Aavrutti, the young lyrical marksmen from Mumbai's Gully Gang embark on their debut album journey with "Stage." Interweaving experience of backstage anticipation, the nuances of a performance and most importantly the flow of energy between the performers and their audience, "Stage" brings in the live experience to you through a unique one take music video.
Watch 'Stage' by Aavrutti here and share your views with us –
Molly – Hanumankind
This is the first track we have come across by this artist based in Bangalore. Raised in Houston, this Malayali emcee pays homage to his toots in the latest track Molly. With a butter smooth flow and effortless delivery, Hanumankind captures your attention with his impeccable screen presence. The bass heavy beat by Parimal Shais will make you put this joint on repeat. Music video is again a one take video with enough attitude to make you feel the groove.
Watch 'Molly' by Hanumankind here –
COST – Sikander Kahlon ft. Yungsta
This one's a heavyweight collaboration for the books. Like Sikander says it in the intro itself, this collab was a long time coming. Both the emcees go bar to bar in this joint produced by ASURA. Sikander has been on a roll like no other releasing back to back music videos. Almost every single week this emcee has a fresh tune waiting to be released for his audience. 'COST' sees Sikander and Yungsta talk about the value of life and what this rap game means to them. All in all this is pure bar fest!
Stream 'COST' by Sikander Kahlon ft. Yungsta here –
Binod star – Big deal
Big Deal has never been the one to stay quiet in the face of adversity. He's always been vocal about things that he feels need to be changed. In this latest music video titled 'Binod Star', the rapper lays down verses on Roddy Rich and Da Baby's Rockstar track. The gist of the track is shots fired at the audience that cannot see anything beyond the Delhi and Bombay rap scene. Big Deal who hails from Odisha was raised in Bangalore. His efforts to raise awareness about the racism North East Indians face in their own country has gained lot of appreciation from his audience.
Watch 'Binod Star' by Big Deal here and share your views with us –