Stay home and spruce up your quarantine with Desi Hip Hop's hot 5 of the week. A handpicked list of the latest music video or audio releases from the scene. This week saw releases from some of the frontrunners of the Desi rap plethora. Even in a state of lockdown we're bringing hip hop to a quarantined screen near you!
We've handpicked five of the hottest music videos released recently. Mind you, this isn't a ranking list, our aim is to make the best content reach our DHH readers. Some of these tracks make it to our weekly updated Global Hip Hop Playlist. Check it out below!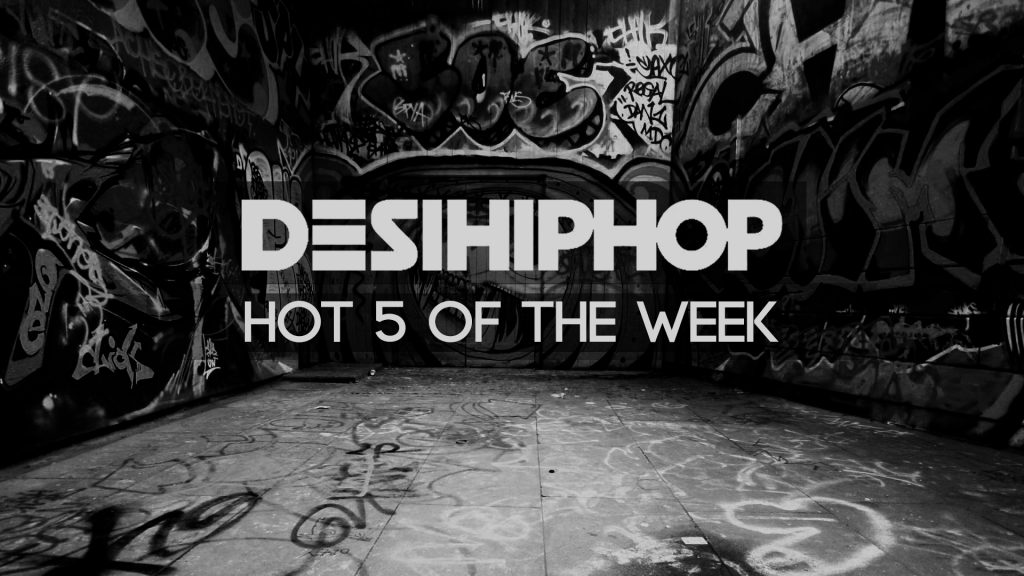 JOGI – Vazeer
Desi Hip Hop recently distributed HURDANGG Records' latest release by Vazeer titled "JOGI" produced by Hurdangg. Rapper Vazeer lays down some bass heavy vocals on this dark trap tune. He also has an album titled "KAAL" that released earlier this year. In fact, this multitalented artist has also penned a book titled 'Vords: Vinci on a roadside' which is a collection of poems written by him.
Stream JOGI by Vazeer exclusively through Desi Hip Hop Inc –
Bharavase – Gubbi
Bangalore based Kannada emcee Gubbi has been repping the South scene for a long time. His latest release is in collaboration with a music composer called Sachin Basrur. Gubbi lays down a short but impactful rap verse in this melodic Kannada joint. Furthermore, Gubbi has also started an interview series hosted by him known as Rap Tales. Big Deal, Tracy De Sa, Spin Doctor, Brodha V and Stony Pysko are just few artists who he has interviewed on this series.
Stream Bharavase by Gubbi produced by Sachin Basrur –
Wannabe Rapper – SlowCheeta
Mumbai based emcee and actor SlowCheetah is a humble soul who juggles two passions together. All his music has always been motivational and about starting from the scratch. His latest drop 'Wannabe Rapper' sees him reminisce his childhood days when he found and fell in love with hip hop. Produced by Mr. Doss, the track is a part of the EP Rok Nahi Paayega by SlowCheeta.
Watch the music video of Wannabe rapper by slowcheeta here –
Sanki – Rob C ft. Agsy
Chandigarh based Rob C has been rapping for well over a decade now. He's also a part of the crew Kala Kurta Gang with Sikander Kahlon. His latest tune is a collaboration with MTV Hustle fame rapper Agsy. Agsy has been releasing music videos back to back in 2020. Shooting everything inside her own house with an independent team, this female rapper is a force to be reckoned with.
Watch Sanki by Rob C ft. Agsy and share your views with us –
DOOM – Pav4n
If you're familiar with the UK based hip hop duo Foreign Beggars then you already know who Pav4n is! A pioneer in the rap scene, Pav4n has been releasing a string of singles in a completely new avatar. His appearance resembles that of Lord Krishna, while spitting fiery hot English bars. According to the artist his 20 years of experience as a musician has helped him set off on this new journey going ahead. His latest track 'DOOM' is powerful sonically and visually. Produced by Sukh Knight, this track featuring singer Ishani is sure to pump you up.
Don't miss out on the amazing visuals of 'Doom' by Pav4n –