It's a new week and we're back with our Desi Hip Hop Hot 5 list for you all! Quarantined in our houses we don't have much else to do except for keep busy with work and play. Music is an inescapable escape from all that's happening around you. Our Hot 5 list aims to bring you the best from the Desi rap plethora.
So sit back and relax with our weekly updated Global Hip Hop Playlist, in which our Hot 5 picks are regularly plugged in. This week's Hot 5 has tunes ranging from Mumbai rap to Tamil as well as Bangladeshi hits. So without further ado lets take a look at this week's hottest picks!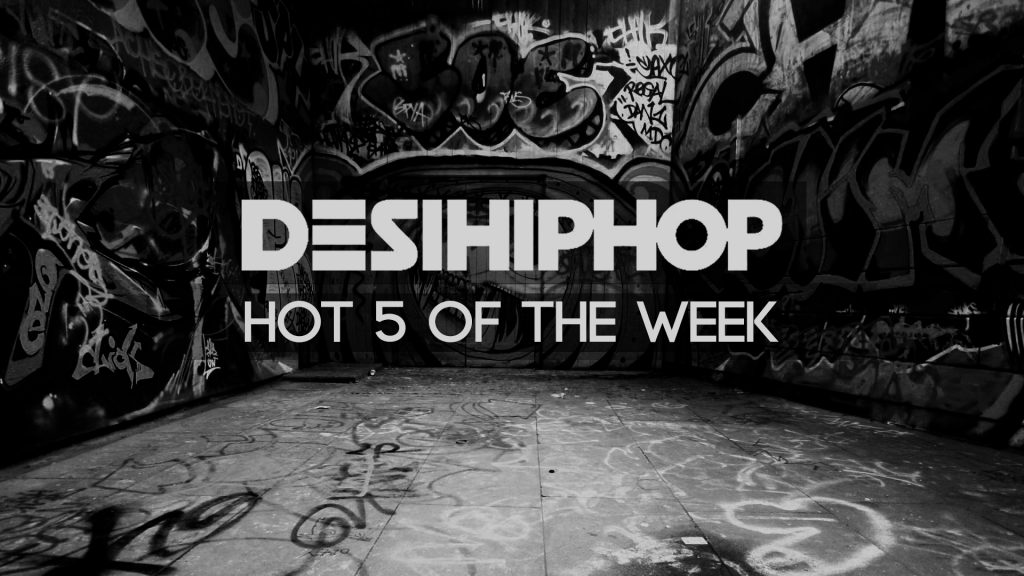 Cash Do – MC Altaf
Mumbai based MC Altaf has been the talk of the town for a long time now and the lockdowns haven't halted this emcee's grind. Altaf shined in the Shutdown EP dropped by Gully Gang with tracks like "Brinks" and "Flavours". His latest release is a music video for the much awaited track 'Cash Do'. Produced by Aakash Ravikrishnan, this track is an addition to the existing hit list given by this producer-emcee duo. The video shot by team Canfuse also features rappers D'Evil and Yoku.
Watch 'Cash Do' by MC Altaf here and share your views with us –
Can you be me – Black Zang, Zaki, Critical, Bammy
Bangladeshi hip hop pioneer Black Zang collaborates with pop star Zakilove to create this Bangla banger. 'Can You Be Me' also features emcees Critical and Bammy. Fans have this tune on repeat while the music video brings out the best in all the featuring artists. BZ definitely takes the top spot with his polished rhyme schemes and his unfettered distinctive vocal tone. Audio for the track has been released in an exclusive association with Desi Hip Hop.
Watch 'Can you be me' by Black Zang x Zaki x Critical x Bammy here –
Sabsey Best – Jay Kila, Zero Chill
Brought up in the birthplace of hip hop, this emcee's move from New York to Mumbai has been a long one. Jay Kila has been consistently dropping music videos since the past two years. Not only that, but this hip hop enthusiast has supported the Mumbai culture by showing up to a lot of events happening on ground zero. Jay's latest release is a music video titled 'Sabsey Best'. Much like lot of his previous videos there's a touch of satire in this one too. Music of the track has a dark undertone and is produced by Zero Chill.
Watch 'Sabsey Best' by Jay Kila produced by Zero Chill –
Andhera – Bluesanova, Lil Todu
This one hits different. Producer Bluesanova has been working with a lot of artists from the hip hop scene. This latest release however shows a different side of his artistry. Crooning to his self produced tune, Bluesanova pens down an emotional verse which are thoughts from a vulnerable mind. Speaking on the issues of mental health, a topic that our society has shunned since always. Lil Todu's verse adds a new school flavour to this well produced single. 'Andhera' is an ode to the artists from two artists who are dealing with the demons in their own heads.
Stream 'Andhera' by Bluesanova ft. Lil Todu here and share your views with us –
Open Letter – Moko Koza
It's been a conscious effort to keep our Hot 5 lists as diverse as we possibly can. Including music from the underrated or overlooked parts of South Asia. North Eastern hip hop is definitely one part of the music that needs to reach out to a wider audience. Admittedly we are a little late on coming across this track 'Open Letter' by Moko Koza. But better late than never! This track seems to be one in a series of diss tracks put out by Moko against a rapper called JPolland. A beef that has ensued well over two years ago. Moko Koza hailing from Nagaland has a swift pen game with promising control in his delivery. Produced by Infinity Inc., Open Letter has stirred up this long going beef. Moko also dropped a freeverse recently on this channel.
Watch 'Open Letter' by Moko Koza here and share your views with us –