Stay home and spruce up your quarantine with Desi Hip Hop's hot 5 of the week. A handpicked list of the latest music video or audio releases from the scene. This week saw releases from some of the frontrunners of the Desi rap plethora. Even in a state of lockdown we're bringing hip hop to a quarantined screen near you!
We've handpicked five of the hottest music videos released recently. Mind you, this isn't a ranking list, our aim is to make the best content reach our DHH readers. Some of these hot picks make it to our weekly updated Global Hip Hop Playlist. Without any further ado take a look at the hottest picks of the week!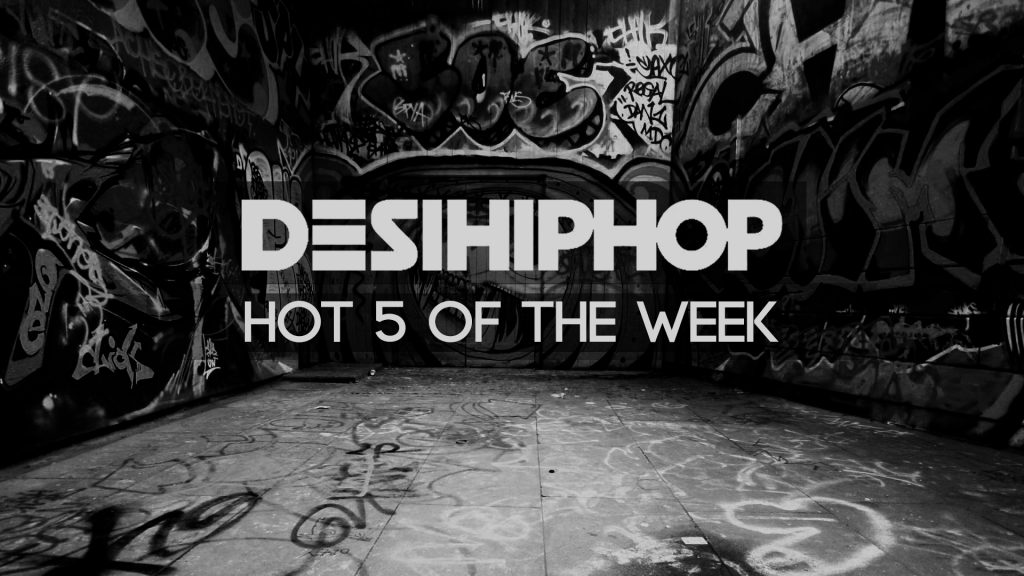 No beef – MC Heam
MC Heam is no less than a Hindi rap pioneer, rapping in Hindi way before there was any mainstream attention to the language. His previous release 'Nakchadi' was a soft chill hop love track which showed a very different side of his artistry. Starting in the boom map era, Heam's music has travelled a long way sonically. The rapper has been dwelling in melodies lately and No Beef is a combination of his melodic side plus his boom bap style. The track is exclusively distributed by Desi Hip Hop and talks about the need for love and unity in the hip hop scene. Heam asks the scene to shun hate and beefs and instead focus on unity and peace. Abhijay Sharma's music is an absolute treat to listen to.
Watch 'No Beef' by MC Heam produced by Abhijay Sharma right here –
Chitta – Prabh Deep
Prabh Deep released his track Chitta a while ago, but the recent release of its music video is totally a game changer. The animated music video is most definitely one of the best coming out of the Indian hip hop scene. Prabh Deep's music leaned more towards the conscious side of hip hop since inception. 'Chitta' is no different, with a message that says he is for the people and almost like a new age Robin Hood. Moreover, the rapper has been quite vocal about his fight against drug abuse among his Punjabi brothers and sisters. Chitta is also a street word used for Cocaine, and Prabh flies solo without being high as a kite. The music video team's work is definitely commendable, with animation being the highlight to take away. It certainly sets a benchmark for music videos coming out of the Desi rap scene.
Watch the stupendous music video of 'Chitta' by Prabh Deep here and share your views with us –
Mumbai Darshan – D'Evil
Gullygang's latest drop is a head bopping tune by Mumbai emcee D'Evil. Titled as 'Mumbai Darshan' this two minute track has got some fresh tunes by Karan Kanchan. D'Evil lays down a free verse in his signature Bombay slang style, with his bass-heavy vocal tone that we're getting to hear in all his recent releases. The last single the emcee dropped was Hip Hop Bajega, after which he was heard in collaboration with various rappers from Gully Gang in the latest EP Shutdown. The music video of 'Mumbai Darshan' is minimalistic but smartly directed by Gltch. Showing some hidden hints throughout which is thoroughly entertaining to spot.
Stream 'Mumbai Darshan' by D'Evil released by Gully Gang here –
Panipaali – NJ aka neeraj madhav
If you're a Malayalam movie watcher you'll be familiar with the name Neeraj Madhav.We'll keep it real, Malayalam rap has only got on our radar in 2020 and we're totally hooked to it. The latest discovery of this splendid artist makes us really enthusiastic about the plethora of music coming out of the South Indian hip hop scene. NJ aka actor Neeraj Madhav, who is one of the front runners of the Malayalam film industry, has released a kickass new track. NJ has a distinctive chopper flow and his fiery Malayalam bars come with a twist of comedy. His latest release 'Panipaali' is a hilarious take on his insomnia and his phobia of ghosts/demons.Animated music videos have become the way of release due to Corona and Panipaali's music video will let a non Malayalam speaker get a gist of the whole idea behind the track. The beat by Arcado is a banger and visuals by Spacemarley is top notch.
Watch 'Panipaali' by Malayalam rapper NJ aka Neeraj Madhav here –
Slayer is Back – Beatslayer
Perhaps the only beatboxer from India to have consistently dropped two albums is Beatslayer from the crew 7BantaiZ. Titled 'Slayer is Back', the album boasts seven tracks featuring some other producers and musicians as well. Beatslayer layers up the tracks with his different sounds, and lets the emcee or producer do their thing on it. His debut album 'Slayer' was India's first beatbox album and he has followed it up with an equally engaging second album. Furthermore, it features emcees Notez and Bonz N Ribz from 7Baintaz as well as producer Captain Fuse on few of the tracks. Kudos to this artist for his consistency and we're already looking forward to the third edition!
Stream 'Slayer Is Back' a beatbox album by Beatslayer from 7Bantaiz right here –