Another week and we are back with the hottest releases from the Desi Hip Hop scene. Stay home and spruce up your quarantine with Desi Hip Hop's hot 5 of the week. A handpicked list of the latest music video or audio releases from the scene. This week saw releases from some of the frontrunners of the Desi rap plethora. Even in a state of lockdown, we're bringing hip hop to a quarantined screen near you!
Music is an inescapable escape from all that's happening around you. Our Hot 5 list aims to bring you the best from the Desi rap plethora. So sit back and relax with our weekly updated Global Hip Hop Playlist, in which our Hot 5 picks are regularly plugged in. Check the playlist out below!
Let's jump right into our Hot 5 of the week!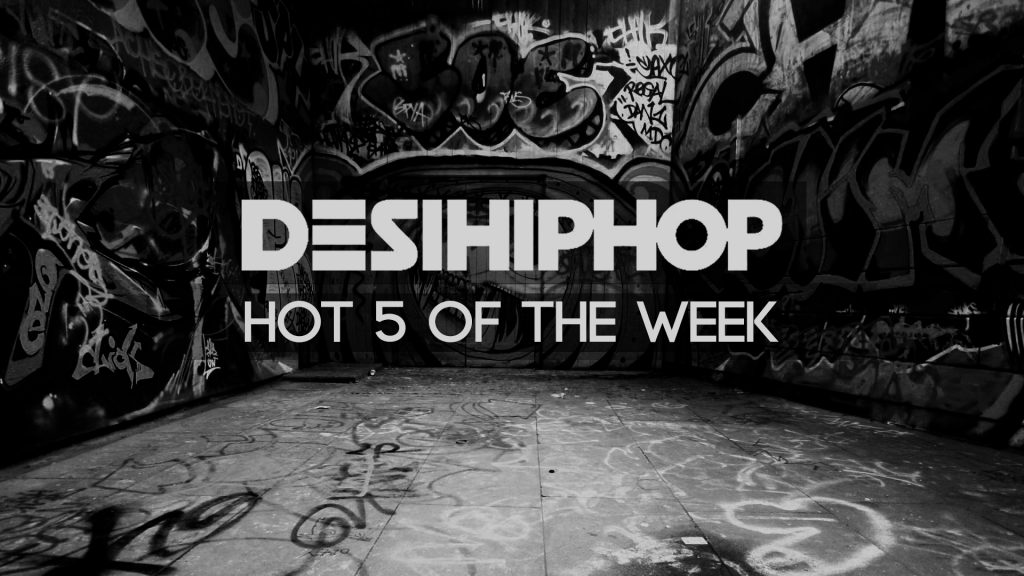 Bada Ghar Chhota Ladka – Slowcheeta
Rapper Slowcheeta made quite an impression on everyone with his one on one rap battle with Ranveer Singh in the film Gully Boy. He is also a signed artist in the label formed by Ranveer known as IncInk. It's been a while since we have heard something from Slowcheeta who's acting career has kept him quite busy. 'Bada Ghar Chhota Ladka' is a rap that tells Cheeta's life story hailing from a well to do family but striving to carve his own path. The track comes from a hustler state of mind and the music video is equally fun to watch.
Check out 'Bada Ghar Chhota Ladka' by Slowcheeta here –
Vishama – Dopeadelicz
Mumbai based duo Dopeadelicz are rap pioneers hailing from the infamous hood of Dharavi. Their latest release is a fiery track named 'Vishama' that translates to poison. Rapping in their mother tongue of Tamil, both Stony Psyko and Dope Daddy have absolutely knocked it out of the park. The beat by Captain Fuse creates the perfect atmosphere for this dark message-based anthem. According to the makers here's what the track is about, "Vishama (Poison) from the album MapulZ by Dopeadelicz speaks about how our country is getting poisoned due to negligence, injustice, inequality, and discrimination. How long are we going to act blindly towards all these situations? How far are you willing to go to cure your country of all these various poisons. It's now time we open our eyes before we close it forever."
Stream 'Vishama' by Dopeadelicz here and share your views with us –
Ajeeb – Ahmer
Kashmir based rapper Ahmer has been on everyone's radar since the past year and has been putting out music consistently. His latest drop is a music video named 'Ajeeb'. The theme of the track as well as the video is dark and gritty. Ahmer goes bar to bar with the heavy-weight beat produced by Kreon. Ahmer also released another track earlier this month titled LKBD (Little Kid Big Dreams) which is a heartfelt story of his own life. The track is produced by Sez on the Beat from Delhi. We're looking forward to hearing more from this artist!
Watch 'Ajeeb' by Ahmer produced by Kreon here and share your views with us –
Not a Poetry – Spitfire & Wordsmth
Representing midzone are rappers Spitfire and Wordsmth who together form the crew called RAPresent. While Spitfire has his fair share of name through the film Gully Boy, having penned down words to the hit track Asli Hip Hop, very few know about the bond he shares with rapper Wordsmth. In fact, Wordsmth is the one who pushed Spitfire to bring out the best in him when there was barely anything happening in the Madhya Pradesh hip hop scene. 'Not a Poetry' is a fiery track that is purely based on impeccable lyricism by both the emcees. We're definitely looking out for more from RAPresent.
Listen to 'Not a Poetry' by Wordsmth and Spitfire here –
D.H.R.U.V. (mixtape) – Deeking
This one's a special mention from our end, especially because of how dedicated this new rapper is. Known as Deeking aka Dhruv is a 13-year-old rapper from the city of Jabalpur. This seven-track EP is one of a kind in all its aspects. It's the first mixtape by the youngest hip hop artist hailing from India. As well as the first mixtape coming out of the city of Jabalpur. What makes it all the more special is Deeking's multi-talent. This young'un has not only penned and recorded his own verses but has also mixed the whole album himself. Not just that, three out of the 10 tracks are produced by Deeking himself. We're more than impressed with his debut EP and are only wishing to see him soar higher and higher!
Do not miss out on Deeking's debut mixtape 'D.H.R.U.V.' check it out here –