Stay home and spruce up your quarantine with Desi Hip Hop's hot 5 of the week. A handpicked list of the latest music video or audio releases from the scene. This week saw releases from some of the frontrunners of the Desi rap plethora. Even in a state of lockdown we're bringing hip hop to a quarantined screen near you!
Music is an inescapable escape from all that's happening around you. Our Hot 5 list aims to bring you the best from the Desi rap plethora. So sit back and relax with our weekly updated Global Hip Hop Playlist, in which our Hot 5 picks are regularly plugged in. Check the playlist out below!
Let's jump right into our Hot 5 of the week!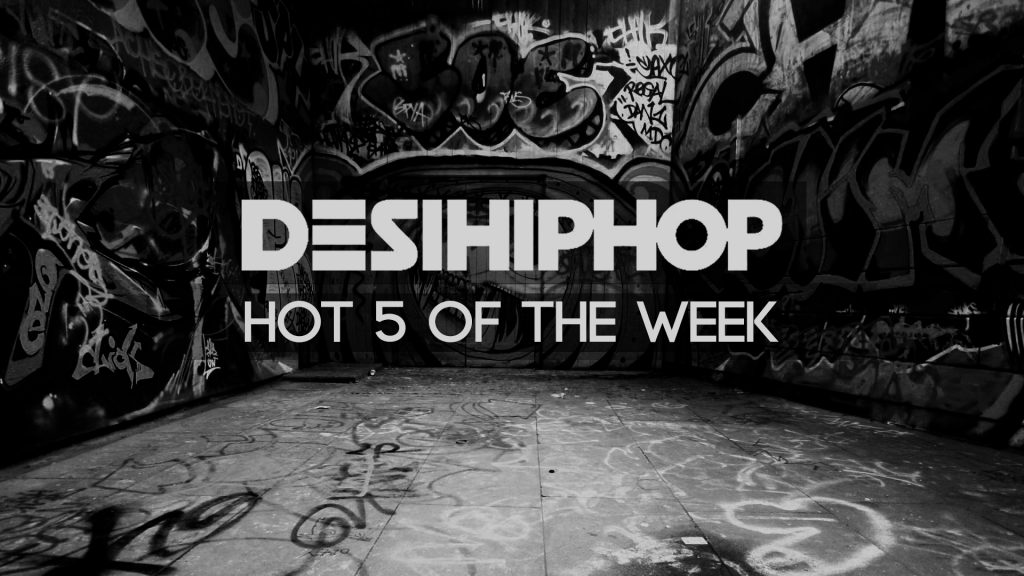 GSTK (Diwana Mix) – Sikander Kahlon ft. SULTAAN
Sikander Kahlon is on a roll like no other desi rapper from around the world. This hard worker has been steady dropping fire tracks almost every single week since months now. His latest drop is a fire old school banger titled 'GSTK (Diwana Mix) featuring SULTAAN. Sikander is all set to release his album 'SK is the Future'. He has already released 2-3 tracks from the album, developing much anticipation from the audience. GSTK is a fiery banger which sounds no less than a gang banger anthem!
Check out GSTK (Diwana Mix) by Sikander Kahlon ft. SULTAAN
TU – Agsy
Agsy is another artist who has been steadily dropping some sick music videos despite lock-down. Her previous tracks 'Rap Game' and 'Beta Kaun Tu' were all about bars while her collaboration with Sikander Kahlon titled 'Baby' showed another side of her persona. According to the makers, 'TU' is an Urban desi rap that talks about how a girl with sass has everything in her life except love. She boldly expresses what she wants in a man but she loves herself more. The song has a very peppy and uplifting Punjabi vibe to it which will make heads bop. Brilliance of this music video shot on phone and edited at home is quite commendable. 
Check out the music video by Agsy 'TU' and share your views –
No Losses – Krsna
Kalamkaar rapper Krsna is out with his latest music video 'No Losses'. The Delhi based rapper takes a walk down memory lane in this joint stating that despite all the naysayers over the years his own dedication is the reason why he could never lose. The chorus is a catchy tune while Krsna lays down 3 verses with his signature rhyme schemes. Krsna has been in the rap game since more than a decade and in 'No Losses' he rejoices his victories while remembering his humble beginnings and times when he felt stuck.
Watch 'No Losses' by Krsna here and comment your views –
Mayday – Full Power x Roy
Full Power has been a force to recognize from the Delhi rap scene. The duo consists of Yungsta and Frappe Ash, and these two artists have been consistently building their fan base from the scratch. Their latest release 'Mayday' also features Delhi based emcee Sumit Roy who can be seen in the film Gully Boy as well. 'Mayday' has powerful verses by all three emcees and a groovy chorus by Yungsta. It wouldn't be wrong to say that Frappe Ash stands out in this one with his power packed verse.
Check out 'Mayday' a collaboration between Full Power and Roy here –
Gediyan – Kru172
Chandigarh based brothers Nottotune and Lucky are OGs in the rap game who are also all rounders. The brothers produce, mix master as well as make their own music videos. Its been a while since we heard a fresh drop from Kru172 and their latest release is a peppy love track. 'Gediyan' has a certain appeal to it that will make the ladies feel flattered. Music video of the track is a quirky emoji based animation. We're looking forward to see what more Kru172 has in store for 2020.
Watch the memoji video of 'Gediyan' by Kru172 here –