Stay home and spruce up your quarantine with Desi Hip Hop's hot 5 of the week. A handpicked list of the latest music video or audio releases from the scene. This week saw releases from some of the frontrunners of the Desi rap plethora. Even in a state of lockdown we're bringing hip hop to a quarantined screen near you!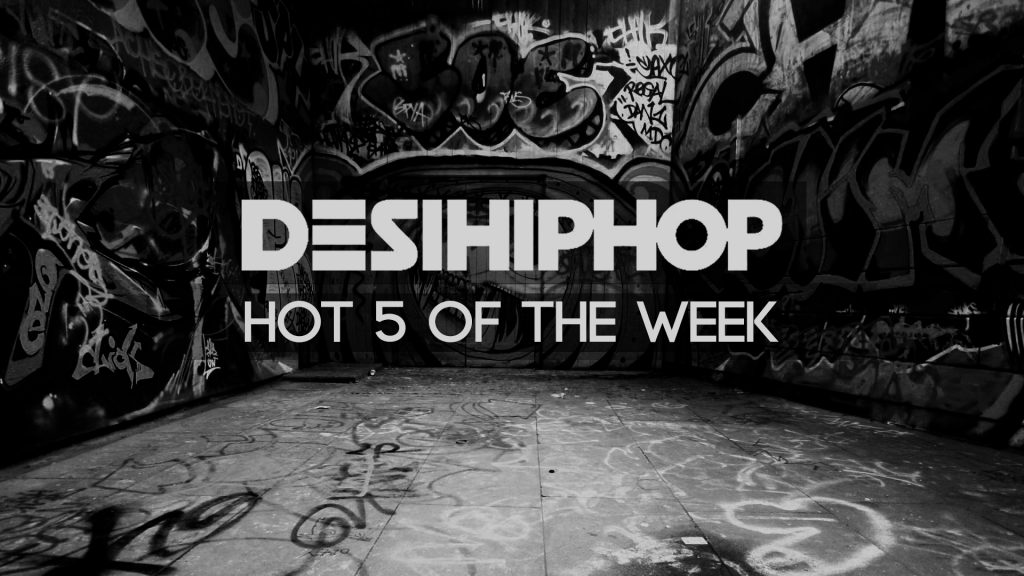 We've handpicked five of the hottest music videos released recently. Mind you, this isn't a ranking list, our aim is to make the best content reach our DHH readers. Some of these tracks make it to our weekly updated Global Hip Hop Playlist. Check it out below!
Peace – Raja Kumari
Raja Kumari has been on the rise since she came back to her motherland India. The rapper and singer songwriter is out with a brand new joint titled 'Peace'. She signed with Mass Appeal India recently and this is her second release with her new label. Although its not a hip hop joint per se, we're still loving the breezy new tune penned by this talented artist.
Check out 'Peace' by Raja Kumari here and share your views with us!
Mohali Vacation 2 – KKG
Sikander Kahlon has been on a roll, no locked down has locked this emcees penmanship. His previous two releases 'Ik Onkar' and 'Bandana Gang' were featured on our earlier Hot 5 lists. Sikander is prepping to release his much anticipated album 'SK is the Future'. Recouping with his crew KKG, Sikander releases a brand new joint titled 'Mohali Vacation 2' from his upcoming album. The track features KKG members Rob C and Kaka Sady as well as Sukha 12 Gej and Adi B.
Watch the music video of 'Mohali Vacation 2' by KKG here –
Voice of the Voiceless – Vedan
Malayalam rap has been on the rise in the past few years and Vedan is an artist to lookout for. Much like the movies, the rap coming out of Kerala also is very socially conscious and stands out in its own right. 'Voice of the Voiceless' is a fiery rap by Vedan which is an outcry by the common man of India. In his own words – "This song is dedicated to all who feel they do have the right to live happily, but don't have the chances, to all who have the vibe to walk in the forefront but are always kept on the margins." 
Watch 'Voice of the voiceless' a Malayalam rap by Vedan –
Tum Tum – Asim Azhar, Shamoon Ismail, Talha Anjum, Talhah Yunus, Raamis
Possibly the biggest collaboration from the Pakistani hip hop scene is the latest joint 'Tum Tum'. Starring rappers Asim Azhar, Shamoon Ismail, Talha Anjum, Talhah Yunus and Raamis. 'Tum Tum' is a breezy lover-boy joint which is executed really well and leaves you hitting the replay button. The music video is definitely one of the best from the Desi rap scene yet and we're watching out for more from these talented emcees.
Watch the music video of 'Tum Tum' by Pakistani rap stars here –
Do Guna – Seedhe Maut
Delhi based duo Seedhe Maut has been on the forefront of their city's rap scene. Recently one half of the duo, Calm, has been producing some fire beats as well. Their latest release 'Do Guna' is another production by Calm with fire bars by himself and crew-mate Encore ABJ. The track shows the duo's journey from humble beginnings to the hunger in them that wants so much more.
Check out 'Do Guna' by Seedhe Maut here and leave your comments –