Stay home and spruce up your quarantine with Desi Hip Hop's hot 5 of the week. A handpicked list of the latest music video or audio releases from the scene. This week saw releases from some of the frontrunners of the Desi rap plethora. Even in a state of lockdown we're bringing hip hop to a quarantined screen near you!
We've handpicked five of the hottest music videos released recently. Mind you, this isn't a ranking list, our aim is to make the best content reach our DHH readers. Some of these hot picks make it to our weekly updated Global Hip Hop Playlist. Without any further ado take a look at the hottest picks of the week!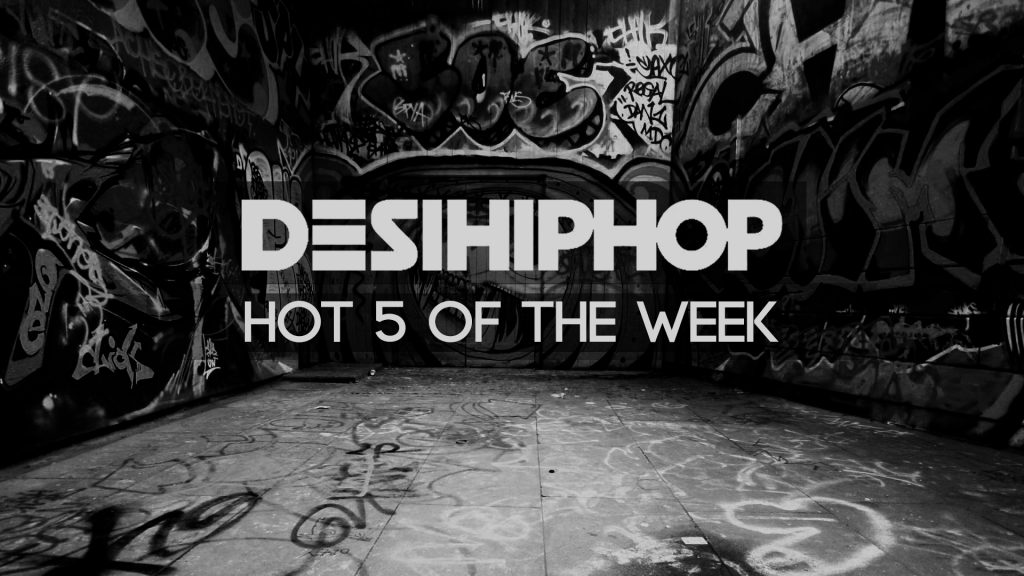 Ik Onkar – Sikander Kahlon
Punjabi rap star Sikander Kahlon stands out as an emcee who can easily give you both commercial as well as conscious rap. His latest release 'Ik Onkar' touches on lot of topics such as gender equality, harmony between religions and the belief that God is One. 'Ik Onkar' is a drop from his album 'SK is the Future' which is to be released soon. Sikander also featured on Divine's track 'Bandana Gang', music video for which released earlier this month.
Watch the music video of 'Ik Onkar' by Sikander Kahlon here –
Rani – Bhanga Bangla
Bhanga Bangla released their latest music video 'RANI'. A head-bopping instrumental coupled with soothing vocals & catchy verses, "Rani" creates a melody that's curated to get stuck in your head for a really long time! The Bengali Trap group, Bhanga Bangla, made impact with their unique sounds mixed in with shockingly out-of-the-box videos. 'RANI' is no exception as the visuals with kept you hooked till the end along with the catchy tune.
Check out 'Rani' by Bhanga Bangla here and let us know your views –
You Know The Vibes – Loka
Mumbai's well known rapper Loka has been releasing music videos on a steady pace. His popular hit 'Shot Deke Gayab' with D'Evil crossed 5 million views on YouTube recently. Loka is all set to release his debut album titled 'Autobiography'. 'You Know The Vibes' is the first release from the album produced and mixed by Aakash Ravikrishnan. The music video captures a different side of Loka's experience in the reality show Splitsvilla by MTV.
Watch 'You Know the vibes' by Loka produced by Aakash here –
Yaaruda Tamizhan – ADK
SriLankan Tamil rapper ADK is a hometown hero whose music has crossed the geographical boundaries. The rapper has an equally engaged audience back in Tamil Nadu who adore and share his music soon as it releases. As a part of the collective Rap Machines International, ADK recently released a track produced by Ofro. 'Yaaruda Tamizhan' roughly translates to 'Who is that Tamizhan'. With a heavy EDM based beat, ADK's songwriting makes the track a fan favourite.
Check out 'Yaaruda Tamizhan' by SriLankan rapper ADK here –
Jaani – Ahsan
Pakistani hip hop scene has been booming for well over a decade now and is slowly picking up the pace it deserves. While many up and comers have tried their hand at the rap game, only few like Ahsan have gained recognition from his peers. His low-tone flow sets him apart with this latest drop titled 'Jaani'. A breezy rap with slick Urdu rhymes, 'Jaani' shows impeccable skills by Ahsan who has been consistently delivering songs to his fanbase. We're definitely looking forward to hear more from this Pakistan based emcee.
Check out 'Jaani' by Pakistani emcee Jaani right here and leave your comments –