The world is slowly opening up after months of quarantine. We at Desi Hip Hop have brought to you the hottest joints every single week from the Desi rap plethora. Ranging of songs from Indian, Bangladeshi and Pakistani artists as well as their collaborations with international talent.
Music is an inescapable escape from all that's happening around you. So sit back and relax with our weekly updated Global Hip Hop Playlist, in which our Hot 5 picks are regularly plugged in. Check the playlist out below!
Let's jump right into our Hot 5 of the week!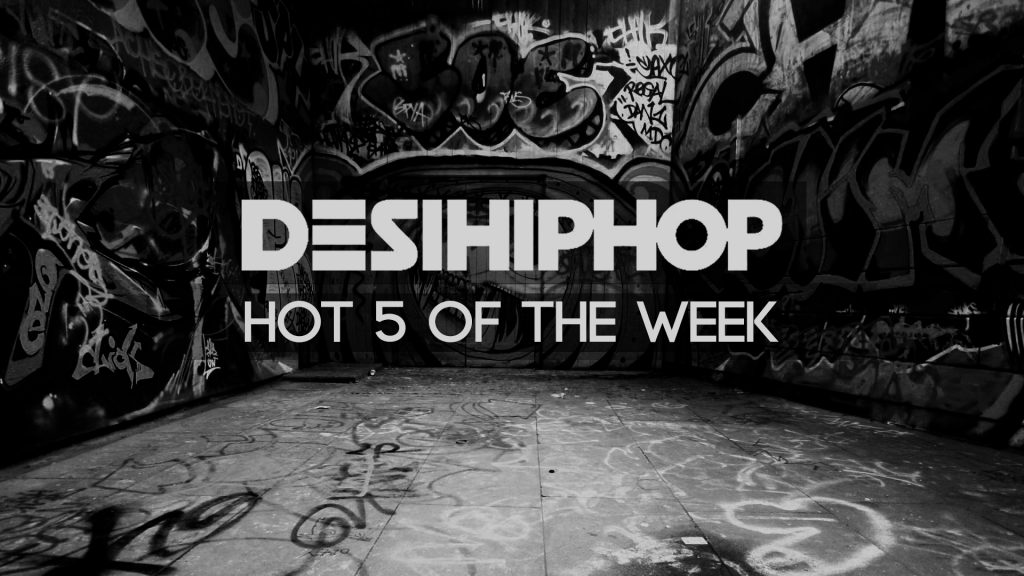 "BANDANA GANG" – Divine ft. Sikander Kahlon
Gully Gang dropped a massive compilation album titled 'Shutdown' recently. While the whole album is studded with gems, few tracks definitely stood out, one of them being a collaboration between Divine and Sikander Kahlon. Visuals of their track 'Bandana Gang' dropped in the recent week and has already garnered upwards of a million hits. Track is produced by Stunnah Beatz and Xplicit.
Watch the video of 'Bandana Gang' by Divine ft. Sikander Kahlon here –
"Bohot Kuch" – Kidshot
Rapper Kidshot from Mumbai began his journey in the rap scene at a young age. Legends like Eminem, Tech N9ne and Twista to name a few influenced the artist a lot. So naturally one can figure that chopper flow is the USP Kidshot runs with. His latest track 'Bohot Kuch' displays the same fiery chopper bars. Kidshot is definitely one of the most persistent artists in the scene and this track is his first major label release.
Check out the visuals of 'Bohot Kuch' by Kidshot here and share your views –
"Golmaal" – Rebel 7 ft. Yungsta
Delhi emcee Rebel 7 is out with a brand new EP titled 'Kaale'. The 7 track EP is definitely a breath of fresh air with heavyweight tracks like 'Pairi Pauna' produced by Sez on the Beat and 'Chitt' featuring Vyshakh. Rebel released the visuals for the last track of the EP featuring one half of Full Power, emcee Yungsta. 'Golmaal' is in fact produced by Rebel himself. Both the emcees came in heavy with the bars with a rage that is oddly calm.
Watch 'Golmaal' by Rebel 7 ft. Yungsta here –
"BAR CODE" – Xpolymer Dar & Hashim Nawaz
When it comes to the Desi Hip Hop scene, India usually takes the spotlight over. That doesn't mean the other countries have nothing going on, it just means their work is really underrated. Pakistani hip hop pioneer Xpolymer Dar collaborated with Hashim Nawaz to create this heavy-hitter track 'Bar Code'. Pakistan's leading rap battle league They See Rap League has released the visuals for this.
Watch the music video for 'Bar Code' by Xpolymer Dar & Hashim Nawaz here –
"HAVOC PULLINGO" – Havoc Brothers
Desi rap artists are repping their motherland no matter which part of the world they are in. One such duo is Malaysian Tamil rappers Havoc Brothers. Going by the name of Havoc Brothers the duo consists of two brothers Havoc Mathan and Havoc Naven. 'Havoc Pullingo' is an energetic number with fiery Tamil bars. Malaysia has a huge Tamil speaking population and its only right to have emcees who rep the language widely spoken.
Watch 'Havoc Pullingo' by Havoc brothers here and share your views with us –