It's a new week and we're back with our Desi Hip Hop Hot 5 list for you all! Quarantined in our houses we don't have much else to do except for keep busy with work and play. Music is an inescapable escape from all that's happening around you. Our Hot 5 list aims to bring you the best from the Desi rap plethora.
This week's list has some newfound gems as well as industry veterans from South Asia. So sit back and relax with our weekly updated Global Hip Hop Playlist, in which our Hot 5 picks are regularly plugged in. Check the playlist out below!
Let's jump right into our Hot 5 of the week!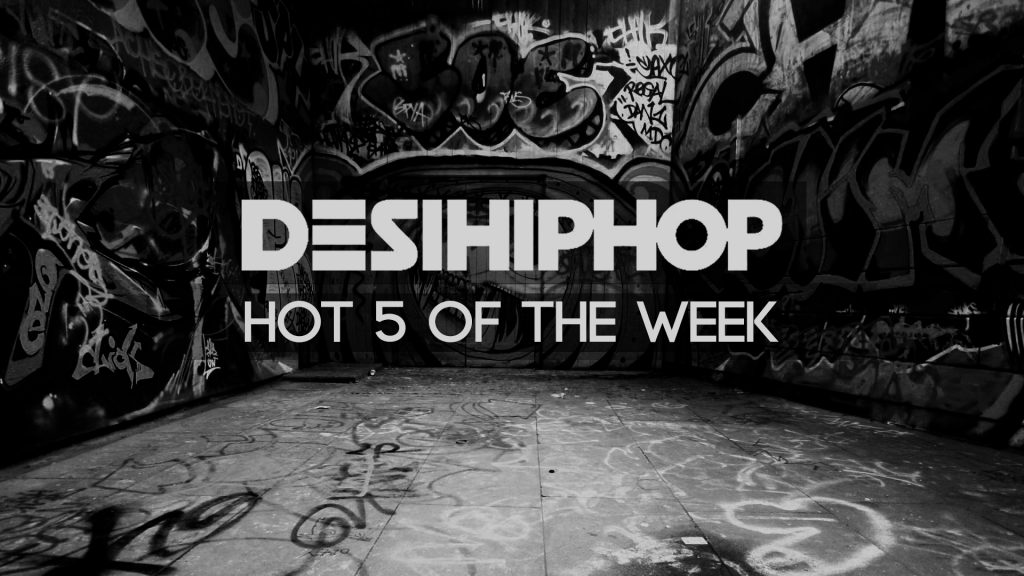 Kahani 2020 – Sez & The MVMNT
Delhi pioneer producer Sez on the Beat has formed an ultimate group of rappers from different cities. Collectively known as The MVMNT, this group of emcees have been releasing tracks steadily killing the beats provided by Sez. Their latest release Kahani 2o20 features Enkore, Yungsta, Lit Happu, Shayan and Zaeden. The track is a chill summer anthem, aimed to bring some positivity into your life amid all the currennt anxiety and stress. Everyone came through on this joint, but Enkore and Yungsta's verse stands out the most.
Check out 'Kahani 2020' by Sez and The MVMNT here –
Empty – D₹V & Loka
A lot of desi emcees have been experimenting with melodies lately but only few have stood out with their sound. Delhi based artist D₹V is definitely one of them. His latest collaboration with Loka and Aakash from Bombay is another breezy tune fans cannot get enough of. Both D₹V and Loka have brought their lover boy persona out in their verses and the beat by Aakash is sure to keep you hooked.
Check out 'Empty' by D₹V and Loka produced by Aakash here –
Beat Mandli – Mojojojo ft. Sikander Kahlon, DJ Sa, Beatslayer, Fuzz Culture
Delhi based bass producer Mojojojo has collaborated with hip-hop artists time and again to create a cross genre hit. His latest innovation is a series called 'Beat Mandli' in which the musician invites different artists to create a unique mix. The concept involves 4 to 5 musicians providing an instrumental/vocal/rap loop who pass on to other artists, each building upon the idea by adding their layer on top. MojoJojo then adds his signature sound in the form of a drop. In the first chapter of Beat Mandli we can hear Sikander Kahlon spit his signature butter flow, with beatboxer Beatslayer and DJ Sa as well as Fuzz Culture.
Check out 'Beat Mandli – Chapter 1' by Mojojojo and featuring artists here –
Vyadhi – Thirumali
Vernacular rap has a flavour that is really unmatched. Its always a treat to hear emcees from the South of India spitting fiery rhymes in their own mother-tongue. One such artist is Thirumali from Kerala, who has been releasing tracks almost every single month. His latest drop is a music video titled 'Vyadhi' which is a wakeup call to change our way of life. The pandemic is slowly changing the way we live and amid this its high time humanity questions its past actions. Vyadhi's typical multisyllabic rhyming is a hit among his fans who cannot get enough of his flow.
Check out 'Vyadhi' by Malayalee emcee Thirumali here –
Solo Ride – Void
MTV Hustle fame Uttrakhand emcee MC Void has a vibe that sets him apart from the other contestants of the show. The emcee started off as a dancer in the genre of hip hop. His latest music video 'Solo Ride' shows off his smooth rap flow and his even smoother dance moves. The beat by Exult Yowl is an ear-worm and Void comes through with his signature commercial rap style. Solo Ride is a declaration by Void that he's living his best life being single.
Watch 'Solo Ride' by Void here and share your views with us –