Stay home and spruce up your quarantine with Desi Hip Hop's hot 5 of the week. A handpicked list of the latest music video or audio releases from the scene. This week saw releases from some of the frontrunners of the Desi rap plethora. Even in a state of lockdown we're bringing hip hop to a quarantined screen near you!
Music is an inescapable escape from all that's happening around you. Our Hot 5 list aims to bring you the best from the Desi rap plethora. So sit back and relax with our weekly updated Global Hip Hop Playlist, in which our Hot 5 picks are regularly plugged in. Check the playlist out below!
Let's jump right into our Hot 5 of the week!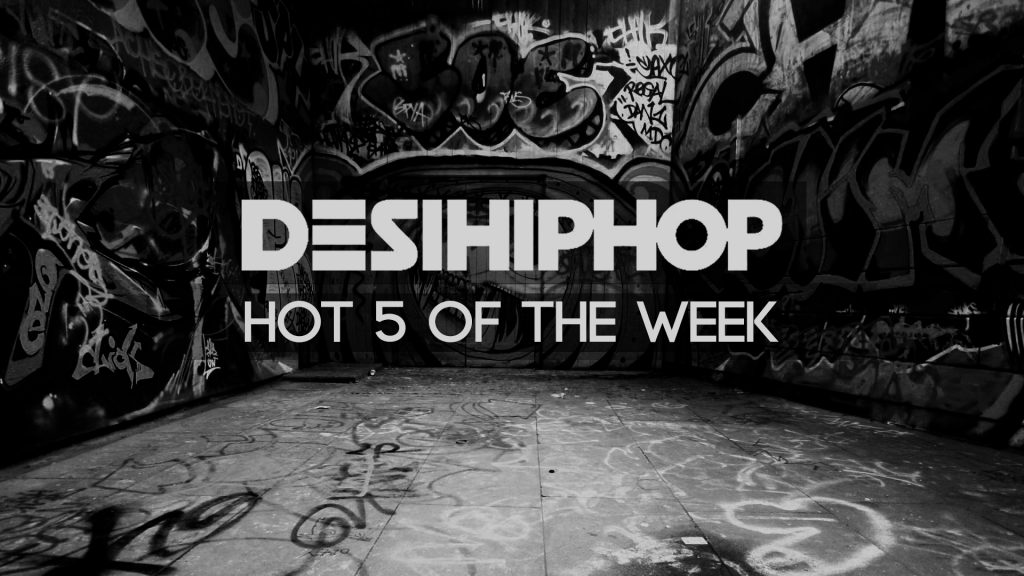 BRINKS – MC Altaf, D'Evil, Elvis
Gully Gang recently released their much anticipated EP 'Shutdown'. Aimed to bring authentic sounds of Indian hip hop, 'Shutdown' has a track list of 8 songs featuring some guest emcees along with the roster of Gully Gang. An Indo-US multilingual collaboration, "BRINKS" forges a connect between the streets of Los Angeles and the gullies of Mumbai with street hustle serving as inspiration. The music video is a chill one featuring MC Altaf, D'Evil and California based emcee Elvis. Like the chorus says, its a whole lotta gang sh*t in India!
Watch "Brinks" featuring MC Altaf, D'Evil and Elvis here –
Nakchadi – MC Heam, Ziean
One of Hindi rap scene's veterans, MC Heam has been blessing audiences with a really chill vibe in his music lately. The rapper started off with delivering fiery bars on old-school hip hop beats. In the past year or two however Heam is taking the chill hop route and the change in his sound is surely welcomed. The MTV Hustle participant rose to fame with his melodious raps on the show. 'Nakchadi' is a really sweet romantic song with a beautifully sung chorus by Ziean. Music by Abhijay Sharma will make you nostalgic about someone you might love!
Watch "Nakchadi" by MC Heam ft. Ziean here –
Lala – Su Real ft. GD 47
'Lala' is the first collaboration between Delhi-based DJ/producer Su Real and Chandigarh-based vocalist/producer GD 47. The track is also the first official single from Su Real's recently released 'Visa On Arrival' album. The duo penned the Punjabi/Hindi lyrics as an ode to all the desi ladies who party hard up in the club. GD 47 raps the verses and sings the Punjabi hook as well, while Su Real provides the music production. Featuring elements of Bhangra on top of a Dancehall rhythm that builds to a Moombahton drop, the cross-genre fusion epitomises the trends of today and the music video by Inflict is surely appealing.
Watch 'Lala' by Su Real ft. GD 47 here –
Can't Stop Won't Stop – Mumbai's Finest
One of the oldest crews of the Mumbai rap scene is still going strong with monthly releases. Ace and Sahir from Mumbai's Finest are out with a collaboration titled "Can't Stop Won't Stop" which is a hip-hop EDM mix track that is high on energy. Telling the people that nothing can stop sheer drive and dedication, both the emcees come in with energetic rhymes. Sahir's sound stands out in this joint programmed by Crazy Vibe.
Stream 'Can't Stop Won't Stop' by Ace and Sahir from Mumbai's Finest here –
Farak – D₹V ft. Full Power
Delhi based artist D₹V released his debut album titled 'Dhruv Rajpal' and received a lot of appreciation by the underground scene. Sonically the album sets him apart from the usual heavyweight bars we hear from Delhi emcees. He released the music video for one of the most sought tracks from the album featuring Full Power. The duo brought their usual bars on bars flavour in 'Farak'.
Watch the music video of 'Farak' by D₹V ft. Full Power here –