It's a new week and we're back with our Desi Hip Hop Hot 5 list for you all! Quarantined in our houses we don't have much else to do except for keep busy with work and play. Music is an inescapable escape from all that's happening around you. Our Hot 5 list aims to bring you the best from the Desi rap plethora.
This week's list has some newfound gems as well as industry veterans from the South Asia and overseas. So sit back and relax with our weekly updated Global Hip Hop Playlist, in which our Hot 5 picks are regularly plugged in. Check the playlist out below!
Let's jump right into our Hot 5 of the week!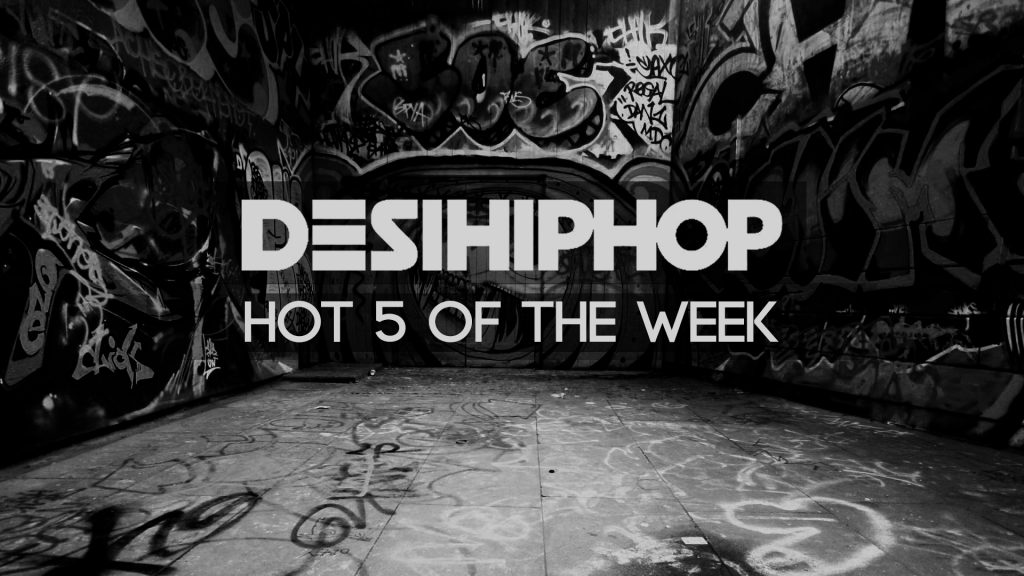 Naezy – 302
The old Naezy is back in this latest joint titled '302' which is an alter ego the artist has taken on. Based on the penal code 302, Naezy claims his new alter ego is all about murdering beats! And so he did in this new release where we can hear Hindi rhyme schemes like his initial tracks. Music for the track is by Karan Kanchan from the Gully Gang. We're looking forward to more of his OG gully boy flavour like this joint!
Check out '302' by Naezy the Baa here –
Sez & Lit Happu – Issa Vibe
Sez on the Beat has changed the soundscape of Delhi rap scene single-handedly. It won't be wrong to say that he has shaped the sounds of many Delhi based artists. His recent EP features Lit Happu who is definitely an artist on the rise to lookout for. 'Issa Vibe', aptly named, is a three track EP with tracks like 'No Brakes', 'Zeher' and Venom & Diamonds. Fully produced and mixed mastered by Sez himself, its a fresh tune for the ears. 'Zeher' is a personal favourite!
Stream 'Issa Vibe' an EP by Sez and Lit Happu here –
Bhanga Bangla – 4 AM in Dhaka
Bhanga Bangla is easily the suavest Bangladeshi rap crew out there. Their latest drop is a wavy joint named '4 AM in Dhaka'. Based in the States, this three person rap group been releasing music back to back building a loyal fan base consisting mainly of Bangladeshi listeners. Usually their music videos is what makes the song larger than life, however the lockdown can't put a lock on making music.
Listen to '4 AM in Dhaka' by Bhanga Bangla here –
AsurA – Bathukudama
Filled with rage and angst, this song by AsurA is a slap on the face of a system so corrupt that it steals from the poorest of the poor. 'Bathukudama' is the first release from AsurA's debut Telugu rap album titled 'ASTRA' which means weapon in Sanskrit. In his own words the track is about the following, "This song runs around a concept where a farmer and a female express all the social issues which they encounter in their daily life. The main motto behind this song is to try and bring the change in mindsets of people."
Watch the video of 'Bathukudama' by Telugu rapper AsurA here –
Ace ft. Ishq Bector – Vantas
Mumbai rap veteran Ace is out with a funky track called 'Vantas' featuring Ishq Bector. When it comes to Bombay street slang Ace is nothing less than an OG and the latest joint proves it. 'Vantas' is a fun rendition of the street smart lifestyle one can experience in the city of dreams. Produced by Crazy Vibe, the track is a part of Ace's album UnderGod.
Watch 'Vantas' by Ace featuring Ishq Bector here –