It's a new week and we're back with our Desi Hip Hop Hot 5 list for you all! Quarantined in our houses we don't have much else to do except for keep busy with work and play. Music is an inescapable escape from all that's happening around you. Our Hot 5 list aims to bring you the best from the Desi rap plethora.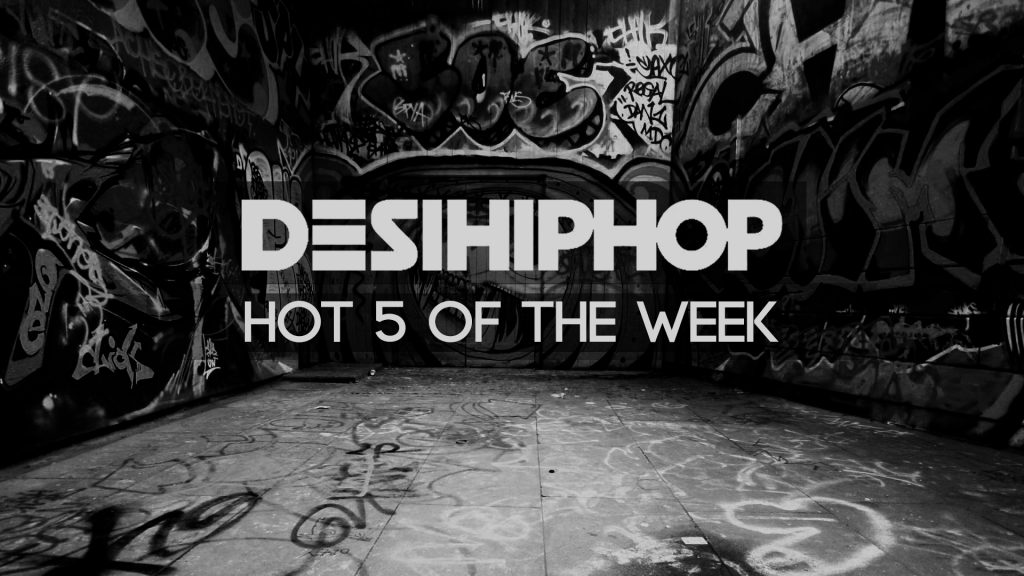 So sit back and relax with our weekly updated Global Hip Hop Playlist, in which our Hot 5 picks are regularly plugged in. This week's Hot 5 has tunes ranging from Mumbai rap to Tamil as well as Bangladeshi hits. So without further ado lets take a look at this week's hottest picks!
Divine ft. Kr$na – Bag
First pick of the week is this groovy release by Gully Gang from their EP Shut Down. Divine features Delhi emcee Kr$na on this record titled 'Bag' which as you can guess is all about the moolah. Both the rappers came through with bars and Divine never fails to give his listeners an ear-worm hook. Produced by not one but three artists, Bag's music is given by Stunnah, NDS and Progression Music.
Listen to 'Bag' by Divine featuring Kr$na here –
Black Zang – Khida
Bangladeshi rap star Black Zang released a covid-19 inspired track named 'Khida'. The track is aimed at increasing social awareness about the need to follow protocols to do our part in controlling the pandemic. The rapper recently made waves for having his track 'No Boundaries' ft. Dee MC featured in the Netflix film Extraction. Beastbuzz has produced Zang's latest release 'Khida'.
Watch 'Khida' by Black Zang here and share your views with us –
Swadesi – Mahamaari
Mumbai rap crew Swadesi has never held back when it comes to exposing truth through their music. Their latest release aptly titled 'Mahamaari' meaning pandemic, is about the virus more deadly than Corona. And that is the human greed and the seed of division that is sowed in the name of religion. The rappers urge listeners to not be easily influenced by what the TV shows and at the same time ask people to focus on building their immunity through nutritious diet as well as a sense of unity and brotherhood.
Stream 'Mahamaari' by rappers Maharya and Mawali from Swadesi here –
Shan Vincent de Paul – Purgatory: The Isolation Tapes
Canadian emcee Shan Vincent de Paul is underrated to say the least. Having made waves with his mridangam rap series, the emcee has a pen game to vouch for. More so, his cut through voice is what registers in your mind with each track. 'Purgatory: The Isolation Tapes' is a beautiful compilation that takes the listener through different moods. The ambient tape is Shan's way of metaphorically saying that the current pandemic is nothing less than judgement day for all the sins committed by the human race. Rest we'd say just listen to the tape and hear it for yourself!
Stream Purgatory: The Isolation Tapes by Shan Vincent de Paul here –
Poetik Justis – Elaan + Stories
Bombay emcee Poetik Justis is a stellar storyteller and his latest release is an amalgamation of two separate tracks. Titled 'Elaan + Stories', the track is put together by producer Dorian X. 'Elaan' as the name suggests is a declaration by the rapper that his pen holds more power than any negativity he might face. "This is a song of two sides of me, one that's constantly learning from the lessons of life and the other that vents out energy and fury," says Poetik.
Listen to 'Elaan + Stories' by Poetik Justis here and let us know what you feel –