Stay home and spruce up your quarantine with Desi Hip Hop's hot 5 of the week. A handpicked list of the latest music video or audio releases from the scene. This week saw releases from some of the frontrunners of the Desi rap plethora. Even in a state of lockdown we're bringing hip hop to a quarantined screen near you!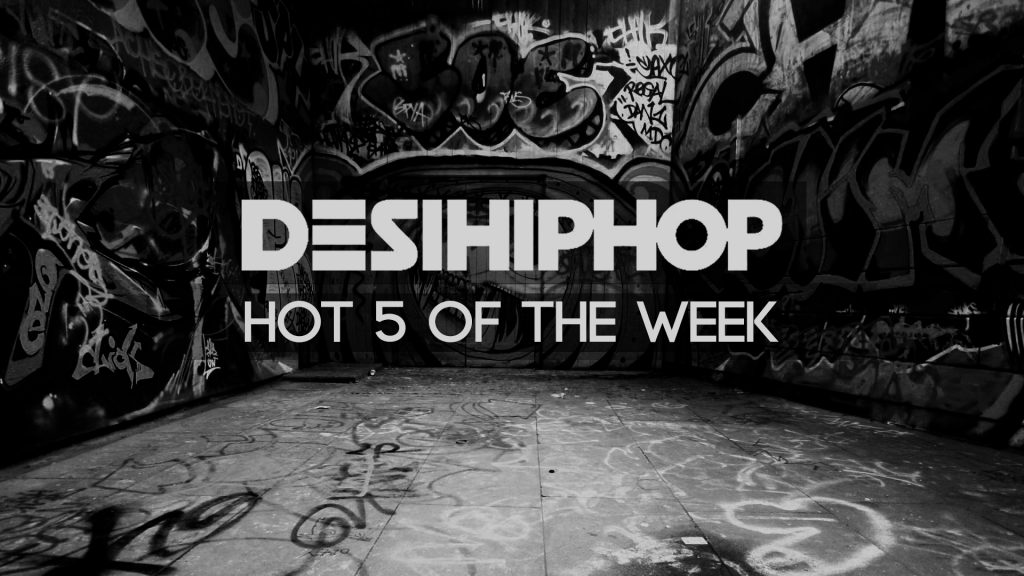 We've handpicked five of the hottest music videos released recently. Mind you, this isn't a ranking list, our aim is to make the best content reach our DHH readers. Some of these tracks make it to our weekly updated Global Hip Hop Playlist. Check it out below!
7Bantaiz, D'Evil ft. Divine – Bas Kya Ba
Quarantine has got nothing on this gang which has announced a heavyweight EP featuring some of Mumbai's stellar rappers. Gully Gang is on a roll with releases and their latest one is a collaboration between 7Bantaiz, D'Evil and Divine. Titled 'Bas Kya Ba' the heavy bass track has some hard hitting verses by D'Evil, and the Dharavi stars 7Bantaiz. Divine brings his own flavour in the end in this joint produced by DRJ Sohail.
Watch 'Bas Kya Ba' by 7Bantaiz, D'Evil ft. Divine here –
Pav4n – Wackenroe
If you're familiar with the UK based hip hop duo Foreign Beggars then you already know who Pav4n is! A pioneer in the rap scene, Pav4n has been releasing a string of singles in a completely new avatar. His appearance resembles that of Lord Krishna, while spitting fiery hot English bars. According to the artist his 20 years of experience as a musician has helped him set off on this new journey going ahead. Kicking off with his single 'Karma', Pav4n's latest release is a hot tune titled 'Wackenroe'. Slaying rhymes on an energetic Madlib beat, the video looks like its shot in Bombay city.
Check out 'Wackenroe' by Pav4n here –
MC Todfod – Prakop
MC Todfod from Swadesi is a wordsmith in his own league. Nothing can stop an artist's desire to speak about what's happening around him/her. The current pandemic has us all in a fix, having left us wondering about the future. MC Todfod comes with a beautiful spoken word rap about the same situation. His message through the video says, "This short spoken word speaks about the current situation we all are facing in this world as one. Talking about the reflection of the pandemic it focuses on the most precious thing we have in common 'time' and how we use this time for our own betterment!"
Watch Prakop by MC Todfod here and let us know your views –
Hip Hop Tamizha – Quarantine & Chill
Tamil rap artist Adhi aka Hip Hop Tamizha is a homegrown superstar. The rapper gained popularity with his old track 'Club le Mabbu le' and has climbed the stairs of success ever since. His multi-talent speaks volumes as not only a musician but also an actor and filmmaker. Adhi made his directorial debut with the film 'Meesaya Murukku' which is a biopic of sorts. His latest release titled 'Quarantine & Chill' is a sweet love song which is apt to dedicate to the girl of your dreams! In this lockdown time the song has a message that says 'you're the one I want to quarantine and chill with'.
Watch 'Quaratine & Chill' by Hip Hop Tamizha below –
Yung Flyy ft. 6LE – Slow
Now you may not be familiar with Yung Flyy. But if you don't know who Bboy Flying Machine is, you need some lessons about Indian hip hop! Three time Redbull BC One India champion, Arif aka Bboy Flying Machine has represented India internationally countless times. Now the bboy turned emcee is dropping flames in his new avatar as well. Taking the moniker of Yung Flyy, Arif is seen collaborating with French artists 6LE and Bellabio in this groovy joint. Yung Flyy lays down melodious rhymes on Bellabio's fresh production while 6LE tops it off with his beautiful singing.
Watch 'Slow' by Yung Flyy ft. 6LE produced by Bellabio –