Welcome back to another week full of Desi Hip Hop releases! We are here to give you the daily dose of Hip Hop you might miss out on. Quarantine has us all locked up in our houses but the creative juices stay flowing. Indian hip hop is growing as we speak and every single week we have an abundance of fresh music coming out for the audience.
We've handpicked five of the hottest music videos released recently. Mind you, this isn't a ranking list, our aim is to make the best content reach our DHH readers. Some of these hot picks make it to our weekly updated Global Hip Hop Playlist. Without any further ado take a look at the hottest picks of the week!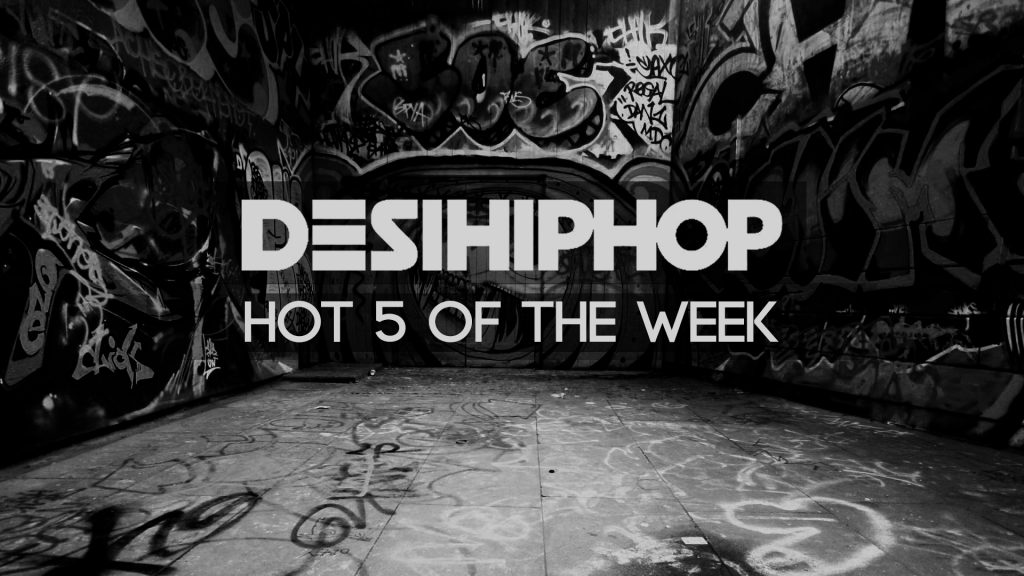 Furthermore, some of these releases make it to our weekly updated Global Hip Hop Playlist. Check it out below and hit the follow button!
Dharavi United – Stay Home Stay Safe
Our first pick of the week is a release by Mumbai's D-Unit aka Dharavi United. Emcees Stony Psyko from Dopeadelicz, MC Altaf and Bonz N Ribz from 7Bantaiz have penned this latest joint. Being a densely populated area, Dharavi is one of the worst affected areas in the fight against Covid-19. Rapping in Hindi, Marathi as well as Tamil, this multilingual anthem aims to bring awareness on the protocols to keep in mind during this pandemic. The rappers are urging people to wear mask, follow social distancing, wash their hands frequently.
Furthermore, 'Stay Home Stay Safe' also received tremendous support from Bollywood with many actors appearing in the video lip, syncing to the words penned by the talented bunch. To name a few actors Akshay Kumar, Sunil Shetty, Ajay Devgn, Atul Kulkarni along with actress Dia Mirza are spotted doing cameo in the video. Gully Gang Entertainment has joined hands with rappers from Dharavi United to create this one of kind Covid-19 anthem.
Check out 'Stay Home Stay Safe' by Stony Psyko, MC Altaf and Bonz N Ribz here –
Agsy – Baby
Joining Dee MC for last week's 'The Fifth Element' episode was Delhi based rapper Agsy. Her track 'Rap Game' was featured in last week's Hot 5 and has been added to our updated Global Hip Hop Playlist as well. Agsy's latest drop 'Baby' with Sikander Kahlon is a breezy RnB and Hip-Hop joint where the rapper is bringing a melodious flavour like never before. She performed both her releases for the audiences in our last live session apart from sharing details of her humble beginnings in the scene, as well as the changes MTV Hustle brought about in her life.
Check out 'Baby' by Agsy featuring Sikander Kahlon right here –
Yungsta ft. J Trix – Aath/Das
Next up on the Hot 5 list is a fiery drop by Delhi based emcee Yungsta. Joining him on this collaboration is rapper J Trix from the Kolkata hip hop scene. Aath/Das is an energetic declaration by the emcees where they claim to be unfazed by the people who are double faced. The emcees have no time for people who act sweet to your face but have lot of things to say behind your back. Yungsta who is one half of the duo Full Power has been putting out new music every single month and this track adds fuel to his fire.
Check out 'Aath/Das' by Yungsta featuring J Trix here –
Sid J and Crackpot (7BantaiZ) – Haste Khelte
Dharavi's homegrown talent is the crew everyone knows about. 7BantaiZ have released a string of hit music videos over the years. Only recently has the crew started making music that doesn't feature all seven of them at once. The latest release is a collaboration between Sid J and Crackpot from the crew. 'Haste Khelte' is a stellar joint with meaningful verses where the emcees are telling their audience to keep it real and never show attitude to your day one homies. The animated music video by Black Acid Production is a visual treat too.
Check out 'Haste Khelte' by Sid J and Crackpot right here –
Skinny Local x Saint Soldier x ThirumaLi – Jumpstart
Last but not the least is a cross country collaboration between Canadian and Indian artists. Music produced Skinny Local from Canada brought on board Canada based emcee Saint Soldier on the same joint as a fiery rapper from Kerala, India. Going by the stage name of ThirumaLi, this guy is a talent to look out for from the Southside. Saint Soldier who was born in India and raised in Canada brings some butter smooth flow in this joint while ThirumaLi smashes it with his chopper Malayalam bars. Music by Skinny Local keeps you hooked throughout. This collaboration happened amid this Covid pandemic, but like we said earlier, the creative juices stay flowing!
Check out 'Jumpstart' produced by Skinny Local featuring Saint Solider and Thirumali –
Honourable Mentions –
Vedang – Shastriya Hip Hop
We would also like to mention two stellar EPs that dropped recently in the hip hop scene. First is a beautiful production based EP dropped by Pune based hip hop producer Vedang. Shaastriya Sangeet is a form of Indian music also termed as classical music in the West. In his EP Vedang tries to fuse the emotions of Shaastriya sangeet with the raw gritty vibe of hip hop. He also adds a bit of electronic touch to some tracks, adding in to the vibe of the fusion.
Featured on the EP is rapper EMF spitting Marathi bars on the track 'Mendikot'. We're in love with this fusion EP which is a perfect quarantine treat to bump on repeat! Vedang has come really far as a producer and his sheer dedication sets him apart in a league of his own.
Be sure to check out 'Shastriya Hip Hop' by Vedang. Stream it here –
UNB – Made in India
Rapper UNB's latest EP 'Made in India' is our second honourable mention of the week. It's an ode to all the Nepali speaking Indians who have dealt with an identity crisis for a long time, where the society has made them feel like they're less of a citizen in India. Based in Delhi, UNB provides bars in the tracks 'Hum Bhi Kya Kum Hain' and 'Made in China Nai' among the other tracks. Tracks like 'Jal Barse' shows off the melodic side of the artist, which he's shown in all the choruses of the EP. 'Made in India' is a body of work that emphasises on quality over quantity. The seven track EP should be on everyone's radar!
Stream 'Made in India' by UNB here –