Stay home and spruce up your quarantine with Desi Hip Hop's hot 5 of the week. A handpicked list of the latest music video or audio releases from the scene. This week saw releases from some of the frontrunners of the Desi rap plethora. Even in a state of lockdown we're bringing hip hop to a quarantined screen near you!
We've handpicked five of the hottest music videos released recently. Mind you, this isn't a ranking list, our aim is to make the best content reach our DHH readers. Without any further ado take a look at the hottest picks of the week!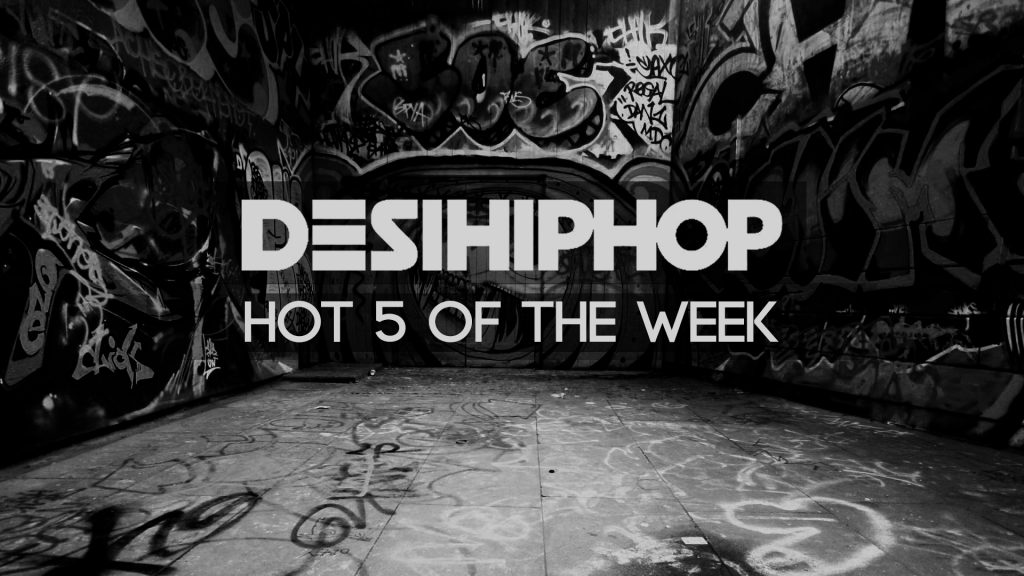 Rajakumari – N.R.I.
One of Indian hip-hop's frontrunners, none other than Raja Kumari released a much anticipated track of her's this week. Titled 'N.R.I.', the music video has been shot in the streets of LA and Mumbai – the two cities Kumari has been repping proudly. As the title suggests, the track stems close from her own experience of being treated differently back in America or in her own motherland. "Sorry that my sari ain't Indian enough, and America don't love me cause I'm Indian as f*ck!" That pretty much sums up the bold stance Kumari takes in this anthem. We're loving this bold artwork made by Babu the Painter as well!
Watch 'N.R.I.' by Raja Kumari here –
Naezy – Khamakha
Naezy the Baa released his debut album 'Maghreb' earlier in January this year. The six track album embodies Naezy's six year journey in the hip-hop scene and all the ups and downs that came with it. Spookily, the track 'Khamakha' has turned out to be almost a prediction by Naezy! The below lyrics will make clear what we mean to say –
"Surakshit hai tu Ghar pe na ja
Rasto pe bach tu be
Aadat hai yeh aadat hai
Yeh khamakha yeh aadat hai
Halat hai yeh halat hai
Banayi humne halat hai kya"
The track turned to be too apt for the current scenario with all of us locked down in our houses due to the corona pandemic. It was indeed the perfect time to release this music video and Naezy was quick to grab this opportunity! The video is a montage of scenes from his previous music videos as well as shots of Bombay city. Music for the track is by Karan Kanchan from the Gully Gang.
Check out 'Khamakha' here and abide by Naezy's advice for this lockdown –
Gully Gang – Nahi Pata
In the words of Gully Gang itself here's what the track stands for, "'Nahi Pata' is the story of a generation which feels helpless about the world that surrounds them. A world connected more than ever, wherein, humanity is more divided than ever. We, however are collectively leaders of the future and decisions we make now, will impact generations to come."
Frenzzy, Sammohit and Shah Rule along with Divine have delivered a message that goes straight to the heart. Indeed in a world where nobody seems to have time for anyone else, change begins within oneself. The music video is a beautiful culmination of human emotions, making you feel sad but hopeful for a new day. JD and his team have done an excellent job in capturing the essence of the city as well as the emotions of the words by Frenzzy and Sammohit.
Watch the music video of 'Nahi Pata' here and be sure to let us know your views –
Dopeadelicz – We Don't Count
It's the month of 4/20 and it would be incomplete without a track by Dharavi's prized duo Dopeadelicz! Stony Psycho and Dope Daddy – as their name suggests are avid supporters of the legalise it movement urging the government to legalise marijuana instead of criticising it under false pretences. Their latest release 'We Don't Count' is a chilled out anthem for all the stoners in the house stating that real stoners don't really keep a count! The duo can be seen exploring the beautiful state of Goa, in a Reggae music festival organised by Reggaerajahs.
Blaze one and check out 'We Don't Count' by Dopeadelicz here –
SIRI – My Jam
Bangalore based multilingual emcee SIRI has released her latest music video produced by Sez on the Beat. The multi-talented artist has produced, directed, edited as well as colour graded this music video herself. 'My Jam' is an effortless track oozing with SIRI's self confidence in her talent. The South-side is surely proud of this rapper killing it with her Kannada and Telugu rhymes mixed smoothly with English with a bit of Hindi thrown in there for fun.
Watch 'My Jam' by SIRI produced by Sez on the Beat here –