A new week adds new flavour to our curated Desi Hip Hop playlist! Some really great releases to feature in this week's edition of DHH Hot 5! Artists from across borders doing it big with so many songs released and promoted. The soundscape of Desi Music is truly being pushed to its limits by all the major artists involved in the scene.
Check out Desi Hip Hop's 5 picks for this weeks DHH HOT 5!
(Note: The list below is in no way intended to be in ascending or descending order)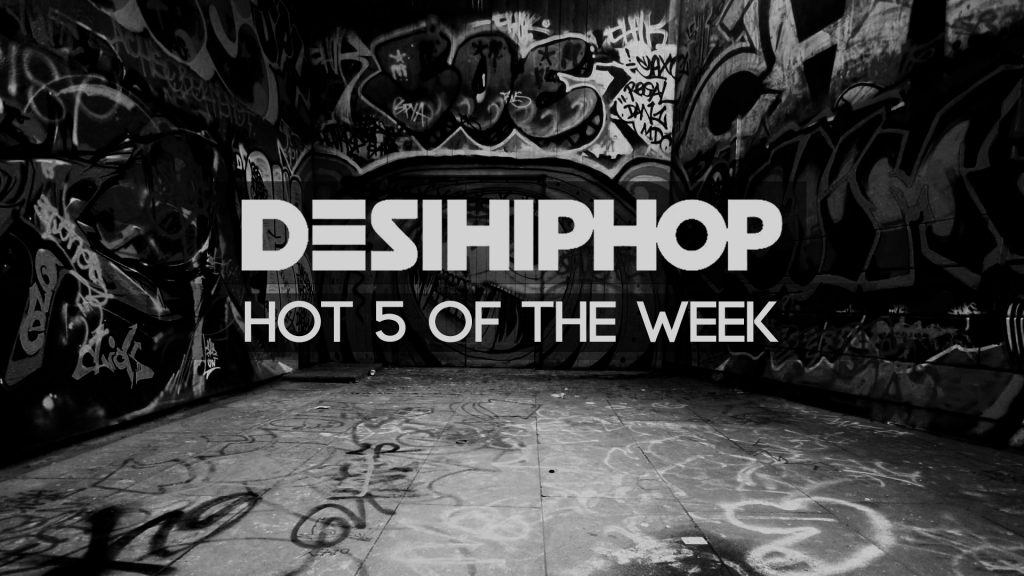 Omer ft. Haji Springer – Tu Jaanega
US based Desi emcees Omer and Haji Springer dropped a fire flex on Desi Hip Hop only recently. The track titled 'Tu Jaanega' sees Omer and Haji flexing on a fire beat spitting Hindi, Punjabi and English rhymes. Haji has a Hindi Travis Scott vibe going in his verse too. Check the video out below to know more.
D'Evil Freestyle Friday – Mai Kya Boltai
D'Evil kicked off another exciting edition of DHH Freestyle Fridays with his track 'Mai Kya Boltai'. 'Mai Kya Boltai' is a freestyle with a serious undertone. D'Evil is swift about his message to the young ones who are looking up to the current hip hop scene. Multi-syllable Hindi rhymes is a forte for this rapper and 'Mai Kya Boltai' is no different. Music producer Shinji has provided the beat while Nikhil Vaiude from Elsewhere has shot and edited the video.
Gurbax ft. Dee MC – Aatank
The song 'Aatank' is the latest release from the line of Bacardi House Party Sessions produced by All India Bakchod. While the whole song may not be a hip hop head's cup of tea, Dee MC's verse certainly works its charm. "Aatank" is a catchy tune with a vivid visual storyline. On the other hand, Dee MC's verse is as gritty as it gets. The raspiness of her voice coupled with the powerful lyrics makes for a perfect addition to this track.
Shreyas – Fucked Up & Grateful
Mumbai based emcee Shreyas released a new EP titled 'Fucked Up & Grateful'. The self produced EP also features Bombay Lokal emcee Gravity on one of the songs. Shreyas who is best known for his battles on B3 India has certainly outdone himself with his latest piece of work. The artist has shown immense growth in his musicality by pulling off this project independently. Released on his birthday, this is the perfect escape album of the week.
Sammohit – Mere Jaise
Mumbai based emcee Sammohit released stellar visuals for his song 'Mere Jaise'. The dark track gives the message of a struggling artist in a country like India. Sammohit speaks from his heart on this one, narrating his journey as a rapper and the frustrations of facing failure. Nonetheless, he urges fellow artists to never back down from facing the situations life throws at them.