A new week adds new flavour to our curated Desi Hip Hop playlist! Some really great releases to feature in this week's edition of DHH Hot 5! Artists from across borders doing it big with so many songs released and promoted. The soundscape of Desi Music is truly being pushed to its limits by all the major artists involved in the scene.
Check out Desi Hip Hop's 5 picks for this weeks DHH HOT 5!
(Note: The list below is in no way intended to be in ascending or descending order)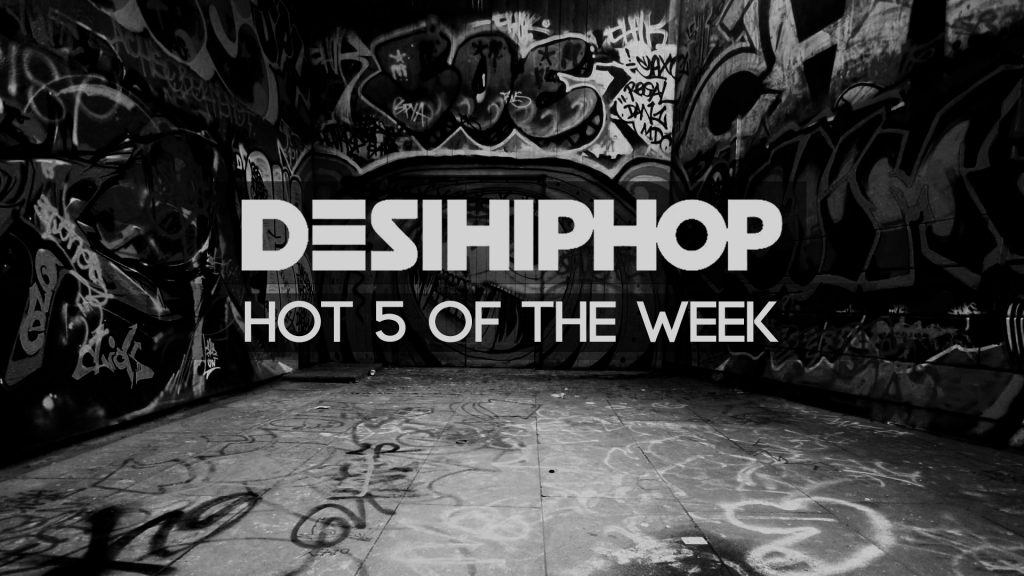 Sha Vlimpse – "Money In The Bank"
American-Bangladeshi rapper Sha Vlimpse has dropped a brand new Freestyle Friday video in association with Desi Hip Hop. "Money In The Bank" is a creative short music video that sees Vlimpse spit multies and punchlines over a catchy beat. Vlimpse runs around with his monkey referee hunting for his "Money In The Bank" case. The rapper also speaks about racial profiling that's prevalent in the country. Watch the video below!
Smokey The Ghost – "HER NAME IS ?"
Bangalore based emcee Smokey the Ghost is a true veteran and his latest mixtape has proved that once again. Blending different styles of music into hip hop, Smokey has expanded his musical boundaries creating a fully unique piece of work. While each song is inspired from Smokey the Ghost's past relationships with women, politics & his parents; the lyrics extend into parallel concepts about the environment he lives in. The mixtape features Mumbai rappers EMF and Dieferrent. Stream the mixtape below, this one you should not miss!
7BantaiZ – "Achanak Bhayanak"
7BantaiZ is a hip hop crew from Dharavi consisting of 7 young and talented rappers. Their latest drop Achanak Bhayanak features all 7 of them in a posse cut like track. While Shubham Dolas directed the video, music for the same has been given by Bluesanova. Featured rappers in the video are Yoku Big, Mr. Scam, Bonznribz, Beatslayer and Crackpot. Watch Achanak Bhayanak below.
MC Altaf ft. Jay Kila & Ranveer Singh – "Wassup!"
Mumbai based emcee Altaf Shaikh has dropped visuals for his well known song "Wassup!". The track features American Indian rapper Jay Kila as a guest verse and sees the members of Dharavi United in the video. The best part is surely the surprise appearance by none other than actor Ranveer Singh! Ranveer was an avid listener of Altaf's unreleased track and had encouraged him to go on with putting it out soon. Its quite refreshing to see Ranveer Singh supporting local artists in any way possible. You can catch "Wassup!" by MC Altaf and Jay Kila below.
Shah Rule – Lakhs
Mumbai based rapper Shah Rule is back at it with his latest music video Lakhs. Good production quality and a video that compliments the whole song has been Rule's trademark since he started. Lakhs is no different, the beat bangs and the visuals are on point! Shah Rule gives it back to his haters who think as a NRI, he should not do Hinglish raps. The rapper has only one thing to say to them, he doesn't take Ls, he earns lakhs!