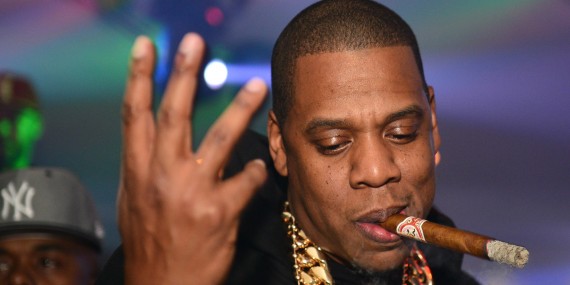 Perhaps not an outright death of rap lyrics, but something has happened – and it started in the most unlikely of places.
"The game's fucked up
N****'s beats is bangin', n**** your hooks did it
Your lyrics didn't, your gangsta look did it
So I would write it if y'all could get it
Bein' intricate'll get you wood, critics-
On the Internet, they like "you should spit it"
I'm like "you should buy it, n**** that's good business""
Eight years later, Jay Z's verse from "The Prelude" – specifically these seven bars – has never been truer. But, oh, the irony.
Working backwards, there are some relatively young (American) MCs still carrying the torch: Kendrick Lamar, Ab-Soul, Action Bronson, J. Cole, Drake (whether you like his emo swag or not), Big K.R.I.T., and a few more. Unless there's a requisite (read: profitable) amount of charisma involved, as these MCs have in varying quantities, you have no shot out there. It's much more important for record companies and media outlets that an artist, in any genre, have a certain "swag" than real talent.
This is still show business, after all. Talent alone won't get you very far in 2015, as opposed to 1995, or 1975. You don't have time for a flop. You have to arrive onto the scene, more of less, fully developed. Hits are key to continuous success, and mostly gone is the possibility of longstanding careers for artists like Common or El-P, heroes of an either more poignant, conscious rap, or of underground deity status.
In previous eras of rap music, lyricism wasn't only at the forefront. Top-end rap lyrics was the ultimate bellwether of worthiness within the community. For an aspiring rapper, respect for his or her lyrical skill was paramount.
The influx of real money, which started trumping the need for respect, created an unfortunate change in the tone and original purpose of rap music. The irony of the careers of Biggie Smalls, and subsequently (and perhaps more importantly) Jay Z, is the glorification of wealth within their considerable lyrical dexterity. They unintentionally planted silent landmines.
That soundless implosion occurred when other rappers couldn't compete with the wordplay of Big or Hov. They could, however, match the displays of materialism, and/or contrived toughness, and back it with strong production. They, and the record companies, figured and maintained a mindset that said, "Well… two out of three ain't bad."
I mark the end of lyricism with a specific run of events that occurred within a five-year period, 1996-2001: the rise of Master P's No Limit imprint; the sudden death of Big Punisher; the dissolution of Rawkus Records as a legitimate force; the literal/virtual breakup of numerous groups like Wu-Tang and A Tribe Called Quest; and the lack of initial commercial success for Jay's 1996 debut Reasonable Doubt.
All of these could be talked about at length, but I believe the last event has had the most significant effect on rap music over the last 15-20 years.
It would seem a rather random event, but follow me down this road. Reasonable Doubt was supposed to be Hov's grand entry, his B-line to immediate greatness similar by B.I.G.'s Ready to Die, and Nas' Illmatic. While a massive critical success, Carter's debut wasn't equally received on the charts. It wasn't on equal ground with Illmatic, arguably the greatest rap album of all time.
Timing was also interesting, as 1996 saw the release of certified (near or actual) classics, including Outkast's ATLiens, Ghostface's Ironman, 2Pac's All Eyez On Me, and the Fugees' massive The Score. Nevertheless, the damage, as it were, was already done. Chart reception for Reasonable Doubt wasn't what Roc-a-Fella Records anticipated.
Jay Z quickly realized he needed to flash up his act with the release of the succeeding In My Lifetime, Vol. 1. The problem remains that, minus a short break, from the release of In My Lifetime, Vol. 1 to the emergence of Drake and Kanye West (post My Beautiful Dark Twisted Fantasy), Jay Z has been on the top of the rap mountain. In verse and in practice, he's literally stated that gaining wealth as a rapper necessitates "dumbing it down."
As a leader, you have to expect others to follow suit, and they did. Because of this, rap lyrics are still making a comeback. Consider Jay Electronica's flow on "Bitches and Drugs," 2007.
"Guru told me slow up the flow
Cause science and metaphors will slow up the dough
So, here we go… Gs up, hoes down
If rap was like blacks in the Sixties
I'm a white cop in riot gear ready to hose down"
This was posted in its original form, but the author here.