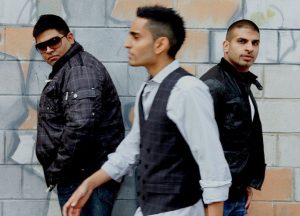 Baba Kahn is one of Canada's premier and most celebrated club DJs. Baba Kahn has also branched out into production, as he recorded Culture Shock: East Meets West in 2008. Culture Shock featured two groundbreaking world-wide hit singles. The first is"Tonight" which features Kardinal Offishall, Fatman Scoop, Sunny Brown and Lomaticc. The next is the electronic smash "Shiva" which charted #34 on the Canadian Club Dance charts.
After the success of Culture Shock, Baba Kahn released CULTURE SHOCK 2: The Blackmarket Edition in 2009. At this point the Culture Shock expanded to Lomaticc and Sunny Brown as permenant fixtures. With close to 1 million downloads worldwide, the Culture Shock Trio become one of the most sought after acts with their ability to fuse Desi sounds with today's anthems. The world was beginning to take notice, as were some of the biggest acts in the music business. The group has already remixed global hits for Sean Paul, Rihanna and Lady GaGa.
Along with traveling for their high energy BlackMarket Tour, Culture Shock hard at work on Culture Shock 2.5 and Culture Shock 3.
Lomaticc is a singer, producer and songwriter. He leaves people in awe with his talent. At the age of 15, Lomaticc recorded his single "Kinni Soni" which was leaked and an  instant classic impressing DJs, radio jockeys, and artists worldwide. With this type of early success Lomaticc was pursued by Baba Kahn to join the Culture Shock movement.
Sunny Brown has brought the Culture Shock team his Punjabi flair which bridges the gap between the east and west. Sunny Brown's versatile voice and music production has set him apart from other South Asian singers, putting him in a category all his own.