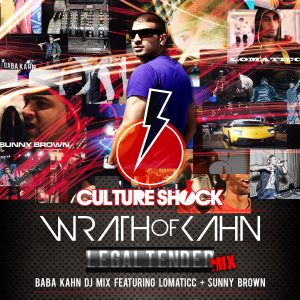 After riding the success of Culture Shock 2: Blackmarket and their single "Ex'd Up," Culture Shock is back with music is a new form. DJ Baba Kahn steps into his expertise and releases Wrath of Kahn. The 30 minute mixtape features new Culture Shock tunes and mainstream favorites.
Culture Shock group members, Sunny Brown and Lomaticc, are heard on the mixtape and Lomaticc lent a hand in the production.
Talking about this release, Baba Kahn says "The DJ Mix was an idea we came up with while recording the mixtape. I was excited to get the music out to fans and what better way than to give the fans a preview of all the new tracks mashed up with today's biggest hits."
Lomaticc reflects on working on the music, ""It was amazing to see Baba Kahn in action. When a DJ is in his element and doing what he loves to the energy in the room is amazing and we could see why Baba Kahn quickly became one of the biggest DJ's globally."
You can get your copy of Wrath of Kahn on Culture Shock's official Facebook fanpage.