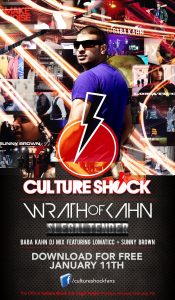 Culture Shock has been laying low in terms of releasing music since the drop of Culture Shock 2: Blackmarket Edition. With a pending music video release for "Ex'd Up," Culture Shock have announced that they are going to drop Wrath Of Kahn: The Legaltender DJ MIX January 11. 
With the spotlight on DJ Baba Kahn for this release, Lomaticc and Sunny Brown will still be heavily featured.
Next month, Culture Shock are set to drop Culture Shock 2.5 LEGALTENDER- The Mixtape on February 7.
Mark your calendars fans!