TO PERFORM AT 'BRODHA V: THE HOMECOMING SHOW' (LIVE TAPING)
MAY 16 | 9pm | COUNTER CULTURE BANGALORE
Mumbai (29/4/2015)
Brodha V, one of India's favourite and most successful rappers, has made a major announcement on his social media this morning. The Bangalore bred rapper, will be coming home to perform at "Brodha V: The Homecoming Show" on Saturday, 16th of May which is to be held at Counter Culture, Bangalore. Furthermore, the entire performance will be shot and taped LIVE and will be released later as a Concert Film. Fans and Hip-Hop enthusiasts now have a once in a lifetime opportunity to feature in this first of its kind film from an Indian Hip-Hop Artist.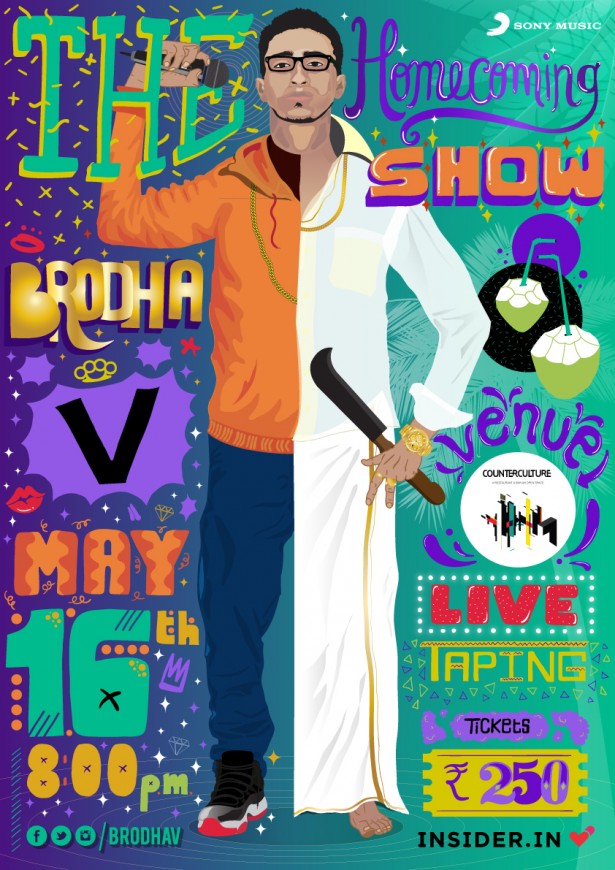 The fusion hip-hop rapper has had a string of hits in the last couple of years including the viral sensation 'Aathma Raama', 'Anu Aunty', 'Aigiri Nandini' and the massive Kollywood smash hit, 'Shake That' with Anirudh Ravichander. At The Homecoming Show, Brodha V is rumoured to perform his forthcoming unreleased material, along with his classics.
Tickets for the show are available on Insider.in for just Rs.250. The venue has a limited capacity so we urge everyone to buy their tickets immediately before the show gets sold-out.
Relevant Links:
Brodha V on Facebook
Brodha V: The Homecoming Show (EVENT PAGE)
Ticket Purchase Link