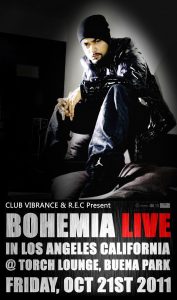 DesiHipHop.com has partnered with Club Vibrance and R.E.C to bring  Bohemia  to the fans with a performance in Los Angeles, California on October 21. The event is at the Torch Lounge and they are promising an amazing show! With an artist like Bohemia, we expect no less.
The event will take place at Torch Restaurant; DJs Vishal and Mandeep will keep the party going which fans wait to see the Punjabi rapper take the stage.
Bohemia is expected to perform he new song "Sansar," which was inspired by the film Breakaway (Speedy Singhs), as well as smash hits like "Kali Denali" and "Charso Bees 420."
Get your tickets because this is an event you are not going to want to miss!