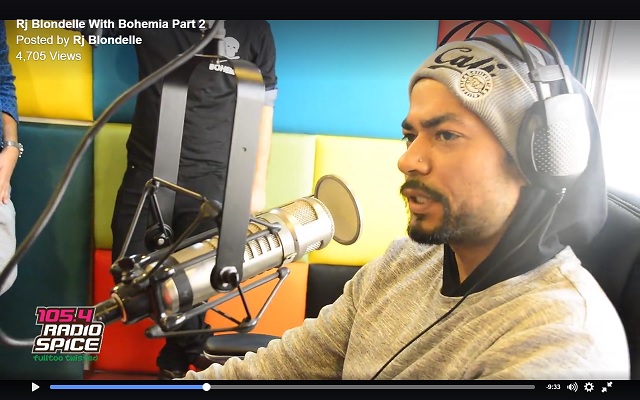 This is what everyone's been waiting for since word got around about the KDM mixtape, right? Bohemia fans have been aching to know who's involved in the KDM mixtape.
Well, Bohemia finally spilled the beans on the artists working with him on the KDM Mixtape. After numerous attempts at coaxing Bohemia by the persuasive RJ Blondelle, Bohemia had to name some names. Props to RJ Blondelle on 105.4 FM Radio Spice out in the United Arab Emirates for doing her job right!
Watch: Bohemia names the rappers in KDM Mixtape
He named a number of likely artists including J Hind, Sukh-e Musical Doctorz, Jay Sean, and members from team Rishi Rich. He also went on to mention underground artists like Pradhan from Desi Beam, and the Desi Rapper from Lahore.
Of course, there are numerous other artists involved in this album (and we know who they are) that he did not mention. But those artists will soon be mentioned by the KDM team.
Watch the rest of the interview below
Rj Blondelle With Bohemia Part 1Bohemia Like Never Before!!!!

So Here It IS The First Part Of Video The Interview with BOHEMIA the punjabi rapper

Stay Tuned for Part 2 😀

Posted by Rj Blondelle on Wednesday, February 17, 2016