Holly crack a phony, It is finally here. All the titans of the Desi Hip Hop universe have come together to drop, GAMETIME. The mixtape is shaping out to be perhaps the most awaited mixtape in the entirety of the Undergrounds existence. I come from a time when me and my homies used to just dream about witnessing a cypher featuring Bohemia and other pioneer emcees. Everyone on this cypher is a Goliath of the scene and have legions for fans all over the globe.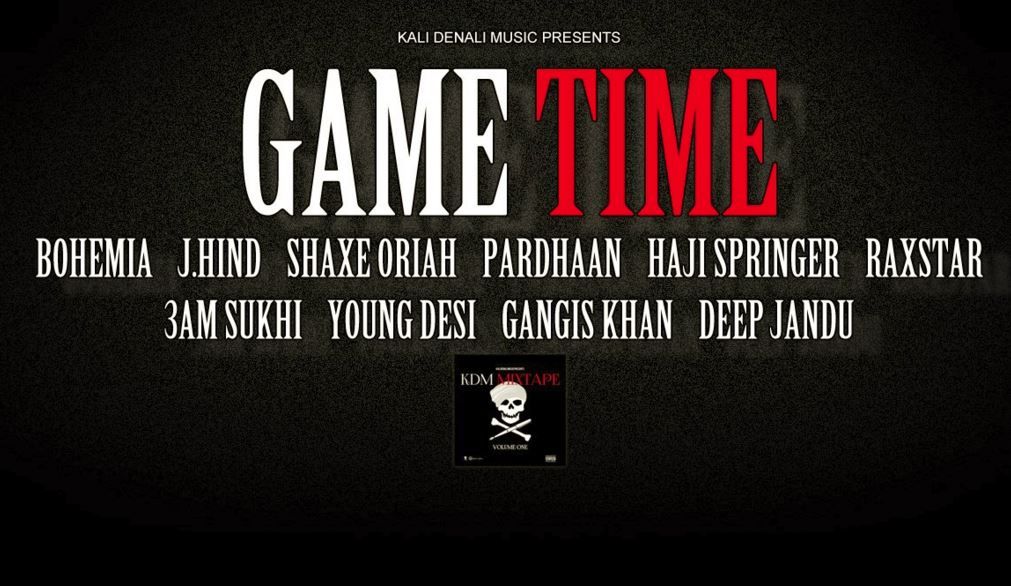 The video starts with the message "In 2016 ten artists from across the globe were bought together to make history". The track is star studded and features BOHEMIA, J.HIND, SHAXE ORIAH, PARDHAAN, HAJI SPRINGER, RAXSTAR, 3AM SUKHI, YOUNG DESI, GANGIS KHAN and DEEP JANDU. The king of Punjabi rap opens up the cypher and declares that it is now KDM season and passes the baton to his long time friend and collaborator J.Hind, who spits some wicked bars and makes his mark and mentions about his family history about being involved in Qawwali and that they have come a long way. J.Hind makes way for Shaxe, who picks up right where J.Hind leaves it and mixes some Hindi wordings to his English stylings and it sounds absolutely fantastic. The next emcee is Pardhaan who rips it through with his Hindi and Haryanvi flows and in the process also claims that the KDM roster are the Desi Hip Hop AVENGERS. Haji Springer follows up Pardhaan and does his signature style which like always is entertaining. My personal favorite verse from this cypher is of Raxstar, he mixes English and Punjabi perfectly and that bar which he finishes with, "Dudh Malai" left me in splits. 3AM Sukhi is by far the quickest in this cypher and has a fantastic multi-syllable structure to his verse. Sukhi then allows Young Desi to speak, I heard Young Desi for the first time and I honestly regret not hearing him before this track, he has a very abstract but ear worming delivery which sounds really good. It has been a minute since I heard any fresh material by Gangis Khan, although in this cypher he spat like a boss. The video finishes in a very new school and urban Punjabi feel with Deep Jandu having the last say and mentions why the KDM roster is not supposed to be messed with. Lazarus also makes an appearance in the video during J.Hind's verse.
Another thing which stands out in the cypher is that all the artists pick up right where the previous artist drops it off hence providing this uniformity to which the listner can bump their heads to. Usually all of these artists go far lavish video shows at exotic locations and showing other affiliated fancy things but this time they broke that stereotype by holding the camera themselves with one hand and just shooting the video and it seems like most of the rappers did their sync in one go. The video editing is on point and I love the color correction employed.
This is the closest we have been to the KDM Mixtape and it is now becoming extremely difficult for us to wait for it. Have a look at this video and let us know what you think.