Talent in India is diverse and so widespread that it's not surprising when an unheard and unknown musician makes headlines. Bengaluru rapper Karthik Sundar Gubbi is making waves in the hip hop world with his new crowdfunding campaign for his new track called Song for Bengaluru and has raised over 1 lakh so far.
The rapper who goes by his stage name Gubbi, came into focus when his earlier song Amma was  featured on BBC Radio as Song of the Week. He started a campaign for his new song Song for Bengaluru on July 7th; his goal was 1 lakh which he reached in 10 days before before August 14 which was the final date for the campaign.
The song according to Gubbi is a humorous take on the city of Bengaluru about the city's hostility towards the city's non-locals; it also talks about the lack of cultural knowledge and respect for the city amongst the people who have been living there for a long time.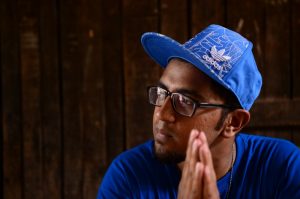 Gubbi is grateful to the city for it has done for him. Apparently everything he is today, he owes the city. The song is his way of returning the favour. The song will be for the city funded by the people of the city. With no support from record labels, it's expensive making a music video. Gubbi made his first one with his own money; the video for Amma was co produced by K Srinivas from Rectangle Studios.
The only way Gubbi could make Song for Bengaluru happen was through crowdfunding. The rapper's song Mangaru, a collaboration with the singer Abhijeet, which came out in 2009 was a hit with 3000 downloads per day. He raps in Kannada and this makes it easy for the locals to relate to it. It' still a favourite among the listeners.
He took up rapping in Kannada, after a discussion with a composer he was working with, who said it won't be cool to rap in Kannada. Gubbi has always believed in the power of regional languages and this statement from his friend composer offended him. Song for Bengaluru will showcase parts of the city and will feature the people who have funded the expenses for the video which will be out at the end of October/beginning of November.