Beatboxing, a hip-hop musical genre of rhythms and sounds created by the human voice, will soon make its professional debut in India`s mainstream music circuit with the launch of Voctronica, India`s first beatboxing orchestra.   Voctronica, which debuts by the end of the month, will be assembled after a series of workshops in India and Britain with aspirants being auditioned for their vocal range, feel for rhythm and pitch.  Ten of the best beatboxers will be chosen to assemble the band.
Voctronica is a collaboration between Sony Music, the British Council and Zomba, a Sony Music Independent initiative which is a comprehensive digital platform to promote and develop emerging hip hop culture in India.  The orchestra will be overseen by Shlomo, a Guinness World Record holder and Human Beatboxing champion, who will choose the band members. The project will be led in India by popular voiceover artist and vocalist Vishwesh Krishnamoorthy.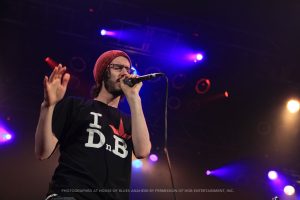 "Beatboxing is all about rhythm and how well you combine sounds to produce a unique tune. It crosses genres as it borrows from every culture. It is relevant in India because of Indian percussion which is mostly played on the tabla. We`re exploring similar sounds and beat with beatboxing," Shlomo told DesiHipHop.com.  Explaining the genesis of beatboxing, Shlomo said beatboxing "had its roots in the beginning of modern hip-hop, on street corners in places like Chicago, the Bronx, and Los Angeles".  "However, vocal percussion – the art form from which beatboxing was born – has been part of the music and urban scene for a lot longer than people think," the beatboxer said.
Shlomo, who toured India in 2010 and enthralled audiences with his hyper-intensive vocal skills and supernatural swiftness on stage, is known to produce a wide range of music like rhythms, songs, melody and harmony using only his voice and a microphone.  The term beatboxing is derived from the first generation of drum machines, then known as beatboxes, Shlomo said.
"Human beatboxing in hip-hop originated in the 1980s. Its early pioneers include Doug E. Fresh, a self-proclaimed first `human beatbox`, Swifty, who was the first to implement the inhale sound technique, Buffy, who helped perfect many beatboxing techniques and Wise, who contributed significantly to the proliferation of beatboxing," the musician said.
Shlomo said he had been instinctively making noises with his mouth since he was a toddler.  "I didn`t know it was called beatboxing until much later," Shlomo said. The musician said the "Voctronica orchestra hopefully will be full of surprises".  "We cannot say the kind of music we plan to make. Once the group is formed, we will work on each other`s strengths and come up with something original and maybe with a twist of fusion. I can`t really say right now, but we are sure it will be a unique experience," he said.  The top 10 finalists of the beatboxing auditions will be part of an eight-day training workshop in Mumbai in January 2012, he said.  The training will be conducted by Testament, a human beatboxer, MC and a member of the Lip Factory – Shlomo`s vocal project in Britain.
Voctronica will continue to be trained by Shlomo via Skype and will perform as the country`s first ever locally bred beatboxing troupe across India and in Britain in the first half of 2012.