With leagues like Spit Dope Inc and B3 promoting the battle rap culture in India, the sport is getting popular day by day. International leagues like KOTD, URL and Don't Flop made the presence of battle rap felt within the rap community by creating and developing audiences all over the world.
Eminem who himself started as a battler now helps in developing the first movie which sheds light on the culture on a bigger platform. In fact, Eminem's '8 Mile' was also centred around rap battle competitions. Hence, the rap god is the perfect person to back the project. Also, big news for Eminem fans came this week when his video for 'Not Afraid' crossed over a billion views on Youtube! Making it his second project to cross such a milestone. First being Eminem's 'Love The Way You Lie' featuring Rihanna.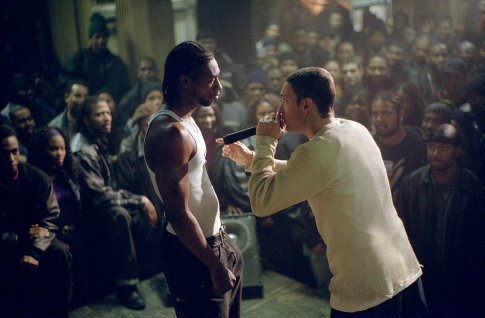 The story of the movie was developed by Joseph Kahn and Alex Larsen. Alex Larsen better known as his stage name Kid Twist is a battler out of Canada. In addition, he is a former KOTD Champion and also a former 'Two on Two champion' which he shared with Diaz. Joseph Kahn has been described as a modern genius behind the camera and is a well skilled music video director. Joseph's directed videos include 'Bad Blood' by Taylor Swift and numerous Eminem projects like 'Without Me' and 'Love The Way You Lie'.
Additionally, the movie is said to be a rap satire dealing with race relations. The movie will premier at Toronto International Festival this year. Furthermore, the developers have been silent about the movie. Leaving battle rap fans curious all over.
The movie stars battle rap legends such as Loaded Lux , Hollow Da Don, Charron, Dumbfounded, Pat Stay and Dizaster. In fact, the short trailer released features Dizaster battling the main protagonist of the story. The movie goes in depth with racial tension and the trailer is one of the most intensive trailers ever. Furthermore, crazy performance by Dizaster in the movie trailer is very big for Rap Battle culture in Hip-Hop.
Watch the trailer below –