Bandook Badshah & Raxstar – Panasonic Mobile MTV Spoken Word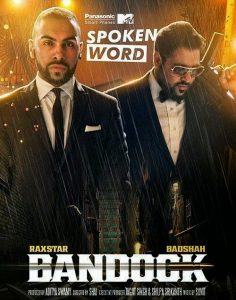 Badshah one of the finest rapping artist Punjabi Music Industry had & now he is in Bollywood. Humpty Sharma Ki Dulhaniya a Bollywood movie in which one of Badshah & Deep Money song was taken in as an Item Dance Number titled "Saturday Saturday" that created a buzz in Bollywood industry after its release. Raxstar a UK based Punjabi/English rapper he has done much mainstream work in UK Music Industry & he was actually featured in one of the Punjabi song by Prabh Gill a famous Punjabi Singer titled "Jeen Di Gal" and it was one of the best Sad Romantic song this year.
Now Badshah & Raxstar came up together in this industry to show their skills out to most of the fake rappers in this industry. Bandook featuring Badshah & Raxstar was released under Panasonic Mobile MTV Spoken Word. And you know what this song is right now Popular on YouTube India, And the music video is amazing the work of the male & female model in it is great & on direction point of view this whole video was shot on a big studio set & director got a great vision on it. Take a look at the video & listen to the song below on YouTube, Do share it.
[youtube id="zT0GudaEois" width="600″ height="350″]
Connect with MTV at http://www.facebook.com/mtvindia
Badshah : https://www.facebook.com/OfficialBadshah
Raxstar : https://www.facebook.com/RAXSTAR