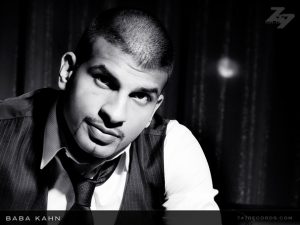 Baba Kahn is without question Canada's premier and most celebrated club DJ. Few can begin to touch the scope of his decade-long success within the industry. Primarily playing in the global city of Toronto, Kahn has built a massive following where he draws over 3,000 people a week to Circa Night Club, Canada's largest and most important DJ venue. His adoring fans and pervasive appeal have led to Kahn being awarded Canada's #1 Club DJ three times while annually nominated in the top three. Yet his influence doesn't stop within the borders of Toronto, or even Canada. Kahn's international fan-base extends across the continents from Europe and Asia to North and South America. Kahn has thus toured extensively, stunning crowds and packing dance floors in the U.S., U.K., China, and India.
Kahn has also hosted some of the best parties to hit Toronto this decade, igniting the Toronto concert scene by brining in acts such as 50 Cent, Ne-Yo, T-Pain, Busta Rhymes, Juelz Santana, Sean Paul, Timbaland, Sean Kingston, Girlicious, Destiny's Child, Russel Peters, and many more. He is also co-founder of Soul Shock Group Entertainment, a dynamic marketing company based in Toronto, as well as Scratch Lab DJ Institute, Canada's first and preeminent school for the training of DJs and other contemporary music-related trades.
Baba Kahn has also branched out into production, recording Culture Shock: East Meets West in 2008. Shock made history as the first ever South Asian Mix CD, blending the vibes and sounds of two distinct cultures into one intense, lush, and unforgettable musical mosaic. The album was released across Canada through SPG Music and Universal. Shock featured two groundbreaking world-wide hit singles, "Tonight" featuring Kardinal Offishall, Fatman Scoop, Lomatic, and Sunny Brown as well as "Shiva", a thrilling electronic smash that charted #34 on Canadian Club Dance Charts.
Baba Kahn didn't stop there. Later in 2008, he premiered the remarkable "Slip and Fall", an R&B triumph heard online by hundreds of thousands. This was just a taste, though. After the awesome success of Culture Shock across the globe, Baba Kahn is prepared to unleash the hotly anticipated Culture Shock 2 in September 2009. The inspired sophomore effort will feature 14 independent, self-produced tracks, including "Bombay Bo", "King", and "Dill… Shh", as well as remixes of former hit singles. If the success of Kahn's debut is any indication, expect Culture Shock 2 to further cement his status as not only the premier club DJ in Canada, but as one of the country's foremost producers and hit-makers. Be prepared. Be excited.