If you ask Azealia Banks what was her IQ on an IQ test, she will be puzzled and then will ask you, "WHAT IS AN IQ TEST ?". Yes she is that dumb and she proved it by using vocabulary like 'curry scented bitch', 'sand n—-r' for addressing Zayn Malik.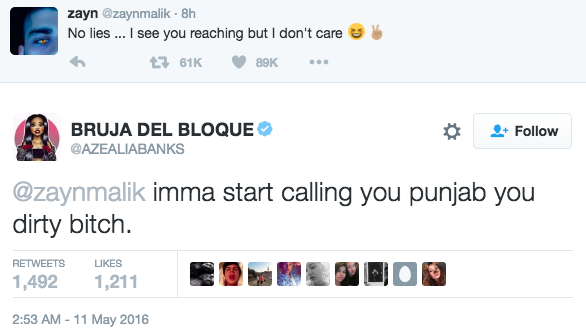 She also referred to him as 'Punjab'. She was probably as high as a kite while she was ranting away but she did not get away, once the world took notice of it a lot of people were offended by it. She is actually now banned on Twitter due to her actions. The people however did not just stop there, there was #curryscentedbitch which went viral. Many South Asian women took it to social media by uploading selfies and photos depicting themselves gracefully accepting the South Asian women in them. Azealia Banks did publicly apologize but it seems it did not take much of a difference as there are still photos being uploaded with #curryscentedbitch written in the description.

This was one of the most racist tweets in the recent past and Azealia got a lot of negative publicity for herself and she should blame herself for such stupidity.