ACE aka 39 – Har Gham Mein Khushi Hai – Bombay back on the Map !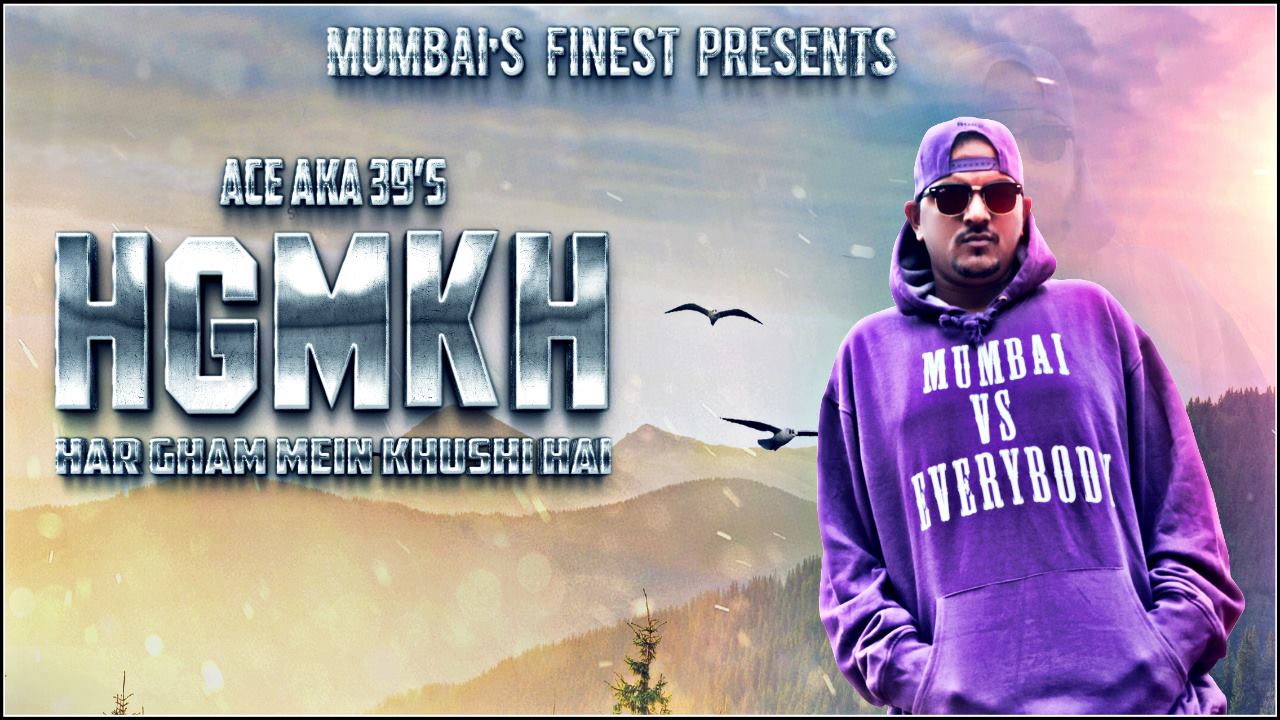 Ace aka 39 of Mumbais Finest just dropped, 'HGMKH', this is the follow upto 'Beta Baap Aaye'. HGMKH is an abbreviation for Har Gham Mein Khushi Hai. It is a deep, insightful track on the sub conscious mind of a rapper. Talking about real life and the situations that he goes through everyday and how there is happiness in sadness. Ace has paid emphasis on inner strength and moving forward.
The track is produced by RJV from Street Academics, Kerala, India and the video is directed and edited by Romi Kahlon from EastenAsia Productions. The video is shot at Interface, Malad (w) , which is Ace's favorite hangout.
Here is the conversation that went down regarding this :
Q1. So what got you to make HGMKH ?
It was the beat honestly, When I first heard the beat , I already visualized the song in my head and then starting rhyming to it. RJV is the man who made this beat that gave me a reflection to myself. I am speaking my heart out in this track.
Q2. The video looks good, who helped you out and were you involved in the creative process ?
My brother Romi Kahlon did the video. I shot the video at Interface coz thats the place where we hang the most. Its my own personal heaven. He did everything, I was involved as an artist.
Q3. What do you think about the Bombay hip hop scene currently ?
First off , there is no Bombay hip hop scene, its just a bunch of ignorant rappers and kids who are trying to be rebels and call the city by that name. You cannot live a lie all your lives. The name of the city os 'MUMBAI' . Mumbai is the name, Bombay is just a feeling. I live and die for the Mumbai Hip Hop scene. I am the godfather of this mofo. Big S/O to every artist in Mumbai that puts in work. I got love for all of yall. We are the best and ain nobody ffin with Mumbai . Mumbai till I die !!!
Q4. What is Mumbais finest upto ?
We have been on our grind and will be dropping two EP'S , One in Hindi , that will be a classic Mf album called 'Mumbai Till I Die' , and the other one will be an all english EP ,where we mix psy, electro, dub step and more elements with Hip Hop called 'Malana'. We got a lot of shows lined up and will be doing a nationwide tour independently to promote this. We also have major announcements droppin soon. Keep checking our updates socially
Q5. Message to people looking upto you ?
I do this for yall, I do this for Mumbai. Its the love and support that has made me who I am today. Stay humble, stay loyal and live by your dreams.
This track has straight fire hindi bars by the Mumbai Rap veteran and is one of its kind. What do you feel about the track?