By: Rahul Atri
Mohali Brigade is a crew whose name and fame is growing in the Indian Underground Circuit as they have won multiple awards at Indian Rap Forum's Annual Music Awards. They nearly swept every Popular Award this year! With so much going on for the crew, we sat down with them to talk about their growth in the industry and their future plans.
DHH: Mohali Brigade is a big name now on  theIndian Underground Scene at the moment. What, in your opinion, is the reason behind this success?
M Brigade: Well, as it's said, 'No short-cuts behind the success.' We've been working for the last couple of years, taking criticism as a step ahead to grow as an artist. Interaction with the fans are also an important part on an artist's life and most importantly support from the family counts to the maximum. Apart from all this, we always believed in makin' efforts and not expecting anything as an output. On top of all, staying humble and believing in God creates an amazing positivity around us.
DHH: How long have you all known each other? How did you meet?
M Brigade: It's been 2 years that we have been known to each other. Sikander Kahlon and Navi Virk have been together since grade 2, while the 'hk' joined em' after his hit collaboration with Sikander Kahlon as 'Mohali Souljaz' in 2009. So, thoughts came in, ideas worked and boom! This is M Brigade. 
DHH: When did you form your band? What inspired you to make music together?
M Brigade: M Brigade celebrates it's second birthday on 19th January. Ya'll are invited to Mohali for a happening birthday bash.
DHH: How do you describe your music to people? Who are your music influences?
M Brigade: People can very easily relate to our music, which is all about what we've been through, our struggle and the growth we've shown as artists. We do not believe in copying any other mainstream artist or faking our image as underground Bohemias. That was the only thought we had in our minds when we started and we'll stick to it even if we go commercial and that's what people like about us and our music. There are lot of influences and inspirations 2pac, Eminem, 50 Cent, Nas, Snoop Dogg,  The Game,  Ice Cube,  Kendrick  Lamar,  Scarface,  Crooked I,  Hopsin, T.I., Ludacris, Immortal Technique, Tech N9ne, Big L, RUN DMC, KRS ONE, J. Cole, Lloyd Banks, Nipsey Hussle, Rick Ross, Meth & Red, Young Buck, Nate Dogg, Dr. Dre, Eazy E, Proof, DMX, Royce Da 5 9, Chamillionaire, Bohemia ETC.
DHH: You guys have immense fan following and thats why you have won 5 out of 6 popular awards. Whats' the secret behind this success? How did you manage to get so many fans?
M Brigade: As we said earlier, interaction with fans is equally important in an artist's life 'coz they're the people who elevate our music and inspire us to do better everytime we come up with a new sound and of course good music is a way to people's heart. HaHa!
DHH: What's your ultimate direction for your band? Are you seeking fame and fortune?
M Brigade: Yep! We'll be very honest with this, every artist seeks fame and fortune. That's how our future is gonna be Self-Dependant.
DHH: Where have you performed? What are your favorite and least favorite venues? Do you have any upcoming shows?
M Brigade: We've been performing in clubs, colleges and have been doing stage shows around Chandigarh, Mohali, Punjab and Delhi. Our favourite venue would be Punjab University, Chandigarh 'coz of the enormous crowd support and any other stage show where crowd is engaging enough to understand our genre and appreciate the hardwork we put in. There ain't any such venues as least favourite. People love us, we love performing for them. Well, Yes! We do have couple of upcoming shows on Christmas and New Year and we're Really looking forward to perform outside our region too, if get a chance.

DHH: We have so many rappers coming out of places like Mohali, Chandigarh, and Jalandar,  the quality of Rap has been affected due to this. What do you think is the reason for that?
M Brigade: Hmmmmmm.. That surely affects the quality of rap but the good thing here is, Hip-Hop is emerging as a strong commercial genre and more and more people are gettin' connected to it. Afterall, the ones with passion for music are gonna stay no matter what, while others will drop down their weapons after a few months.
DHH: There is a mentality with people that Many punjabi rappers just rap about cars, bling bling and crime. Whats your take on it?
M Brigade: That is true to some extent and excess of everything is harmful. But It's not that Punjabi Rappers cannot do anything except that. It depends from Person to Person and the thoughts that are runnin' through their minds. If we have songs like 'I Got the Money Money' & 'I Run Mohali', we've slso been releasing songs on social issues like 'Dheeyan' – 'No More Jokes on Sardars' and 'I'am a Human.' Rap is about sending a message to the audience through your music. But apart from that, it is also serves the purpose for entertainment for people who love listening about Cars, Bling Bling & Money.
DHH: What do you think of current Indian Rap Scenario? Who are your fav. artists?
M Brigade: Indian Rap Scenario is doin' pretty well with movements like IRF and DHH in the story. Many underground artists are gettin' to work commercially. That surely makes Hip-Hop and Rap 'The Next Big Thingy' in India and ofcourse, we have some favourites too – MC Feral, Brodha V and The Emenjay are bringing the hotness into the game.
DHH: Sikander, Your new album is coming up in few months. What are you going to deliver this time? Any surprise collaborations?
M Brigade: Well this is very different from my past release "Sikander The Sovereign". I switched my style on this project  and the artists on the album have made 'Hibernation' bigger than the 'Sovereign'. I hope this one satisfies you all and "Insha Allah" it goes hit like 'Sovereign' did. Yeah, there is a surprise collab and 'Hibernation' has biggest Punjabi Rap posse cut. I might feature a track produced by myself. Kudos!
DHH: So Hk Your Album received superb reviews and you've dominated the charts and then the awards. Whats next? Are you happy with your performace?
M Brigade: Hah! I feel like a proud author of a dozen songs now. LOL! Jokes apart, I've few singles lined up for release and a week ago, I released 'Paper and Me' in collaboration with Swisha V and heartiest thanks to all my fans & people who voted for me & my crew in the AMAs. I appreciate everything my people do for me and that means the most. I'm planning to work on my second mixtape now and will try to deliver the best through my pen & microphone once again and Yes, I'm happy with my performance in 2011. I've grown up as a song writer and as an artist. But you know, satisfaction comes in with more and more music making. So, I'll try and improve and saise the bars once again.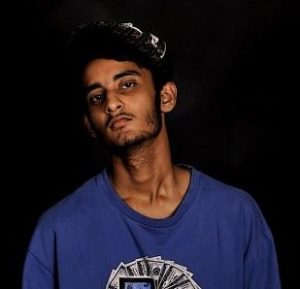 DHH: What about you Navi? Are you also coming up with solo project?
M Brigade: Because of 'Love-A-Holic' & 'Hibernation' it was our strategy that I should stay back and cover features and making my name before my mixtape is out. Yes, I am working on my solo mixtape which is scheduled to be released in 2012 and I promise 1st single of the album in Jan.- Feb. Right now I am finalising the name of the album, Producers & Artists who'll be featured on the album. I will update the details soon.
DHH: What are your views regarding hip hop sites/forums such as DHH and IRF?
M Brigade: DesiHipHop.com & I.R.F. are doing great to uplift Hip-Hop in our country. It's surely a huge responsibility and you guys are pulling it off quite well. Kudos to all the admins and the people who are involved in both the movements. Respect & much love.
DHH: What's your favorite thing to do when you aren't writing/producing/making music etc?
M Brigade: Spending time with family, hanging out with fellas & except this happy life – We've a sword hanging on our head, called College.
DHH: Any last words for friends/fans?
M Brigade: 2012 is gonna be a surpirse for ya'll and a pleasure to your ears. Keep supporting & loving your boys. We love you all, and we've the best fans in the world. You make us, God bless ya'll and shout out to all our homeboys who've been supporting us throughout this journey. Much love!