Another week and we are back with the hottest releases from the Desi Hip Hop scene. Stay home and spruce up your quarantine with Desi Hip Hop's hot 5 of the week. A handpicked list of the latest music video or audio releases from the scene. This week saw releases from some of the frontrunners of the Desi rap plethora. Even in a state of lockdown, we're bringing hip hop to a quarantined screen near you!
Music is an inescapable escape from all that's happening around you. Our Hot 5 list aims to bring you the best from the Desi rap plethora. So sit back and relax with our weekly updated Global Hip Hop Playlist, in which our Hot 5 picks are regularly plugged in. Check the playlist out below!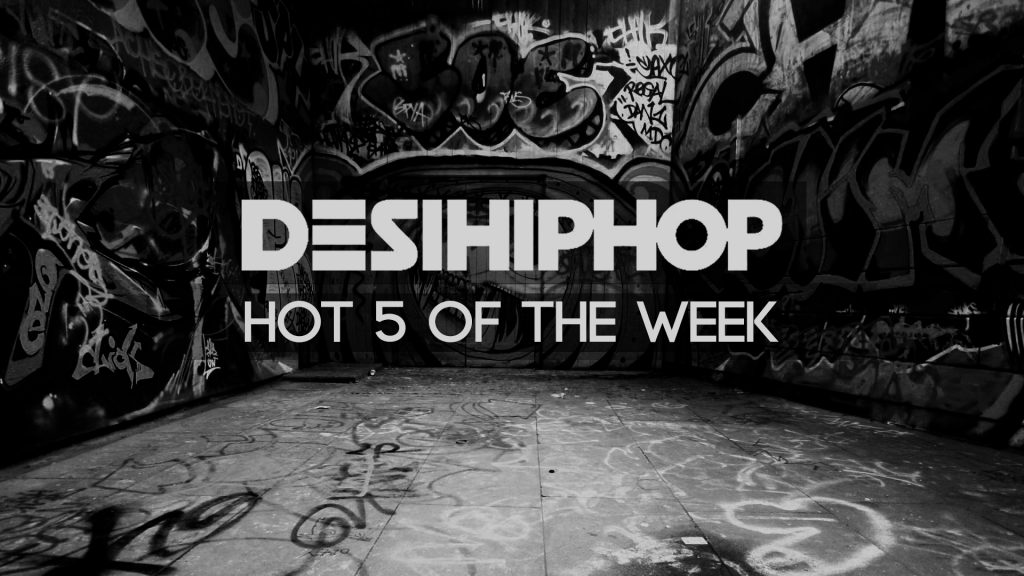 Mehfil – E – Hip Hop – Kaam Bhaari, Spitfire, SlowCheetah, Devil the Rhymer
IncInk roster has come with a bang dropping Mehfil – E – HipHop. A rap track featuring Kaam Bhaari, Spitfire and SlowCheetah also has a new surprise waiting in the end verse. These four emcees firstly united for a Jack and Jones track with Ranveer Singh more than three years ago. The bond that ensued then has still remained strong which is evident from this latest release. While everyone came through with fiery verses, we're definitely blown away by the growth in Devil the Rhymer's skills. All the four emcees brought their A-game on this beat produced by Nuka aka Anushka Manchanda.
Watch 'Mehfil-E-HipHop' by team IncInk here –
Ki Honda – Lit Happu
Lit Happu and Sez on the Beat released their EP Issa Vibe only recently. Already the duo has a fresh banger ready for the fanbase. 'Ki Honda' is a heartfelt rap penned by Lit Happu with his distinctive melody infused flows. Sez himself holds this rapper in high regard, calling him the future of the Punjabi sound. "Having grown up in a struggling household, it hasn't always been easy for him, but music is what always pulls him back & motivates him. He speaks his truth in 'Ki Honda' & gives you an honest & unfiltered look into one aspect of his life," says Sez. The track is the first release from New Kids On The Block – a project by Sez and The MVMNT.
Stream 'Ki Honda' by Lit Happu produced by Sez –
Karachi Chal – Talha Anjum x Yas x Talhah Yunus
An official release from the EP 'A Tale of Two Talhas' is this new drop titled 'Karachi Chal'. Featuring Pakistani hip hop scene's front runners Talha Anjum, Tahlah Yunus as well as Yas. Penmanship is one attribute the Pakistani rap scene boasts of. The unique Urdu rhyme schemes leaves you wanting to hear more. Anjum is definitely one of the most sought after emcees from his hometown Karachi and this rap song is no less than a declaration by the three emcees that they're the best of what their city has to offer. The duo has released three tracks from the EP already and we're definitely looking forward to the full length release.
Stream Karachi Chalby Talha Anjum x Talhah Yunus ft. Yas from the upcoming EP Tale of two Talhas –
Puwaan G's Rap Cypher – AHSAN
In one of our earlier hot 5 lists we mentioned Ahsan's music video titled Jaani. This rapper also hailing from Pakistan is slowly but steadily building his audience from the scratch. Ahsan put together a rap cypher titled Puwaan G's featuring the best his city has to offer. Featuring Maleek, Aqeel, Umer and Gulshair, the Puwaan G's rap cypher is produced by XLR8. The cypher is definitely a commendable attempt with a stellar verse by Ahsan finishing the song. Awaiting to see what 2020 has to offer in terms of hip hop in Pakistan.
Watch the music video Puwaan G's rap cypher by Ahsan featuring various emcees –
Hithumathe Jeevithe – Hustler Bhai
One of the things we strive to do with our weekly Hot 5 lists is to ensure inclusivity of artists from all South Asian countries. While we have only been able to cover one other rapper from the Sri Lankan hip hop scene, this second entry on our list is by an artist named Hustler Bhai. Just one glance at his previous work will tell you a lot about the consistency with which this emcee has been putting out music. His grimy heavy voice is fit for a chopper Tamil rap flow. Interestingly, Hithumathe Jeevithe has a very different take from his previous releases. The melodious song features artists Snowtran and Krish Manoj.
Stream Hithumathe Jeevithe by Hustler Bhai from Sri Lanka here and share your views with us –