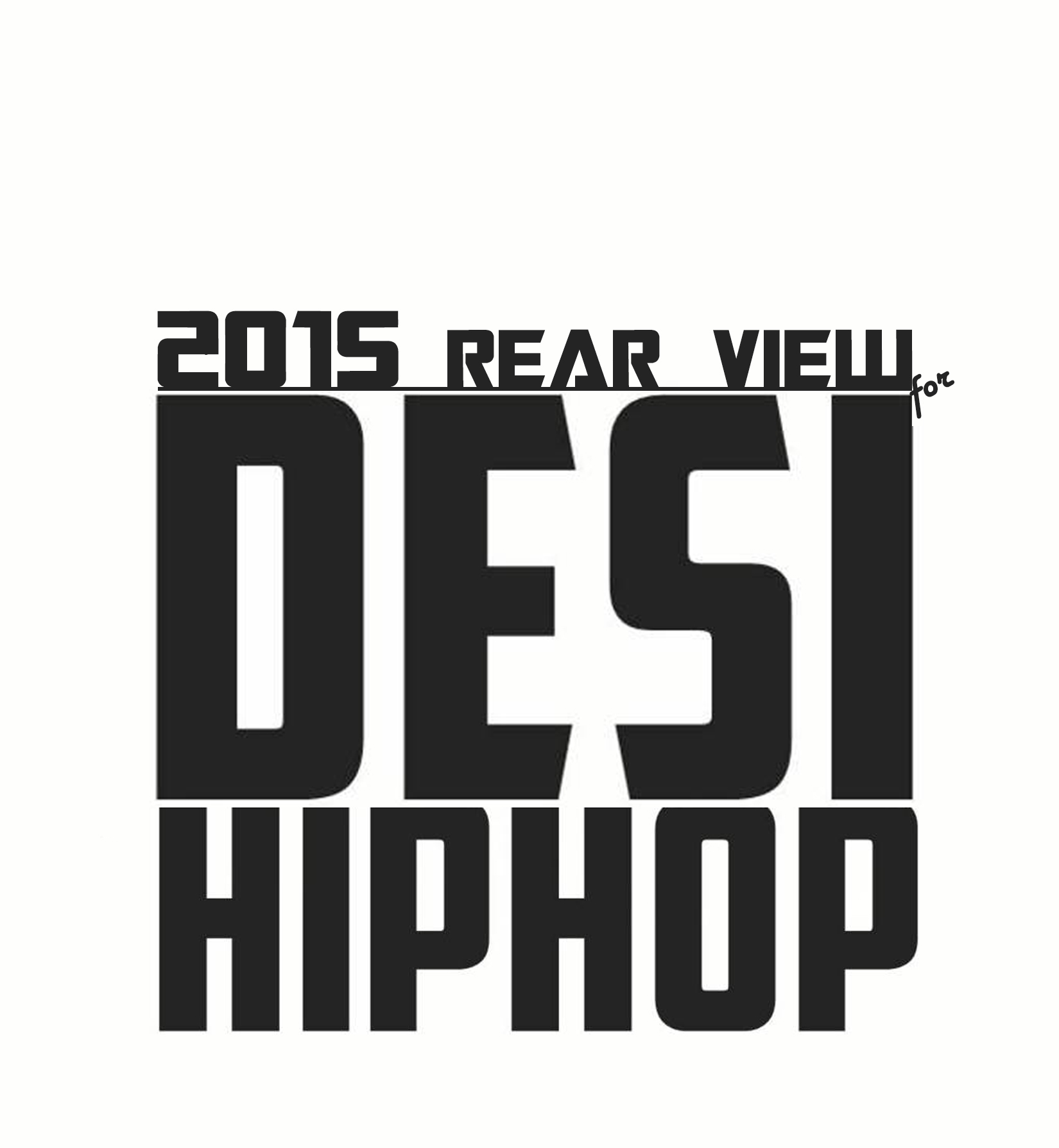 2015 has been just the perfect year for Desi Hip Hop. It involved several videos, music, gigs and events which laid down the foundation for 2016. 2016 is ours…..2016 will be the year of Desi Hip Hop. Slowly and steadily Bollywood has accepted rap in it's own way, from just saying "YEAH" and "COME ON…..COME ON" and reciting 4 bars in a song, wearing excessively baggy clothes to spitting proper structured 16 bar verses.
This year we saw Bombay putting out back to back releases which started with DIVINE's and Naezy's, "Mere Gully Mein" which was produced by none other than Sez from New Delhi. Divine also made waves by revealing that he was signed to Sony Music and will be releasing his future projects under it. Enkore and Poetik Justis released their Individual EP's in the last quarter of this year and have been received by listeners worldwide. Mumbais Finest also released back to back music throughout the year at various intervals and performed gigs all over the country. Bombay however set the benchmark for "Rap Battles" when a crew named Elsewhere decided to promote this element of hip-hop as they felt that there was a serious need to promote lyricism and content as a lot of the youth thought of hip-hop as "HIP-HAAP" (issey nahin kehtey hip-hop) and started diluting their content with inanimate material.

North-side was dominated by primarily by releases from Punjab. Although there were several releases by various artists and crews but those which stood out were by KRU 172 and Sikander Kahlon. KRU 172 which consists of Nottotune and Lucky, who gave Chandigarh their very own anthem, "Shehar Mera Chandigarh" which even featured 'chal joothi' fame Harry Cheema. The track went viral instantly and was shared by several known figures from the entertainment industry. Other than KRU 172 it was Sikander Kahlon and his crew KKG who had various releases through out the year and made sure that they were heard and as a consequence Sikander now has a worldwide following and recently got signed to Manj Music.
The capital 'New Delhi' also made sure not to fall behind in the race and had it's share of releases and hits. One man who has made a mark and has shown that hardwork does pay off is Sez and was involved in the biggest underground hits of the country. 2-ShadeZ released it's mixtape, "Dispensing a SounD" which has been 2-3 years in the making. Prabh Deep Music, a name which was not even visible in 2014 took the game by storm in 2015 and is someone to look out for in 2016. He is currently involved in "Introduce Yourself" which is helping to proliferate the New Delhi Hip-Hop scene. Keepsake also made his presence felt by releasing a lot of music through the year and in fact even established himself as an accomplished producer. New Delhi hip-hop is filled with a huge chunk of talented emcees who are waiting to leave their mark in 2016.
Things down south were not silent and 'Bangalore' made it's impact on the scene like it does every year. Smokey the Ghost has clocked more than 80 shows this year and will probably do more. He had a tie up with DesiHipHop.com and The Humming Tree and started the 'Hum Hip Hop project' which gives artists a great platform to perform and helps in making their digital presence felt as well. Smokey performed as a solo act as well as a part of a project called, "Smoke to Deal with Panic" which consists of him, Big Deal and DJ Panic. They opened up for known figures such as Watsky and were performing on a consistent basis. Big Deal himself had a great year and is preparing for his album, 'One kid with a Dream'. Brodha V who is a force to be dealt with, had a rather silent year and in fact even declared that he was no longer working Sony music and will be working as an Independent artist, there are a lot of people waiting to see his return in 2016.
At one point of time figures such as Ikka, Raftaar, Badshah, Raxstar were underground artists just like any other current emcees but their hard work, patience and determination helped them in establishing themselves as idols for a new generation. Sukh-E Muzical Doctorz has created only bangers through the year featuring heavyweights such as Raftaar and Bohemia The Punjabi Rapper. A lot of the mainstream work by the above mentioned artists is a testimony to the fact that soon enough the mainstream will accept Desi Hip-hop for what it is.
2016 is here and lets make this year the difference maker. Desi Hip Hop for life.