Zip It – The Rap Culture Event Powered by DesiHipHop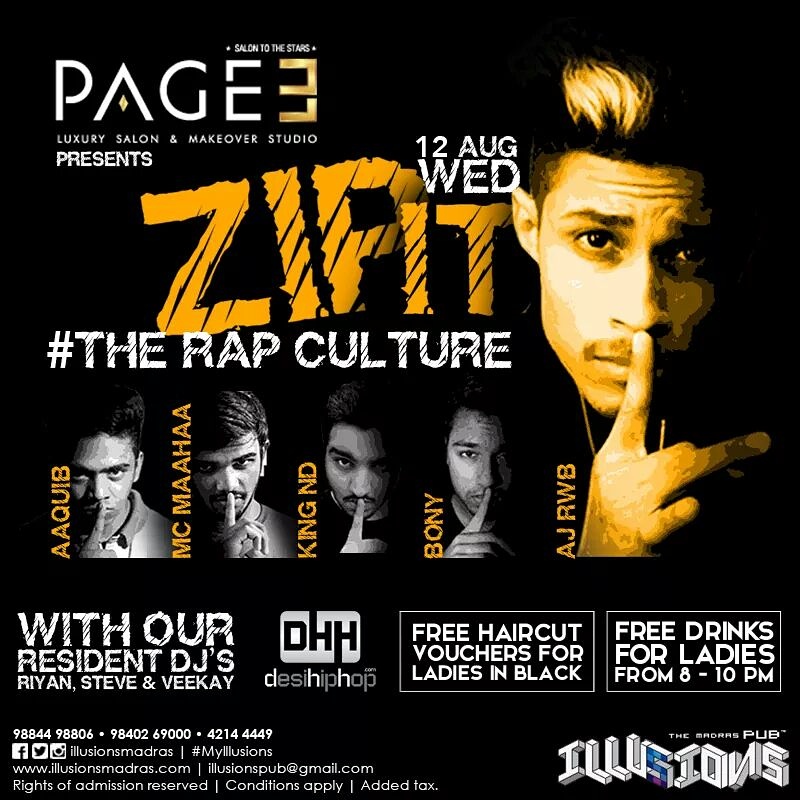 PAGE 3 Luxury saloon and makeover studio & ILLUSIONS The Madras Pub presents
ZIP IT , An initiative to bring back #TheRapCulture in Chennai city.
Powered by : DesiHipHop.com
Chennai rappers have come together in order to bring back the culture of Hip Hop in their city.
The Hip-Hop event #ZIPIT will feature:
KING ND:
Known as Chennai's Desi Rapper, KING ND is a rapper and a lyricist from a Punjabi background. Nitish Dogra a.k.a KING ND was born and raised in Chennai city. He had a passion for writing poetry from his school days. He slowly developed his love for rap music and thus started his career by taking out home recorded tracks in English. When he entered college he stated to deliver hardcore underground Desi rap, a style which is not very popular in the south of India. He has performed around his city and also traveled to Bangalore representing DesiHipHop.com at #FlareTheJam ( Bangalore ). He mixes Hindi with a little punjabi and calls it Hinjabi. KING ND takes care of his family business but also takes out time for his passion. His vision is to put Chennai Hip-Hop on the maps of the Hip-Hop scene. He has been preparing himself for about 7 years and now is ready to step up his game. Representing Desi Hip Hop in the south, KING ND is underground and proud.
#KINGND
AJ RWB:
He is an Indian multilingual rapper, record producer and entrepreneur. He is one among the well known rappers among the Chennai underground scene who bagged the name "The Intricater". He is the founder of record label called #RISKWITHBEATZ which produced experimental genre .He is one among the very few rappers in the country to perform live concert with more than 3000 people. By Jan 2015 he founded a movement called #VERAMAARII which emphasis creative ideas, funky updates of hipster lifestyle towards the hip hop community.
MaaHaa:
He isn't chowing down large pizzas or kicking ass at the basketball court, he writes. He stands by the classic definition of rap, but also adds a "desi touch" to it. Tracing back to the beginning of his musical journey, he co-founded SHADES, a hip-hop duo, who still continue to mesmerize fans with their music. His impressive track record highlights MaaHaa as the lead rapper in a semi-professional band "Re-route,' alongside the fact that he is now working on a few tracks under a record label for a digital album release. His ever increasing fan base sees MaaHaa as a true competitor.
check out his website
maahaamc.com
AAQUIB:
He's been rapping since he was 14 years old. He has performed at many school and college cultural events. Furthermore , He has recorded some tracks for short films. Right now he's working on a single and mixtape which would come out soon.
BONY:
Born and raised in Chennai. A college student with love and passion for rap music. He started rapping during high school days and has been practicing and performing this art ever since. His aim is to create music that touches people and he also wishes to spread the hip-hop culture.
Venue: Illusions The Madras Pub
105, 1st Floor, Radhakrishnan Salai, Mylapore, Chennai, Tamil Nadu 600004
When?: 12th of August, 2015.
All other details can be found below in the EVENT LINK:
https://www.facebook.com/events/1104524012894275/
Come and support the culture. Underground on the rise!