Just when you think girls can't get any more competitive, they do! Meet Urbanista, the first Indian all girls street dance group; this five girl ensemble is taking India by storm not only with their personal style by Street Dance too.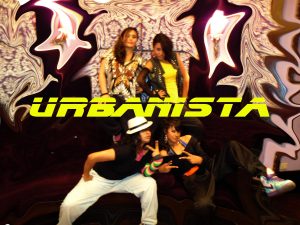 India has always been a country rich with dance. Cultural styles include Bhangra and Garba while classical methods encompass Bharatnatym and Kathak. Recently, Bollywood has taken the spotlight as its own genre. Now Urbanista helps further the movement of Hip-Hop street in India.
Priya Lisa Gonsalves founded the group and Giselle John, Kezia Fernandes, Simone Louis, and Payal Balse are the current members. Urbanista describes themselves as "versatile, funky, creative and experimental, aiming to push boundaries as far as creative performance is concerned." All this proves true when you see the girls perform Hip-Hop, Dancehall, Tutting, and Funk moves in their routines.
Most recently this crew performetd at Olio. This Drama competition takes place at St. Answers College in Bandra and showcased the best short plays in town.
Priya is also a proud founder of Syntheskillz which is an urban, street dance project. The project promotes street dance in India by hosting events and classes. Prosenjit Guy Kunda, originally from Virginia, U.S.A., is also one of the project's founders. Within India, Kundu is accredited with bringing B-boying and Hip-Hop dance to India. Now working with some of the greatest shows and artist sin the world, Kundu is also seen on the panel of Channel V's dance reality series Footloose where he judged.
http://youtu.be/DTgxw5UjRZQ
As India embraces street dance we recognize those who help further the movement. Urbanista, and Syntheskillz are doing just this and we love it!