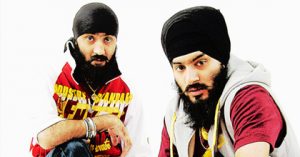 Coming from a traditional background where religious adherence was the call of the day and learning to play instruments from a young age so that they could perform at their local temple have now turned this young Sikh outfit into the most sought after act.
Recently signed to Nachural Records (the label that launched Panjabi MC onto the world stage and into a global hit), Tigerstyle are now preparing their debut single and debut album for a worldwide release.
"You've got two very devout Sikh Punjabis from Glasgow, who know their Bhangra music more than anybody. I mean they absolutely know their stuff. They're young, they're the right generation. If you listen to some of their earlier albums they were ground-breaking then. What they do and what they've done is, they still play the traditional stuff, but they will effortlessly fuse it into Dancehall or Hip-Hop. And the beauty of them is that they both know their genres of music……It all works together, it sounds great. And they can perform live……I think that is really interesting, really clever. We've still got the traditional Punjabi music. We've still got the element of live and it's still taking it forward." – Adil Ray (BBC Asian Network UK, excerpt taken from "Bhangra" written by Dr. Rajinder Dudrah)
But Tigerstyle's journey has not been an easy one. After two albums of more traditional Desi flavours, they got themselves into a problematic situation which left the duo unable to release material for three years. But this hiatus allowed Tigerstyle to develop their musical talents as they were asked to do white label mixes for Ms Dynamite, Busta Rhymes, Eminem and 50 Cent.
Further recognition came in the form of official remixes for other mainstream acts such as Lisa Maffia (Independiente), Lamya (J Records),and Raghav (A&R) where Tigerstyle contributed with a remix on the hit single Angel Eyes which charted at No.4 in the UK charts. They fused Bhangra with Reggaeton championing the unique "Bhangraton" genre, providing remixes for Machete Music artists Luny Tunes, Wisin Yandel & Don Omar. They worked an exclusive remix of M.I.A.'s "XR2" for the BBC Asian Network.
Nachural Records also announced the placement of tracks from its catalogue onto Project Gotham Racing 3 the game to be launched by X Box (owned by Microsoft) in the winter of 2005.
Two tracks by Achanak ("Teri Muhabbatain" Produced by Tigerstyle and "Lak noo" remix) and three tracks from the forthcoming Tigerstyle album ("Boliyan", "Akh mastani" and "Maan doabe da") were identified as key representations of the worldwide appeal of Bhangra music.
This was the first time that Bhangra tracks had been placed on any interactive game and endorsed the mainstream opinion that Bhangra had finally arrived in the ever increasing music market.
Recent Success: Tigerstyle ft Kanwar "Son of a Sardar (part 1)" was the first Sikh Hip Hop track to be playlisted in the A list on the BBC Asian Network. It charted at No3 in the station playlist chart, was No1 in Friction's Top Five tracks, and was No7 in his Top 40 songs of 2007. The song has received over 32,000 plays on their Myspace profile in the space of 9 months.
The success of Tigerstyle has taken them touring all over the world including USA, Canada, Germany, Norway, Switzerland, Poland, Russia, Dubai, Singapore and Australia, all in the time span of the last 4 years. They have shared stages with the likes of internationally reknowned artists Lily Allen, Talvin Singh, Nitin Sawhney, The Dub Pistols, Fun-Da-Mental, Misty in Roots, Gunjan, Asian Dub Foundation, Badmarsh & Shri, Truth Hurts, Panjabi MC, Future World Funk, Raghav, Johnny Kalsi & The Dhol Foundation, Hans Raj Hans, Jazzy B, Malkit Singh, Jassi Sidhu, Channi Singh (Alaap), Andy Gangadeen of Massive Attack, DJ Semtex, Bobby Friction & Nihal from BBC Radio 1 and Panjabi Hit Squad of BBC 1Xtra.
Tigerstyle are one of the few Asian acts to have ever recorded a live session for the legendary late Sir John Peel. They were given the opportunity to showcase material from their forthcoming album supported by a full live band and feature vocalists at the first ever BBC Electric Proms in September 2006, and were selected out of 1000s of bands to perform on the first ever BBC Introducing Stage at the Glastonbury Festival in July 2007.
"These overlapping territories mapped within a single Tigerstyle beat demonstrate that Bhangra is not just a new set of sounds for rap dudes to sample it is a movement unto itself, folk music for folk that live in the gaps." – Ed Stats (Fader Magazine)
Traditionally Asian record labels have signed artists to "buy out" deals whereby the artist is paid a lump sum for their material but sell all their rights, including publishing rights, to the record label. This meant that artists would no longer own or control their own material and would receive no long term income from the exploitation of this material.
Tigerstyle broke the mould and consciously revolutionised the way the Asian music industry was running in the U.K. by setting up their own production label, Soldier Sound Recording, which has been instrumental in managing the careers of artists such as Bikram Singh, Blitzkrieg and Gunjan.
Their Bollywood debut came in the shape of exclusive remixes of "Bas Ek Kinng" and "Bhootni Ke" under the guidance of hit music director Pritam, on the soundtrack of the blockbuster movie of summer 2008, Singh is Kinng.
Tigerstyle are currently working on new material due to be released in the coming months, where Indian, American and European record labels have shown a keen interest in licensing Tigerstyle's album. These same partners were responsible for the success of Panjabi MC.