TaZzZ Presents his brand new single "JHOOM" featuring Words Ali, Menis & Immi!
The record (Produced By TaZzZ) as well as him featuring on it too would be best described by saying it's hype, energetic and pulsating. TaZzZ is well known for always bringing a fresh sound and creating a unique style of fusion within his music, that is exactly what "JHOOM" is all about. It's an East meets West vibe being raw, gritty & modern in the same occurrence. Buy It Now – https://itunes.apple.com/gb/album/jhoom-feat.-words-ali-menis/id593901615
TaZzZ states on the track;
"I brang in that desi sound, mixed it all up call it the new Bhangra".
He also showcases brand new talent on the track with Words Ali who has a very bright future ahead of him & his very own protégé Immi, as well as the ever so experienced Menis, who gives the track a cutting edge.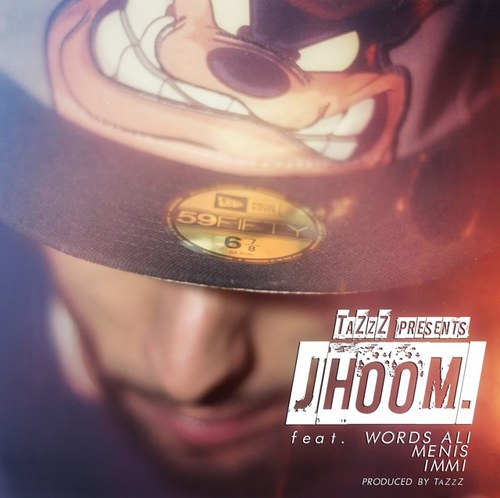 TaZzZ is a UK MC/Rapper, Producer & Sound Engineer, who runs his own music studio called TaZzZ RecordingZ in East London.
His debut commercial track "How Could You" was released in 2007. It gained popularity quickly and was aired on TV stations including B4U Music, Zee Music, MTV Base and Channel AKA (Channel U). The track was also play-listed on major radio stations such as BBC Radio 1/1xtra, BBC Asian Network and many others.
TaZzZ has collaborated with artists such as Raxstar, Tigerstyle, Mandeep Sethi, Bikram Singh, Dub Sharma, Swami Baracus, Humble the Poet and many more.
Early January 2012 saw the release of TaZzZ's smash hit #1 single "Radha", taken off his mixtape entitled "TaZzZ-Mania". The single features some of the biggest and best urban artists from the UK such as Raxstar, RKZ, Menis, PMG & Punjabi rapper Kan D Man. TaZzZ not only produced the track, but also features on it.
The single hit number 1 on many major radio stations and was heavily rotated globally. "Radha" was also play listed by Tom Robinson on BBC 6 Music. It showed that Asian urban music had the ability to be played to a wider audience.
Follow TaZzZ On:
Facebook: ‪http://www.facebook.com/tazzz786‬‬
SoundCloud: ‪http://www.soundcloud.com/tazzzmusic‬‬
Twitter: ‪http://www.twitter.com/TazzzArtist‬‬ (@TazzzArtist)
YouTube: http://www.youtube.com/officialtazzz