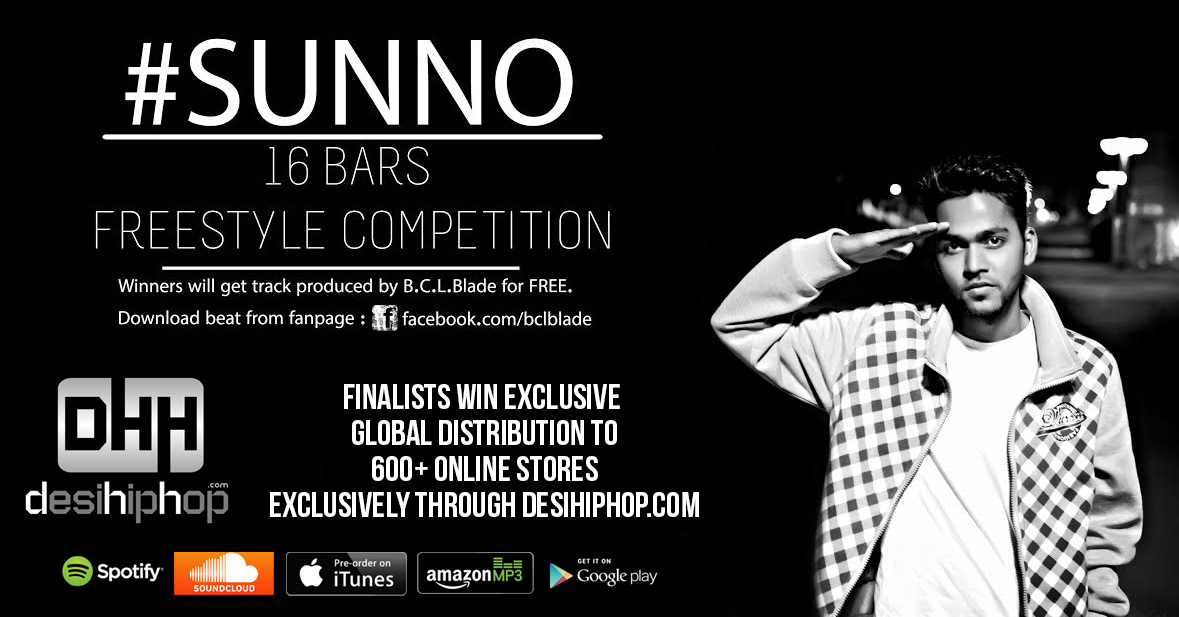 — ATTENTION ALL RAPPERS —
Sunno – 16 Bars Freestyle Competition
Hanje Sunno! BCL Blade, the super producer, is hooking talented rappers up with an amazing opportunity!
You Got bars or do you know anyone who can murder these beats? All you have to do is, play the beat, spit your hot 16 bars and record a video on your phone. Then send BCL Blade your video entry. At that point BCL Blade will make a final decision for winners depending on your lyrical content/flow etc.
STEP 1 : Download the Beat
Dropbox : http://bit.ly/1yTRvds
OR Mediafire : http://bit.ly/1yTRC8W
OR DHH (Right Click & 'Save Target As…') : http://bit.ly/sunno_beat
STEP 2 : Record Video of 16 Bars 
Grab a camera (your phone, or your friend's phone works too!), and record yourself rapping 16 bars (32 lines) on the beat. Prove yourself! Go ahead, do it NOW!
STEP 3 : Submit the Video
Share your video on BCL Blade's Facebook Wall
Hashtag #SUNNO and Tag @DesiHipHop.com
DONE!
THE PRIZE(s)
1. Best entries will WIN a chance to be recorded on a track with a custom beat produced by BCL Blade for FREE including mixing and mastering of track.
2. DesiHipHop.com will also provide the winners with Global Digital Distribution to 600 + online stores!